Dear Edmonton Oilers: You can't possibly be this bad. Seriously.
"We had a chance to separate ourselves from a rival, and we didn't take advantage… It's a painful lesson for us." Coach McLellan

— Edmonton Oilers (@EdmontonOilers) November 1, 2015
Hold on a moment, Mr. Coach. WHY did you feel a need to run two rookies AND the Andrew Ference/Eric Gryba pairing last night on defense? REALLY? You thought we'd enjoy that? WHO is making the calls on this roster? Todd McLellan? REALLY? SERIOUSLY? I recall many astute moves in San Jose, perhaps he is getting advice from above. One hopes he'll win a battle or two before the season is gone.
POSSESSION
The Oilers are 46.9 Corsi for 5×5 % for October, No. 27 in the league. EV save percentage is .9014, No. 28 in the NHL. Frolik's ugly hatty and insane indifference by the blue on defending sorties is one thing, but isn't this team supposed to be improving in these areas? Edmonton finished 48.1 Corsi for 5×5 % and .9019 EV save percentage one year ago—Dallas Eakins Corsi number was over 50% the day he was fired. The Oilers were 0-4-0 to start the season and 4-4-0 since. They will not improve enough to make a dent in the Western Conference with possession and save percentages like the ones posted this October.

Sorted by Corsi for 5×5 %, the Klefbom—Davidson pairing looked good in the clean air of 71% ZS's (and were 8-1 against the Monahan line). If we're looking for this year's Melker Karlsson, Brandon Davidson may have the early lead. A nice goal too.
Ference—Gryba were not competitive against the Frolik line (5-8 in 6:27, 300 goals against) and chased all night long. One of the really sinister parts of this pairing is the lack of a legit passing option. Honestly, I can't imagine what Todd McLellan was thinking, beyond 'need to be big against the Flames' and of course it was Calgary's outstanding forecheck—and inability of Edmonton's blue to answer—that won the game.
Nurse—Sekera will get a lot of attention on the negative today (they were 2-6 against the Bennett trio) but for my money Johnny Gaudreau is the most dangerous man on the team. Combined with 50% ZS's, I'll mark this pairing less harshly despite the Corgi's howl, as Gaudreau flew back to Calgary with zero's.
Flames were less successful running Bennett against the Klefbom people, wonder why McLellan didn't hard match that dynamic. While I'm here, would like to mention that I am highly disappointed the coach couldn't take greater advantage of the Engelland—Hamilton pair. That duo got a steady diet of 3 and 4line Oilers and did well against them. If the Oilers are going to ignore opportunities like this, there can be no arguments about leaving points on the table. None.
WAR-ON-ICE SLEDGEHAMMER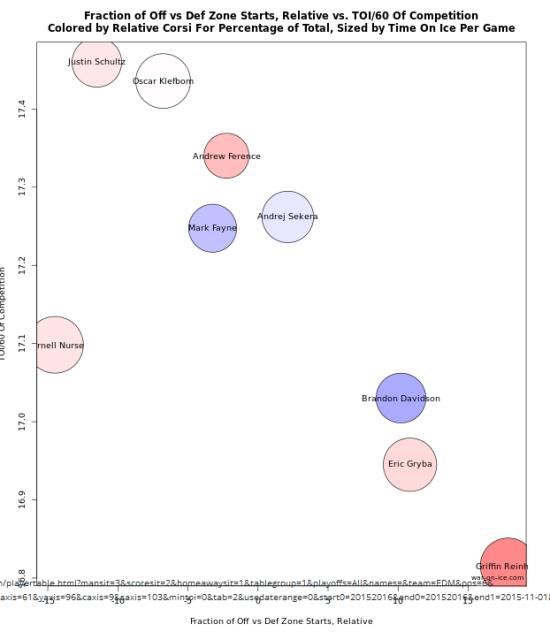 Things I'm not liking or am observing:
Mark Fayne as a healthy scratch in an important early-season game? Bad idea. If only for the long suffering fans, running the best lineup last night should have taken precedent over sending a message.
Justin Schultz in the 'tough zone, tough opposition' quadrant is a poor idea. He isn't that player, just isn't, and the coach needs to take advantage of what he can do best. Dallas Eakins had this right.
Andrew Ference playing five of the first 12 NHL games this season. What further evidence is required?
Why isn't this team running the crap out of Klefbom, Sekera and Fayne? That's your top three D.
Interesting to see the handling of Nurse v. Reinhart. Both getting extreme ZS's, but Nurse is getting the tough ones and Reinhart was getting the easy ones.
I'd like to see Nurse get a chance at the open spot on the top four, but suspect we're going to see Brandon Davidson in the Klefbom pairing for the next while.
Even now, at 4-8-0, if Peter Chiarelli made a trade for a legit top four this team could shine.
An addition to the top 4D, improving breakouts and possession, and less wobbly goaltending. That's the list, ladies and men. Same as it ever was. Same as it ever was. Same as it ever was.