Griffin Reinhart and Matt Hendricks will be back, and soon too Jordan Eberle. The Edmonton Oilers, 4-8-0 on this morning, haven't had a full lineup all year. It is possible Darnell Nurse and Leon Draisaitl will be sent to Bakersfield in the early days of November. Is that a good idea? Yes and no. Will it happen? I'll bet no in both cases, unless performances dip this week. Let's have a look at October.
THE OCTOBER BLUE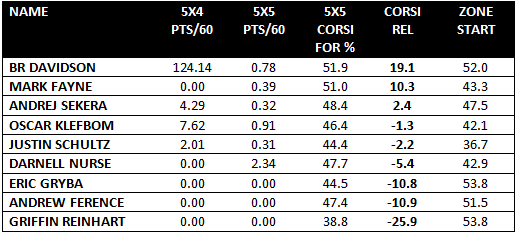 I'm bringing back CorsiRel on these charts, as we suss out how best to express the current reality. Brandon Davidson's numbers are sublime and ridiculous, a reflection of his impressive five games in the NHL this season. Lots has been written about Mark Fayne over the last 48 hours, but the numbers like him (it's possible to have good numbers and get noticed for negative things—single moments and events can have super importance while being exactly single moments and events).
Andrej Sekera has disappointed many but we're early days of his contract. The numbers aren't grand, and four assists isn't plenty, but there's a reason NHL coaches are very patient with veterans. When Sekera comes around, he should be a key player for Edmonton's (hopefully) spike in performance. Oscar Klefbom has also had some ghastly shifts and periods, but even with all of that he's close to do (as in do-re-mi) so far this year. Klef is also delivering more offense than we should have expected, once again those frugal Swedish assist makers are screwing with our estimates!! He's on pace for more than 30 points this year, and leads the defense in points.
Justin Schultz has been working hard on improving defensive play, and turned a lot of heads before getting hurt. There's a chance we won't see him in the coming month, and that may mean an extended look at big minutes for Darnell Nurse. We're early days and Nurse has had good games and less impressive games, but overall he is as expected: Easily one of the six best options available to Todd McLellan.
Dear Oilers: Please ice your best lineup every night going forward. Which means no more Gazdic, Ference or Gryba. Thanks.

— Tyler Hupka (@HBomb1982) November 1, 2015
If we could all (magically) agree that CorsiRel was the best way to judge defensemen, then Eric Gryba's presence in all 12 games would be as universally curious as it should be based on math and eye. He's big, he's strong, he cannot effectively move the puck. One of the true mysteries for me this season is the number of minutes going to Gryba and men like Jared Cowen in Ottawa. It isn't working, surely the coach sees that, so I'm beginning to wonder if there are other powers involved (GM who signed or drafted said player). I'm beginning to think this is the case in Edmonton, Todd McLellan is too smart to take 12 games to suss this out.
Andrew Ference has played five games and in those contests has had a difficult time passing and covering. Those are important items—the left side defender has to be a good passer unless playing with Justin Schultz—and should contribute to Ference playing far less than he has so far this season. He's on pace for 34 games over the year.
"It's a possibility for tomorrow. I'm feeling better every day." @GriffinReinhart on potential return to lineup pic.twitter.com/pi5jpi0mkf

— Edmonton Oilers (@EdmontonOilers) October 30, 2015
Griffin Reinhart is either active or about to be activated, and his October numbers come from (mostly) the early losses. Hard to put a full grade in on him, Davidson, Ference, Nurse.
With all but Schultz healthy for November, I would like to see:
Sekera—Fayne
Nurse—Klefbom
Reinhart—Davidson
Relying too much on Klefbom, but Ference and Gryba are my extra's and I do believe that's with good reason. When Schultz gets back, one suspects the decision will be between Nurse and Reinhart, so those two need to impress over the next 30 days.
Huh. If Taylor Hall is so bad, the fact that he is currently 9th in NHL scoring must be a mis-print. ? #Oilers

— Kurt Leavins (@KurtLeavins) November 2, 2015
THE OCTOBER FORWARDS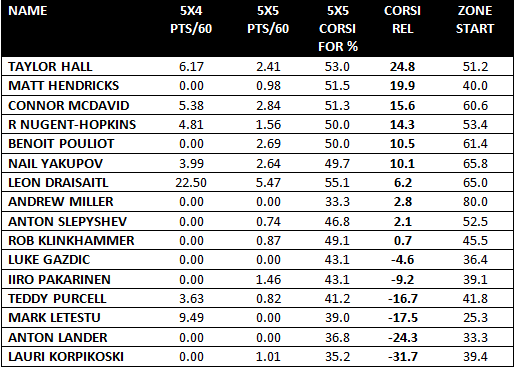 If Taylor Hall were a different man, cool and distant like November, perhaps the verbal surrounding him would ring true. As it is, we're staring at an enormous talent entering his prime and posting numbers that have him inside the league's top 10 scorers—in the tough conference. For those who would call him lesser—child, please. Enough. Taylor Hall is an impact player in the NHL—whether you like it or not. Incredible that sentence can exist as anything past comedy.
Matt Hendricks is missed, whether it be 1 or 4line. His ability to dig and prolong the opposition exits made up for his lack of skill when he played on the Nuge line. We await his return, and that could come tomorrow night. One hopes he is paired with Lander or Letestu on a third line that can do something—anything!—to hold back the water.
Connor McDavid is magnificent, he stops the clocks and calms the town and drives the memes and the vines—and the locals already speak of him in hushed tones normally reserved for immortals. Mr. Webster keeps the light on all night these days, thinking of new words to describe his brilliance.
Ryan Nugent-Hopkins still battles giants to a draw every night, but these days he does it with less attention being paid. For some of us, that makes his excellence even more impressive, as the overall success of the McDavid line owes a glove tap and a wink for all the heavy lifting. Oh, and he's on pace for 55 points.
Benoit Pouliot has great strengths (absolute definition of a strong complementary player, they have real value) and weird foibles ('and Benoit Pouliot takes a penalty four miles from his own net. Again!") but we love him just the same. Brings size and grit and an edge to the McHeyHey line.
Nail Yakupov is one of the real feel good stories of this early season and it's so good to see him in a good place. Nail has never really fit in to the lineup so I'll give full credit to Todd McLellan for finding him a home right away and then improving the conditions when better opportunities came available. That credited, Yakupov himself has earned this and I'm thrilled the points are adding up (he's on track for 68 points!). As long as the line is clicking, Nail should be on solid ground and has the potential to be an extreme value contract this and next year.
A Doctor, a Nurse, a Yak, and a McSaviour all walk into a bar… #Oilers future is alright… pic.twitter.com/qM6a46PdeB

— Beer League Heroes (@BeerLeagueHeroe) October 30, 2015
Leon Draisaitl has both impressed with his early scoring (out of his brain on the 5:15) and created a roster problem the moment Jordan Eberle returns. As Leon occupies the Eberle spot on the Nuge line, I hope we see Leon with Anton Lander and perhaps Matt Hendricks or Anton Slepyshev (or even Iiro Pakarinen) sometime this month.
There's not much to say about 3F and 4F lines this season, we have no feel for them because neither trio (in any form) has shown itself to be effective in any meaningful way. That's a problem, and frankly veteran Lauri Korpikoski needs to be better. A lot has been written about Anton Lander's failings, and even some about Teddy Purcell (although his two point game on Saturday should quiet the jackals), but the 87 minutes Lander and Korpikoski have spent together is revealing. Lander is markedly better after the disaster duo is split, but incredibly Korpikoski is worse! Big, big problem if the veteran can't perform in the Pisani role. Bring back Ryan Jones!
GOALIES AND MOMENTS
Cameron Talbot 10GP, 2.88 .897SP, .903 EV SP
Anders Nilsson 3GP, 3.92 .902SP, .895 EV SP
Goalies. Goalies. Words. Words. Words. Dammit! Sigh. Hope! Not really. Voodoo! Candles? Yes.
LOWDOWN WITH LOWETIDE
At 10 this morning, TSN1260. Lots to get to, and maybe we'll have an Oilers roster move before Jamieson hits the air at noon. Scheduled to appear:
Scott Burnside, ESPN. How much longer can teams like Philly (who are here tomorrow) wait before pulling the trigger to improve the team?
Andrew Bucholtz, 55-Yard Line. The Edmonton Eskimos broke through for the first time in a dozen years to win the Western Division title (Brian King predicted it btw). We'll talk about a terrific season and what it means for November.
Sunil Agnihotri, The SuperFan and Copper & Blue. We'll talk Leon, Darnell, defense and what to expect from a tough week ahead.
10-1260 text, @Lowetide on twitter. Talk soon!