Absolutely no hope from the opening whistle last time out, but I've learned my lesson! No I haven't, still going with players I like. Stupid Stupid Stupid! Here's my roster for tonight: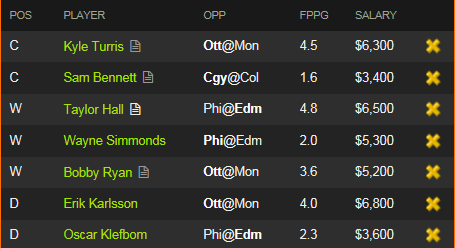 Read 'em and weep!!! Here's the story on today's contest:
Details:
– $65,000 prize pool.
– First place wins $5,000
– FREE for new users or $3 to join
– Over 5,000 scores win money guaranteed
– Starts on Tuesday, November 3rd at 7:00 EST
– Salary Cap Style Drafting. $50,000 to select 9 spots. 8 players and 1 goalie.
– Roster Format: 2 C, 3 W, 2 D, 1 G and 1 Util.