At some point this morning, the Oilers will practice and twitter will reveal the McLellan plan. Last night, this blog, twitter and foolscap all over northern Alberta spent too much time pondering combinations. Hall—Nuge—Eberle? Pouliot—Nuge—Eberle? On it goes.
PROJECTED LINES FOR PITTSBURGH GAMES (A GUESS)
Pouliot—Nuge—Eberle
Hall—Draisaitl—Yakupov
Hendricks—Letestu—Purcell
Pakarinen—Lander—Miller
Klefbom—Davidson
Nurse—Sekera
Reinhart—Gryba
Talbot (Nilsson)
Caveat being Eberle, if he isn't completely ready then I keep the Hall, Nuge, Leon trio together for one more bus tour of the south and a greatest hits album. In truth, I hate like hell the idea of breaking up the 1line, secretly hope McLellan figures a work around.
Update on @cmcdavid97 –> The #Oilers centre underwent successful surgery today to repair his fractured left clavicle.

— Edmonton Oilers (@EdmontonOilers) November 5, 2015
FOUR FORTNIGHTS AND SEVERAL HOURS HENCE
Justin Cuthbert: Dreger said he was told that McDavid's labrum was fully intact as surgeons repaired a "clean" break of the collarbone, and hypothesized that the best-case scenario for his return is seven-to-eight weeks. Source
Seven weeks puts us at some kind of crazy, beautiful New Year's Party at home versus the Ducks of Long Beach. He would miss 25 games, but I'll bet on McDavid to win the Calder if he gets into 50 games or more. One suspects he'll heal like a hero and we'll be cheering him on at Rexall in short order.
REAL REL GONE
It's possible to have good numbers and get noticed for negative things—single moments and events can have super importance while being exactly single moments and events. This is the current situation for Mark Fayne, whose possession numbers were good right up until the time he was sent to the outhouse.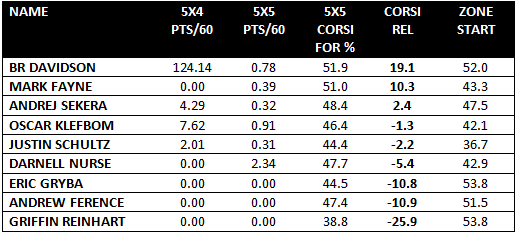 That's kind of his style, man. Mark Fayne isn't about the lumber, he's about the glove. I understand there's all kinds of excitement about the young defense and their splendid performance against Philadelphia, but history suggests starting three rookie blue (and a sophomore) among your top six isn't a great plan unless one of the kids is named Bobby freaking Orr.
That's Mark Fayne right there. He's not 35, hasn't suffered a career-threatening injury or joined the Jehovah's Witnesses. He's a useful player, and I can't see him sitting for a long time. Edmonton will either find a way to get him back into the lineup (traditionally this happens after a loss) or Peter Chiarelli will trade him. Despite those poor offensive numbers, Fayne has value as a defender and should fetch something of value. The question is: Should the Oilers unload one of their very few veterans on defense? I think the answer is no, but we'll see. The last time I saw this many kids arrive with the potential to start, it was Toronto after the Stanley's trying to bring in a plethora of young D (Jim McKenny, Jim Dorey, Mike Pelyk, Ricky Ley, Brian Glennie, Brad Selwood).
GOALING
When the Leafs were developing those young defensemen, they had veteran goalies for support. Johnny Bower, Bruce Gamble, later Bernie Parent and Jacques Plante for a time. Edmonton doesn't have established goalies, having chosen to go with a less proven (but bona fide) option in Cam Talbot. The first month of Talbot in Edmonton looks a lot like Ben Scrivens first month a season ago:
Scrivens OCT 2014: 9GP, 3.01 .896
Talbot OCT 2015: 10GP, 2.88 .897
In November of 2014, Scrivens fell into a well even Lassie couldn't find, going 8GP, 3.84 .878. That can't happen for Talbot, this month will be important for the two goalies under contract. By the way, even with that terrible November (it cost Dallas Eakins his job as coach, and as it turned out MacT's job as GM) Edmonton's management did not give up on Scrivens. I believe it was the four April performances (4GP, 5.49 .800) that sealed Ben Scrivens fate.
LOWDOWN WITH LOWETIDE
A fun, busy show with some great guests, this morning at 10 we back out of the driveway. Scheduled to appear, TSN1260:
Darcy McLeod, Because Oilers. Adjusting the lines for the McDavid injury, goalies and sample sizes, and all those young blue.
Alanna Phillips, CFL is for Girls. Impressive seasons in Edmonton and Ottawa, are they on a collision course?
Scott Cullen, TSN. Leafs look good. Seriously. Also, McDavid's injury impacts hockey fans who couldn't get enough of the new phenom. What are we going to do for seven weeks?
Kurtis Mucha, Director of Goaltending Development for Vimy Hockey and Donnan Hockey. If you have goalie questions (and I'm not going to ask if they're voodoo) send them in!
10-1260 text, @Lowetide.