The night Oscar Klefbom made his NHL debut, Oilers fans felt a sense of anticipation. Edmonton needed good defensemen badly, and the trades and free-agent ventures of the past were lies and punch lines. THIS was different. Oscar Klefbom looked 12, but played with an abandon and skill that Oilers fans hadn't seen in a young defender in some time. He looked strangely…capable. It had been so long since Edmonton had drafted a prospect with a wide range of skills who arrived on time. Oscar Klefbom was a perfect fit for the Edmonton Oilers.
THE DEFENSE, 2015-16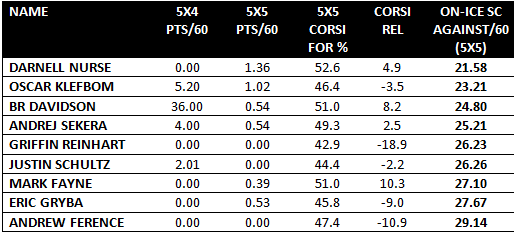 This is the current state of the Oilers blue, I've sorted it by SC against. Very young at the top, the veterans are at the bottom. The Corsi Rel gives us a different view, we'll have to track this as the year goes along (I trust CorsiRel, your mileage may vary). The idea of Justin Schultz and Griffin Reinhart as third pair came up yesterday, but I'd rather run this six:
Nurse—Sekera
Klefbom—Davidson
Reinhart—Fayne
That's the ticket. We'll see.
THE FORWARDS, 2015-16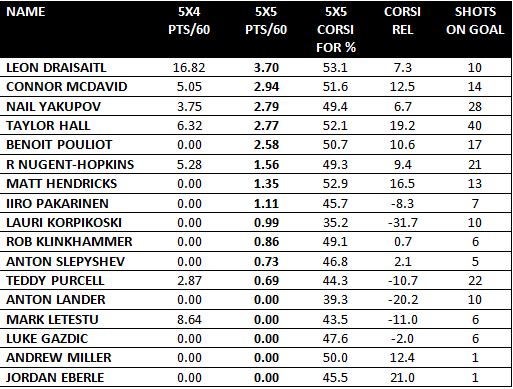 This is sorted by 5×5/60, that's the toughest thing to do in Bettman's NHL. Leon has had a great run, but the contributions of McDavid, Yak City, Hall and Pouliot at the discipline are exceptional. Really strong contributions and, despite a 5-9-0 record, I think an indicator of where this team is heading. The Nuge is a little shy of the number, and Jordan Eberle is just getting started. When this forward group gets going, we're going to have a helluva party in this town.
I imagine Todd McLellan and Peter Chiarelli fret over the third line, it just isn't happening. Anton Lander had a terrific pre-season, I remember leaving the rink after his hat trick evening pretty excited about the Swedish center and 'three scoring lines' for Edmonton. Foolish heart. I bet we'll see Letestu or another stepping into the role full time soon if Anton can't establish himself. He does so many things well, but speed and skill are shy and that was always going to be his difficulty.
OILERS SEASON BY MONTH
Oilers in October 2014: 4-5-1
Oilers in October 2015: 4-8-0
Oilers in November 2014: 2-9-3
Oilers in November 2015: 1-1-0
Oilers in December 2014: 2-8-4
Oilers in December 2015:
Edmonton has a death march schedule this week, I'm not sure how many points you can reasonably expect from this schedule:
Today at Chicago
Wednesday at Anaheim
Thursday at Arizona
Saturday at Los Angeles
Four points? That would be splendid. If the Oilers end this week 2-3-1 for the month, I think that's probably as good as it gets. Tonight's game and the Arizona game would seem to be the best spots for Edmonton.
Shhhh…Ethan Bear is averaging a point-per-game

— Andy Eide (@AndyEide) November 8, 2015
The young man is having a strong draft +1 season so far, his shot from the point is getting him plenty of 5×4 time. When he was in Edmonton this week, the headman passing was on full display. He definitely falls outside the 'sure thing' category of prospects but early days have been good ones.
Who could be pursuing Patrick Marleau? For what it's worth, scouts here tonight from Tampa, Winnipeg, NYR, Calgary, Edmonton and C-Bus

— Kevin Kurz (@KKurzCSN) November 8, 2015
Marleau isn't what Edmonton needs—he's 36, expensive and extremely likely to fade. Marleau is at 460 NHL goals, the Sharks should keep him for the remainder of what has been a splendid career. The Sharks of this decade join the 1971 'Hawks, 1972 Rangers, 1982 Minnesota North Stars and a few other teams of my time who earned a Stanley but didn't win one. In the Sharks case, they didn't even win a pennant.
OILERS 2016 DRAFT PICKS
No. 4 overall
No. 34 overall
No. 64 overall
No. 94 overall
No. 124 overall
No. 154 overall
No. 184 overall
L Matthew Tkachuk (OHL) 12-37-49
C Auston Matthews (Swiss) 23-17-40
C Michael McLeod (OHL) 7-19-26
R Alexander Nylander (OHL) 13-20-33
D Jakob Chychrun (OHL) 5-13-18
Early days, but the NHLE's don't scream 'impact draft' so far. I suspect Matthews numbers will spike and Tkachuk is an interesting follow, but the Finnish kids don't transfer well so far (didn't list them) and guys like Tyler Benson are just getting started after injury—so there's a long way to go. I listed the draft picks because Peter Chiarelli may have to deal one as part of a package in order to get this team rolling a little better. As of this morning, the 5-9-0 Oilers are No. 13 in the Western Conference, ahead of only the Patrick Roy Avalanche. They have a -6 goal differential, but nothing rhymes on the third line, the fourth line is in and out, and of course defense remains a difficult position. The Oilers are in a position to lose the season in the next 30 days, leaving them off the grid and selling long before Christmas—I do not think Peter Chiarelli and Todd McLellan want to be talking about 24 wins as a season-ending goal by Christmas.
Joanne Ireland: This time last season, the Oilers headed out for their annual Canadian Finals Rodeo road trip with a record of 4-6-1. They lost their first two games, beat the Buffalo Sabres and New York Rangers, then lost the next 11. They were 6-15-5 and in 30th place on Dec. 7. They were done. Source
It's an excellent article, worth a read. I've suggested to you going back to summer that Peter Chiarelli did significant work in-season. Chiarelli said recently he would wait until game 20. You can see why—the defense is still in flux and the bottom 6F is whatever is less stable than flux—and injuries have certainly been a bother.
Turn north. I don't think anyone thought the playoffs were realistic this season, but the Oilers are 5-9-0 and facing a tough November that could turn into a long December. They were 2-9-3 in November 2014 and have to be far better this November. Are they? I think so. However, the possession stats (47.7 Corsi, No. 25 overall) suggest this team remains far from the real battle and the coming road trip may well put them to sleep for the winter. Again.