For two days in a row now I've been genuinely surprised by Oilers fans in regard to the current state of the union. I thought we agreed the Oilers weren't a playoff team (I had them No. 11 in the conference, No. 22 overall) but there seems to be a sense the season is in ruins and all is lost.
I don't see it that way. Last season, Edmonton finished 24-44-7-7 and this season they are 5-10-0-0 fifteen games into the year. After a 4-5-1 start under Dallas Eakins (through end October), the Oilers went 20-39-13—good for 53 points in 72 games. The club needs to be better in November and December, but all is not lost until we see something like a 2-9-3 November. If Edmonton can avoid it, that long December can be avoided.
OILERS YEAR OVER YEAR, FALL TO WINTER
Oilers in October 2014: 4-5-1
Oilers in October 2015: 4-8-0
Oilers in November 2014: 2-9-3
Oilers in November 2015: 1-2-0
Oilers in December 2014: 2-8-4
Oilers in December 2015:
Peter Chiarelli can't mortgage the future, but the management of this team has to find a way to send help to coach Todd McLellan—ideas, recalls and yes smaller trades and signings that get them a little help along the way. For his part, McLellan is at least thinking outside the box, as reflected by the lines at practice today in Anaheim:
Lines: Hall-Draisaitl-RNH, Pouliot-Letestu-Yak, Purcell-Lander-Eberle, Gazdic-Miller-Pakarinen. Hendricks left ice before battle drills.

— Jack Michaels (@EdmontonJack) November 10, 2015
The top line is sublime (Nuge is a better center than Leon and a better faceoff man based on Leon's first 330 faceoffs, but 93 can take faceoffs and play the defensive role from RW) and the second line is a reasonable bet, too. If this is Nuge moved to RW, I suspect there's a move afoot to deal with the large centermen by using Leon. Interesting, but I'd rather have RNH into the breach as a center.
Letestu is being elevated at least partly because Anton Lander hasn't pissed a drop. I'm not sure how much offense they'll deliver, but Letestu had 34 points as recently as 2013-14 and there is some talent there (splendid lockout season as well). No harm, no foul if it doesn't work.
Eberle on this line looks like a terrible waste, but you can see why McLellan might try something new. Anton Lander gets a major bloody push here (it's listed as the third line but these are two veteran wingers who have considerable ability). Purcell gets a push, he earned it.
The 4line has Miller (who looks good in flashes, wonder if he spikes with more playing time) and Pakarinen (another guy who could move up) and Gazdic—whose possession stats are in line with the rest of the team. Enforcers aren't my cup of tea either, but credit where due.
I like the effort, hope it works—and I think the Letestu push is not only solid but maybe overdue. One thing for sure: If this works, Todd McLellan deserves a raise.
Hall-Draisaitl-RNH, Purcell-Lander-Eberle, Pouliot-Letestu-Yakupov, Gazdic-Miller-Pakarinen, Nurse-Sekera, Klefbom-Fayne, Reinhart-Gryba

— Bob Stauffer (@Bob_Stauffer) November 10, 2015
The defensive pairings stay the same, I have no issues with it. I would like to see the Oilers keep Mark Fayne in the lineup until he finds his way. That's going to be important as the season wears along.
Cam Talbot has to steal a game, and I think he will. Talbot has been inconsistent if we're being kind, but that's not really the same as being awful and certainly not the same as taking a career nosedive. Playing goal for the Edmonton Oilers has to be one of the toughest jobs in sports, but Talbot has an excellent resume and let's see how this turns out. I'm somewhat alarmed at the number of people who are ready to split already.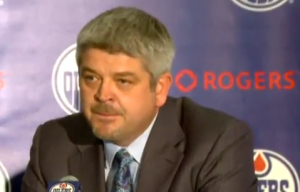 HAIL MARY
Sometimes in life, you don't know what you're capable of until there's a major event or crossroads. I'd suggest the current 5-10-0 record combined with the schedule ahead is a major test for a team that might not be a team for much longer. Despite clear issues with injury, defense, goaltending, scoring and else, Peter Chiarelli and Todd McLellan need to see good things in the games this week. As my Dad used to say, "you are either for me or against me" and I expect some of these young men will have their fates decided in the coming week or two. Remember, Todd McLellan said less than a week ago that they don't care who is in the uniforms, they just want to win. That's as it should be. The best way to keep track of the 'new forensics'? Won-Loss Record, November:
Oilers in November 2014: 2-9-3
Oilers in November 2015: 1-2-0
This isn't about the playoffs, no one was promised that much. This is about avoiding another 2-9-3 November, and that surely is a reasonable expectation. The time is now. The Edmonton Oilers are going to turn north under Peter Chiarelli and Todd McLellan. There are 23 men auditioning for their jobs, as the skies of November turn gloomy.