The Edmonton Oilers are now 6-10-0 overall and 2-2-0 in November—last night's win is a big deal for a team taking on water. The Nuge line is fire on ice, and lordy we seem to have three defensemen who are going to post crooked numbers many nights this season. Sweet music when the pistons fire, and this team can outrun their mistakes when the stars align. Now. Do it again.
https://twitter.com/myregularface/status/664678113880752132
And the horse you rode in on, Mr. Stewart. If that play happens against a team the NHL respects, it's at least a game. Doubt a phone rings, though. You play this game 10 times, I don't think Edmonton wins five of them, but their goaler (Anders Nilsson is doing his bestest to create a goalie controversy) kept them within hailing distance.
THE BLUE, LAST NIGHT

Oscar Klefbom had a nice night by the numbers, I'm a big fan of the young Swede. He did have one play where (for some reason) he stopped skating on a defensive sortie and left Mark Fayne completely high and dry, but I liked his game. The Klefbom—Fayne duo were 10-6/9-7 against the Perry line and that was an acid trip even for the viewer. Jesus, Mary and Joseph that's a dangerous troupe. Nurse—Sekera was 4-6/5-7 against the Kesler line, Silfverberg is a fantastic hockey player. Nurse had a poor possession number overall, but I thought he had an incredible game, really establishing himself now. Road game, tough, veteran opponents and he hung in there and gave it back as good as he got against the Ducks. Oh, and he's 20. Sekera was excellent again, I know lots of people don't like him but for me the guy is showing really well now.
I like this top four D, it won't last (Justin Schultz is coming back) but short of adding an actual veteran the top 4D last night should roll until someone gets hurt or traded. Reinhart—Gryba were 5-8/4-7 against the Kesler line, they had some adventures and mobility is an issue for Gryba, but if they haven't turned the big rig into the parking lot for a rest by now, it's probably not going to happen. Reinhart made a very nice goalmouth play, didn't get noticed but it was there. The Ducks pushed like mad against the youth and Gryba, cracked them open but couldn't put them away. Huh. I've read quite a bit about Reinhart on the Horcoff goal, but to my eye once Gryba loses his man down low this became a dangerous play—Gryba can't afford to be a step behind and he is often exactly that or  more. It's a concern now, Edmonton needs to look at the RD on the third pairing.
CENTERS, LAST NIGHT

Andrew Miller has some ability, I like his speed and he can make plays under pressure. I don't think he's big enough to make it, 3-4 against the Santorelli line. Ryan Nugent-Hopkins was terrific, man he's good. I kind of like the fact the media doesn't get him, they were rambling on about his 'learning to play defensively' last night—I haven't heard anyone in MSM really describe him correctly aside from Travis Yost. He was 10-12 against the Kesler line, 8-3 against the Bieksa pairing. Anton Lander went 7-8 against the Getzlaf line and he got a few looks, I'm going to call that a solid outing despite the continued dry spell offensively. The Getzlaf line was rolling like a Kenworth with a full load, no traffic and plenty of straight, dry blacktop and 51's line hung in there.  Mark Letestu was late on coverage on the second Perry goal (what a goal, lordy) and he didn't shine in the faceoff circle either. Played the Horcoff line to a 4-4 draw, but in the Lander-Letestu race the Swede won last night in my opinion.
Eberle landing on his bad shoulder on his last shift. pic.twitter.com/LG5WxnO1h0

— Woodguy (@Woodguy55) November 12, 2015
WINGERS, LAST NIGHT

Leon Draisaitl was tremendous last night, I mean this is a fabulous player. He was 10-9 against the Kesler line and is such a great passer you kind of feel something good could happen at any moment. Taylor Hall was 10-12 against the Kesler line, did well against the Getzlaf line too. He worked hard, skated miles, some of those shifts seemed pretty long.
Luke Gazdic and Iiro Pakarinen were 3-4 and 4-4 against the Santorelli line, respectively. For me the 4line had some good moments, both wingers moved the puck in a good direction at times. That's not the same as scoring a goal, or keeping the other team hemmed in, but I liked them better with Miller than some recent 4line incarnations.
Jordan Eberle and Teddy Purcell were part of the Lander line, effective against Mount Getzlaf (8-7 Eberle, 5-8 Purcell) but had trouble against the Shawn Horcoff Trio (3-6 Eberle, 3-5 Purcell). Overall, I thought the line had a good outing, didn't see as much offense as you'd like but Purcell's goal was brilliant and beautiful. The veteran winger is helping this team. Eberle looks like 75% Ebs, although that nasty fall WG tweeted (above) could give us another one of those damned depressing news avails.
Benoit Pouliot's pass to Leon Draisaitl for the Oilers first goal was terrific. It's easy to forget that Pouliot brings that much skill to the game, passes like that don't come off many sticks. He was 4-5 against Getzlaf and 4-3 v. Horcoff—McLellan was mixing and matching and pulling strings like Geppetto in an effort to find something that worked against those blasted Ducks.
Nail Yakupov took a late tripping penalty (bad luck mostly, but it was at a tough time in the game) and he had just one SOG. He's a bit quiet these days, I don't know that we'll see him with the same center tonight. He was 2-6 against Getzlaf, 2-4 against Kesler, 3-3 against Horcoff and 0-1 against Santorelli. Leon scored the goal you'd think Nail would be in position to score, but credit 10 he was a bother to Anaheim and contributed to a pretty goal.
Dillon Simpson played his first game of the season last night—minus 1 mostly with David Musil on a night when Dallas Eakins power play beat Oilers AHL team like a rented mule. There are some players in Bakersfield who are showing well, and it's worth having a look. CHL Stats run their NHE 'estimated points-per-60' and the forward numbers are starting to get interesting (five games or more, even-strength numbers).
Josh Winquist 2.92
Kale Kessy 2.12
Andrew Miller 1.90
Jujhar Khaira 1.64
Mitchell Moroz 1.45
Bogdan Yakimov 1.01
Numbers are here. The Oilers are going to sign Winquist if he keeps this up, no choice at all. Khaira is an interesting cat, we've tracked him since his draft in 2012 and offense was just a rumor most of the time. I'm reading here and there about emerging offense, but these numbers suggest miles to go. Let's hope Khaira does start to post 5×5 offense, and when he does, he has that same kind of sustain Jimi Hendrix got at Woodstock. Kessy showed well before injury a year ago, maybe there's something and there's a pulse for Moroz but let's wait for a time before mentioning it, shall we? Winquist is the player of interest here.
OILERS RECORD, BY MONTH (YEAR OVER YEAR)
Oilers in October 2014: 4-5-1
Oilers in October 2015: 4-8-0
Oilers in November 2014: 2-9-3
Oilers in November 2015: 2-2-0
Oilers in December 2014: 2-8-4
Oilers in December 2015:
We've talked about this for some time, but last night's win points out the importance of staying away from losing streaks. If the Oilers can split their final 9 games this month (say 4-4-1) we'll be looking at an overall record of 10-14-1—compared to 6-14-4 one year ago. If the Oilers end the season 35-39-8, will you be upset? Of course not! Losing streaks result in a losing end, that's a fact.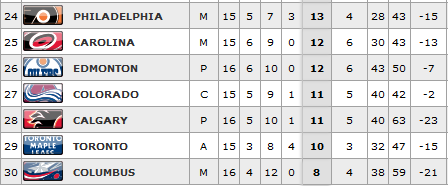 Oilers were 6-9-1 and -20 Goal Differential last season at the same point, so maybe the Hockey Gods have a happy story after all. It was never going to be another 'Donner Party' winter—the McDavid lottery put that to rest—but November and devastation seem to walk hand in hand for Oilers fans. The teams below us are a very nice group, I must say.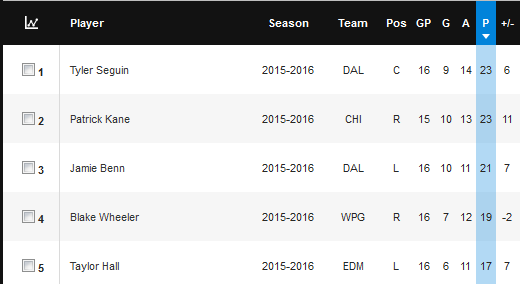 Nice run by Hall here, looks like the second most productive LW in the NHL to my eye. He's fast and furious most nights (and let out a Tarzan F-bomb as well in Anaheim) and almost cashed on a clear breakaway (I think Hall may have thought the bigger nets had already been installed). I hope he gets his All-Star nod (the season-ending one, the one people remember) and also hope he's less than two years from a playoff game. Wonderful at the hockey.
MCLELLAN'S EVEREST
Do you remember the Habs game? Oilers down 0-3, come roaring back to win the day? That game holds a special place for me, it tells us this group can beat a very good team and the offense can outrun the mistakes on many evenings.
I think Todd McLellan's biggest challenge might be between the ears. After the Montreal victory, I felt the Oilers might be able to surge ahead and touch .500 or close and the other team was under pressure.
It's early to have an 'important' game in a long season, but the Calgary Flames have one tonight at Rexall. Despite poor possession numbers and chaos blue, despite voodoo goaltending and a coach who says genuinely unusual things, the Calgary Flames have to win the game. Their season depends on it. Source

Edmonton was 4-7-0 entering the Calgary game October 31, and are 2-3-0 since. You turn that Calgary game around and the team is 6-9-0 and .500 is at least visible in the far tomorrow. Whatever chemistry happened to the Oilers after the Montreal game, whatever allowed a young team with absolutely nothing to be satisfied with to be satisfied, that's McLellan's Everest. Right there, in that part of the team.
The Oilers won't make the playoffs with this defense, but they can show up every night for three periods. I don't think we've seen that this season, not even last night. This evening is another chance to change the script, circle the murky parts with bright red pen and alter the dialogue. When Todd McLellan gets those things ironed out, this team won't have long losing streaks or long nights of chasing run and gun.
Last night was encouraging. Do it again tonight, and I'll dance a jig.
LOWDOWN WITH LOWETIDE
A busy show, as we get ready for another game night. 10 this morning, TSN1260. Scheduled to appear:
Darcy McLeod, Because Oilers. Top 4D as good as it gets this year? Goalie controversy? What to expect when in the desert.
Scott Zerr, Oilers Nation. We'll talk Winquist, Khaira and Dillon Simpson's return. Do they have enough players down there?
Sarah McLellan, Arizona Republic. I'm looking forward to having a chat with Sarah that doesn't involve off-ice rink issues or losing streaks. I think that fanbase deserves a great season.
Frank Seravalli, TSN. As we get closer to US Thanksgiving, will we see some trades?
10-1260 text, @Lowetide on twitter. 90 minutes with a bullet!