Emotionally, I'd settled in for a loss. The Nuge couldn't come out to play, The McDavid is still broken, and the Kings are the Kings in every society. However, those blasted Oilers pulled me in with their fast trains and their slick moves and suddenly it's almost Saturday night!
And THEN?
Same as it ever was, Same as it ever was, Same as it ever was.
BLUE BY YOU
When defense is poor, smart teams pull back on the youth. I count any player under 100 NHL games as 'youth' which means Oscar Klefbom, Brandon Davidson, Darnell Nurse and Griffin Reinhart—fully half the roster—are outside the line.
The problem? Two of the four experienced players (Eric Gryba and Andrew Ference) come with problems of their own, leaving Andrej Sekera and Mark Fayne as the veterans who are stone alone (and both had issues last night). What can Peter Chiarelli do?
When I find myself in times of trouble, CorsiRel comes to me, speaking words of wisdom, let it bleed.
CORSI REL (D) 2015-16
Mark Fayne 12.7
Brandon Davidson 8.3
Oscar Klefbom -0.1
Andrej Sekera -1.5
Justin Schultz -2.2
Eric Gryba -5.6
Darnell Nurse -8.1
Andrew Ference -10.9
Griffin Reinhart -16.2
CorsiRel is a player's on-ice Corsi% minus the player's off-ice Corsi%; off-ice Corsi% is the percent of shot attempts taken by the player's team when the player is not on the ice (but in games where the player is in the lineup); also known as CF Rel%.
So, we're looking at (as an example) Brandon Davidson outperforming his team my a significant amount, but we have to factor in other elements (qual comp, qual team, etc). I like CorsiRel because it gives me a base line for all defenders and identifies suspects who are perhaps eligible for demotion/trade/waivers.
If we go back to the Vollman Sledgehammer (now up at Hockey Abstract.com)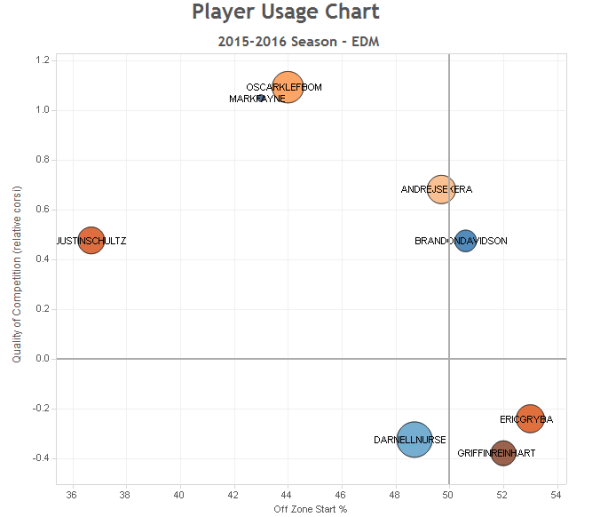 It's pretty clear what's going on here. As much as you're upset about Sekera's mistakes, Fayne's mistakes, Klefbom's mistakes, you're going to have to live with them. It's possible to have good numbers and get noticed for negative things—single moments and events can have super importance while being exactly single moments and events.
ALL of the things advanced stats have taught me about defense boil down to this: If you insist on counting the errors on plays, blowing those plays out of proportion and making decisions on those single things, you will be chasing good defense forever. The single biggest BENEFIT of counting things beyond goals is to TELL US what is really happening on the ice.
When a goal goes in from the moon, or a wobbly one from the side, or some numb nuts forward skates it back to his net to make the damned goal against easier, ALL OF THAT is single moments that have super importance but are also single moments. Attach an error all you want, but for God sakes don't flush the player because dumbass forward put him in a bad spot.
One thing the Rel and the Vollman are screaming at us: The Edmonton Oilers have to split up Griffin Reinhart and Eric Gryba. Now. That's the lesson from last night's game. They're not even playing the toughs, for crying out loud. Now, this.
THINGS TO FEEL GOOD ABOUT
Oilers damned near walked away with at least a point in LA last night.
Taylor freaking Hall!
Leon bloody Draisaitl!
Teddy Purcell. Seriously. That man doesn't just want an NHL contract for next season, he wants an OILERS contract for next season.
McDavid will heal.
The goalers can't possibly be this bad.
The yutes are gaining experience.
Peter Chiarelli is about to do something. He owes it to his team, his coach and those wonderful forwards.
The day is coming, the exit is nigh. The turn north is coming into view. Stop playing Reinhart and Gryba together. It's the right thing to do.