At 6-12-0 and now alone at No. 30 in the league standings, the Edmonton Oilers once again stand at the foot of the 'TURN NORTH" sign. It's the same corner they saw in the early days of Laddy Smid's career, in November of Sam Gagner's rookie season, in January of 2010 when Daryl Katz uttered 'rebuild' and it was heard as 'dive!', and on it goes.
Korpikoski could play tomorrrow, but #Oilers would need to make roster move. If 28 plays, Lander could be healthy scratch based on lines.

— Jason Gregor (@JasonGregor) November 17, 2015
The Oilers have a few veterans who will be coming back soon, Korpikoski is close and Justin Schultz isn't far away, either. I think we have tonight's lineup surrounded.
PROJECTED LINEUP (NOT CONFIRMED)
Hall—Draisaitl—Purcell
Pouliot—Nuge—Eberle
Hendricks—Letestu—Yakupov
Korpikoski—Lander—Pakarinen
Nurse—Sekera
Klefbom—Fayne
Davidson—Gryba
Nilsson
Despite Connor McDavid's injury, those are two solid offensive lines and could be good possession trios of note. Purcell makes smart plays all over the ice (his issue is speed, not smarts) and Leon is going all Jean Beliveau on people's ass of late. If Jordan Eberle can play at his normal level, we could see some firepower at evens from this group. Yakupov's offense probably comes on the power play tonight, if it comes. I'm not sure Anton Lander even makes the lineup, although I've listed him here over Andrew Miller.
The top two pairings look set, still wonder about that third duo. Davidson is the one guy in this group I think most of us want to see a little more, so that's not a bad thing. For the amount McLellan rolls that 4line, I wonder if they should just dress 7D.
CAM TALBOT
"I'm making some big saves through games, then it's that one mental lapse that costs us a goal. As a goalie that's the worst possible thing, letting your team down that way. You can make as many good saves as you want but people are always going to remember the one that went in. That's the nature of the position and I feel worse than anybody about that." Source.
Anders Nilsson gets the start tonight based on reports, but I think Talbot is the goalie to watch this season. Edmonton needs a goalie who can play 50 games a season and make his mark as a clear No. 1 (Nilsson or Laurent Brossoit might be the backup beginning next season). This is important because Peter Chiarelli needs to solve some of the problems on this roster in 2015-16, allowing him to drill down on one or two issues next summer. He added Talbot, Nilsson, Andrej Sekera, Griffin Reinhart, Eric Gryba, Mark Letestu and Lauri Korpikoski last summer—some of those bets need to pay off for Edmonton this season.
ABOUT LEON
Elliotte Friedman: Apparently, Draisaitl had somewhat of an epic meeting when told he was going to AHL Bakersfield at the start of the season. He let the Oilers know how upset he was, but wouldn't specifically go into what was said. "I was really disappointed…being the last guy cut was hard for me to take," he admitted. "It took about a week to get over that and it showed in the way I played. Then you think, 'This might be good for me, working on weaknesses.' My mind changed." Source
Great story. Unlike Darnell Nurse, who many of us felt would be one of the six best (easily) Oilers defensemen, Leon's rookie season made it less obvious he would slide in and perform:
Where do you project him to play? I have Leon scorching Bakersfield's grapes (tried to work wrath in there but can't make it work) for the first half of the season and then coming to the NHL to play LW with Lander and Yakupov. Source
Well, you can't get more accurate than that! One thing that's true: Chiarelli and McLellan didn't have a handle on Leon (or Darnell) so it took them extra time to suss out what they had in the youngsters. I'd love to know how much of those late TC roster moves have to do with performance assessment and how much had to do with input of those in place. I have a feeling Peter Chiarelli and Todd McLellan are just now realizing the calls are coming from inside the house. I wonder what PC thinks about trading Marincin now, and about the overall assessment of the minor league teams/European assets.
Ethan Bear with a slapper. Beats Bow high blocker side. T-Birds lead 3-1. Assists to Gropp and Kolesar.

— Seattle Thunderbirds (@SeattleTbirds) November 18, 2015
Bear is now 20GP, 5-17-22 on the season, NHLE is 82GP, 6-21-27. Early days after the draft, but he (along with Caleb Jones) is trending well so far in the 2015-16 season.
OILERS BLUE IN A BOX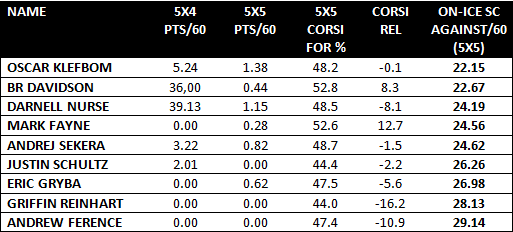 Three different sources here. BTN for the first three columns and the Rel, HockeyAnalysis.com for the Corsi For % 5×5 and War-on-ice for the final column.
Klefbom's numbers are improving in most of these areas, and his offense this year has been a revelation. Those blasted assist counters in Sweden (the Frugal family) obscured the man's offense. Oscar is also improving in the possession numbers and his Fenwick is at about par compared to last season. Recent pairing with Mark Fayne seems to be working, but they've played only 60 minutes together at 5×5.
Dreger, asked if there's a trade market for Mark Fayne: "There might be. I'd like to say yes, but I don't know that to be sure." #Oilers 1/2

— Chris Nichols (@NicholsOnHockey) November 6, 2015
Good to see Brandon Davidson draw in, I honestly don't know if he's a real live defenseman or running some major luck, but it behooves the organization to find out before proceeding. Based on his play, I don't think there's any doubt he won't see the waiver wire.
Nurse brings some nice offense along with wheels and physical play, man he's a fun player to have on our side. Andrej Sekera has had some wobbly bits, especially early, but I've liked him overall (all Oilers D have endured difficult moments, no doubt about it).
I like the current top four better than anything we've seen this season. Todd McLellan appears to have four men he can count on.
David Staples: The next time Mark Fayne makes a major contribution to a scoring chance will be the first time he's done so all year. That would be OK if Fayne had been defending with any success, but he's been leaking scoring chances and goals against, as have Andrej Sekera and Andrew Ference. Their scoring chances plus-minus at even strength is in Cam Barker territory. Source
Jonathan Willis:Fayne is a quality stay-at-home defencemen, which is reflected in those wonderful on-ice numbers we considered earlier in this piece. But because that's the kind of game he plays, he's in position to get dinged for a lot of relatively minor mistakes on major breakdowns. Very rarely is he the guy making the critical mistake himself. Source
I have, and remain, convinced Mark Fayne is easily one of the four best options for Todd McLellan. Based on his projected lineup tonight, the coach (and Jonathan Willis) agree. I know many who read this site and run their own analysis disagree and I do think it's an interesting discussion. Do you believe Mark Fayne is one of Edmonton's best defensemen? Yes. Yes I do.
I know, I know. Things are looking up for the Oilers. But man, looking at their record through 18 GP each season… pic.twitter.com/CPhS0zRfDK

— m g (@kikkerlaika) November 18, 2015
Good Christ. m g you're killing me. And I agree, it's an abomination. That said, this is a playoff team in very important places. Please baby Jesus, send us a strong goaltending performance this evening?
LOWDOWN WITH LOWETIDE
This morning at 10, TSN 1260. Scheduled to appear:
Bruce McCurdy, Cult of Hockey. We'll talk about Edmonton's logjam on defense, and we'll each give our 'best solution' to what happens when Justin Schultz is activated.
Jason McKee, head coach/GM for Spruce Grove Saints. We'll talk about the position of defense—does he look for faster kids to play the position?
Brian Hedger, NHL.com. We'll talk about the Blackhawks, a team that spends the regular season tinkering and testing new recruits, content in the knowledge deep runs into the playoffs are a given. I remember those days.
Scott Zerr, Oilers Nation and TSN1260. The Condors play an early game today, we'll preview it with Scott.
10-1260 text, @Lowetide on twitter. See you on the radio!