The thing about the Edmonton Oilers of this century is this: They often follow up a tremendous effort against a strong club (like the Chicago game) with a full fubar effort against a weaker one. Tonight's game against New Jersey should be two points, despite the good goaltender and the strong team play by the Devils.
HARD NUMBERS, HARD CANDY
Oilers in October 2014: 4-5-1
Oilers in October 2015: 4-8-0
Oilers in November 2014: 2-9-3
Oilers in November 2015: 2-4-1
Oilers in 2014 Oct/Nov: 6-14-4
Oilers in 2015 Oct/Nov: 6-12-1
Oilers Goal Differential in 2014 Oct/Nov: -34
Oilers Goal Differential in 2014 Oct/Nov: -12
Corsi For This Season (Last Season) in All Situations: 49.9 (48.9)
Corsi For This Season (Last Season) 5×5: 48.9 (48.1)
Save Pct This Season (Last Season) In All Situations: .8897 (.8883)
Save Pct This Season (Last Season) 5×5: .8996 (.9019)
Oilers are (mostly) better this season, but the Won-Loss record is running in place. A win tonight and they'll have be 7-12-1 (15 points) after 20 games, as opposed to 6-12-2 (14 points) after 20 games a year ago. If this book has a good ending, there are going to be some dynamite chapters ahead.
https://twitter.com/NicholsOnHockey/status/667495077506236416
Also hearing the Oilers may be willing to part with Justin Schultz for Travis Hamonic but not sure that would do it.

— MurphysLaw74 (@MurphysLaw74) November 20, 2015
I don't think Justin Schultz gets you too far down the Hamonic highway, and suspect Mr. Friedman has it right. The Oilers would likely be better able to put together a package in the summer—say, their first-round pick (not the No. 1 overall, obviously) and some emerging talent. I don't see it now, unless Garth Snow has an unusual attachment to an Oilers player. Try to get Ryan Pulock while you're at it, Mr. Chiarelli.
Re Hamonic: McKenzie says Oilers aren't greatly positioned but says you can't count out Chiarelli as he can get creative, history wt Snow

— Kris (@WildcardKH) November 20, 2015
That's the other side of it, Chiarelli does in fact have a history of being a creative thinker. I asked Frank Seravalli about a three-team trade yesterday, and he made a great point: rare any time, VERY rare in-season. I find myself getting selfish about this forward group, and would hope there's a way to make the deal with picks and prospects, but can't see it. Perhaps Trader Pete does.
I like when Darnell Nurse draws 5 players and then distributes

— Connor Halley (@ConnorHalley) November 19, 2015
That move the other night was exceptional, a Larry Robinson special. Along with Oscar Klefbom we're seeing more offense from the blueline than we've seen in years.
2014-15 OILERS D POINTS/60
This is all situations and from HockeyAnalysis.com (over 100 minutes).
Darnell Nurse 1.56 (No. 27 in the NHL)
Oscar Klefbom 1.45 (No. 32 in the NHL)
Andrej Sekera 1.22 (No. 56 in the NHL)
Brandon Davidson 1.07 (No. 68 in the NHL)
Last season's top performer (Justin Schultz, 1.02) ranked No. 77 overall. That's a lot of offense and in the case of Nurse and Klefbom they are emerging players. I'm not certain what they'll do when JSchultz returns, but I'd like to see:
Klefbom—Fayne
Nurse—Sekera
Davidson—Schultz
OILERS BLUE, THROUGH 19 GAMES
This is from BTN (5×5, 5×5, Corsi Rel), Hockey Analysis (5×5 Corsi For) and War-On Ice (On-Ice Scoring Chances).
Nurse—Sekera is an emerging pairing, very mobile and getting to know each other. If Edmonton runs this duo for the rest of the season, we should be seeing some consistent, splendid play by year's end.
Klefbom—Fayne have been under the gun for much of the season but if the process leads to success we should be on the verge of a nice run for both men.
Davidson hasn't played as much as most of the others but I think the organization has to play him in order to find out what he is at this time.
Among the rest, I think we can predict the future in all cases. Ference (buyout), Reinhart (probably spends fewer than 40 games in the NHL this season), Gryba (part-time player) and Justin Schultz (traded at the deadline or they walk him) are my guesses. Here are my RE estimates from last summer:
LOWETIDE REASONABLE EXPECTATIONS PROJECTIONS, BLUE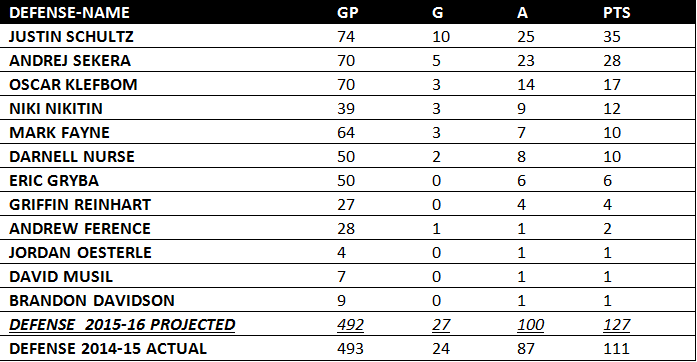 I think the GP estimates are still good, although the injury to Schultz impacts his number, and the distant early warning system on Nikitin went off shortly after breakfast of day one TC. After that, the regulars are the regulars and I'm not going to kick myself for missing on Brandon Davidson's breakout. My estimates have Edmonton's defense going (about) 20GP, 7-24-31 for the first quarter. The Oilers D is in actual fact 19GP, 7-24-31 this morning.
OILERS FORWARDS, THROUGH 19 GAMES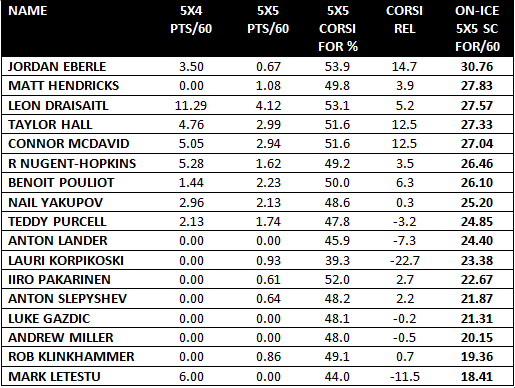 This is from BTN (5×5, 5×5, Corsi Rel), Hockey Analysis (5×5 Corsi For) and War-On Ice (On-Ice Scoring Chances).
Looking at this list, especially the first nine names on it (well, eight plus Hendricks) it's hard to argue that unicorns, free love, legs for days and a slightly tampered liquor cabinet are things of the past (if they ever did exist). Three scoring lines? Music! After a decade of muzak, of Toby Petersen on the powerplay, Mike York on the 5-on-3, flutter shots from the point, we arrive at manifest destiny. Bring it on baby Jesus!
LOWETIDE REASONABLE EXPECTATIONS PROJECTIONS, FORWARDS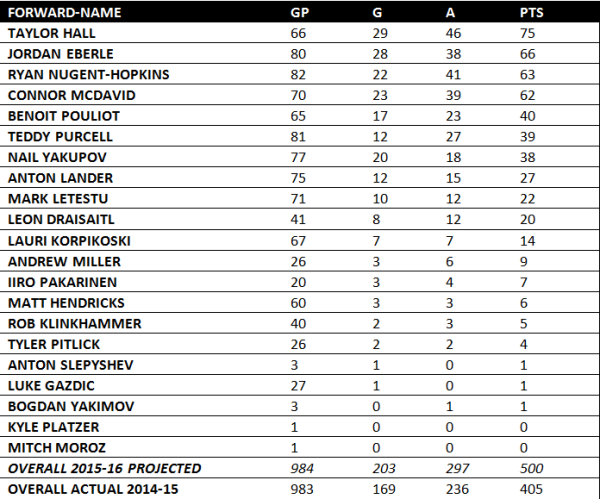 Aside from the McDavid and Eberle injuries, and the Lander sinkhole, Leon is going to reach 20 points by midnight so that's a miss I did identify Miller and Pakarinen, but went low on Slepyshev. My estimates have Edmonton's forwards going (about) 20GP, 50-72-122 for the first quarter. The Oilers F is in actual fact 19GP, 43-62-105 this morning. I'll blame injuries to McDavid and Eberle, plus the blasted third and fourth lines—pick it up, you people!!! The RE has spoken!!!
OILERS GOALIES, THROUGH 19 GAMES

Read 'em and weep, ladies. There's nothing in this photo that makes us smile, although I do think Nilsson has the job now and moving forward (we'll get a better look next week when it's busy). Both men have to be better, Talbot is costing himself a bundle.
LOWETIDE REASONABLE EXPECTATIONS PROJECTIONS,  GOALIES

Save for the Talbot numbers this looks right so far in my opinion. Remember I did these in August so far less was known at the time (although Benjamin didn't help himself with that spring cratering). My estimates have Edmonton's G's going (about) 20GP, 55 goals against for the first quarter. The Oilers G is in actual fact 19GP, 60 goals against this morning (I did count empty-net goals, they are listed in the graph). My estimates overall for 20 GP (or so) would be 57GF and 55GA, and they are in fact 50GF and 60GA. I bet you Woodguy's woodchuck the Oilers close that gap (GD estimate first quarter is +2, actual is -10) before McDavid returns and they cover it by April fool's. And remember, the -10 number doesn't include game 20 tonight, that will change things. A 7-0 win by Edmonton gets the RE close to spitting distance! Make it so! Also, can't find empty net goals in the NHL.com system, so the actual season numbers may be incorrect.
LOWDOWN WITH LOWETIDE
It's Friday!! 10 this morning, TSN1260. Scheduled to appear:
Steve Lansky, Big Mouth Sports. The All-Star game used to be fun. What happened, Steve?
Antony Bent, FC Edmonton. Eddies signing their big talents, we'll have the latest. Plus EPL.
Scott Mitchell, Calgary Sun. We'll find out about the enemy.
Paul Almedia, SSE. Oilers tonight, preview the show tomorrow and we'll talk EPL.
I got some feedback yesterday in terms of what we cover on the Lowdown, and it occurs to me I don't often ask what you'd like to hear. If you're a regular listener, is there anything you'd like covered more? Less? And don't say 'more Woodguy' because we have to employ a bank of lawyers for those segments and it's damned costly! Thanks for reading, and listening! This is going to get good, people. It's like we're in chapter two of Ghost Story and it's about to get real.