Last night, I watched the news from Washington, the capital, and the television screamed the headline: The Edmonton Oilers are turning north! Music! When they make the movie, Edmonton wins that game in overtime. If we're looking for positives in a season with many losses, last night has to rank as one of the truly impressive performances with an L hanging from the boxscore. The Oilers Corsi For in all situations one year ago (in 82GP) was 48.9%—if my wobbly math is correct, this crew stands at 50.45% this morning.
Todd McLellan: "If anybody leaves the rink with their heads hanging down, I'm going to kick them in the butt. I think we lost the points and grew as a team."
I think that's about right. Edmonton won the big parts of the game, earned two points and didn't get a one. That's something that hurts whenever it happens, but for a team trying desperately to claw back to .500, it could be devastating. McLellan's reaction tells me he's seeing good things and believes the team is better. The improvement over the last Washington game was exceptional. We're on to Raleigh.
OILERS EARLY, SEASON OVER SEASON
Oilers in October 2014: 4-5-1
Oilers in October 2015: 4-8-0
Oilers in November 2014: 2-9-3
Oilers in November 2015: 3-5-1
Oilers after 21 in 2014-15: 6-13-2, 14 points (-31 GD)
Oilers after 21 in 2015-16: 7-13-1, 15 points (-9 GD)
Game 22 last season was a loss, but a much closer game than the 7-1 thrashing by Chicago.
OILERS BLUE, LAST NIGHT

I saw Klefbom—Fayne really good last night, Fayne gave veteran support and Klefbom did good work against a tough set of Washington forwards. The play that stayed in my mind was an item where Klefbom lost a step and Fayne supported a dangerous sortie against Ovie. If they are showcasing Fayne, it was a good one. The women at my house got a scare when Klefbom's face took a hit, I was somewhat taken aback at the amount of alarm expressed by them.
Nurse—Sekera had their hands full but did a solid job overall on the top line. That trio had some good looks, but Sekera especially handled the big winger well. AO was running around a little, Nurse hung in—at 20—and I think the young man improved his chances of staying in the top four D when Justin Schultz returns. The thing to watch for now is a step forward—not just surviving these Ovechkin sorties, but handling them and turning things in a good direction.
Davidson—Gryba had a good night by the numbers, for me Davidson played another consistent game and I think he stays in the lineup. Gryba took a couple of penalties and I may have yelled at a cloud when he didn't beat Holtby point blank, but if you believe in the Corgi's this is a hard game to criticize. Which brings me to a question: Who do YOU remove from the lineup for Schultz?
OILERS CENTERS, LAST NIGHT

Leon Draisaitl and his line had a dominant game against one of the best lines in the NHL, it was splendid and then some. GMoney's metric has this line pitching a shutout in the dangerous areas, a fabulous piece of evidence. It was a damned shame the trio couldn't cash but they had great chances. Draisaitl and his group faced Everest and turned it to a pimple on the prairie but the goalie wouldn't let them write a happy ending. Mark Letestu seems to be gaining some ground of late, he's moved up a position and does seem to be able to make more things happen. Ryan Nugent-Hopkins and his group are getting closer to clicking but the timing remains off by a little. That blasted flu derailed the Nuge from a very nice run. Lauri Korpikoski got away with a pretty hellacious hit and may get a call from big brother.
Pssssst, @NHLPlayerSafety. You might want to take a look at this play https://t.co/LICv3zr3pP pic.twitter.com/kynEB656kl

— RMNB (@russianmachine) November 24, 2015
OILERS WINGERS, LAST NIGHT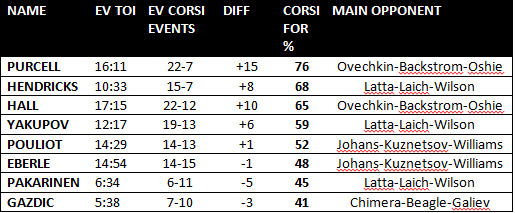 Teddy Purcell had several very good looks and was effective in finding open ice last night, but the line couldn't cash. Taylor Hall is the human chance machine and lordy that was a great performance last night. A lot of talk about not getting a shot on the two-on-none but the pass from Yak came out of a rocket launcher (good lord Yak, a softer touch was the play there). I can't fault the line. At all. Great effort.
Matt Hendricks is back to being an effective two-way winger, maybe a little shy on offense but he gave max effort and showed up in good places to my eye. Nail Yakupov had a night that points out how far there is to go, and if this team finds a winger who has better chem with McDavid one wonders what happens then. I cheer like hell for him, but Nail is a frustrating player. Seriously. How do we marry his substantial talents to the tin ear pass to Hall, who couldn't have caught that thing with a freaking silo?
"It can't just be waiting for McDavid. Sometimes it has to be Yakupov who takes charge and be the catalyst. He was good in LA." McLellan

— Jason Gregor (@JasonGregor) November 18, 2015
Benoit Pouliot and Jordan Eberle should be getting more done, but Eberle seems to be a little off and the Nuge needs liquids or medicated ointment or some damn thing. As much as we can talk about the top line not cashing, this group has been stone cold in recent games. I'd suggest a fix, but hang it all these are three very good players.
Iiro Pakarinen and Luke Gazdic are on Todd McLellan's fourth line, and that's like being at the kids table at Thanksgiving: You're there, but not really part of the conversation.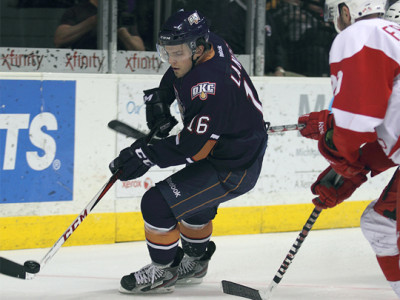 Todd McLellan: "You have to be fast or you have to be quick and right now Anton is caught in between." Source
McLellan has far more subtlety to his game than MacT (who famously crushed Rob Schremp in a single sentence) but there's iron in TMac's words here and they could be just as devastating. I call this player a 'tweener' and do wonder if the only way to get Lander points is to play him with tremendous skill. The evidence suggests that isn't necessary—Lander posted a 1.96 5×5/60 with Matt Fraser last year—but the Swede is not far from demotion and having to work for an extended period to get another NHL chance. Are you there? Say a prayer, for the pretender.
#Oilers goalie prospect Keven Bouchard named @QMJHL 1st star of the week! (2-0, 1.00GAA, .971sv% with Baie-Comeau) pic.twitter.com/upev7hh4Kx

— Edmonton Oilers (@EdmontonOilers) November 23, 2015
Among the things I never thought this blog would report, a scintillating week from KevEN Bouchard would rank up there. His post-draft career has been less than stellar, but credit where due he was brilliant this week. That .971 SP brings his season total to .870, still the worst of his QMJHL career.
TRADES THIS WEEK?
I think we could see one, or two. I don't see Travis Hamonic coming here, Edmonton has the assets but Oscar Klefbom and Darnell Nurse are too valuable to deal and the Oilers have control over more seasons—plus both men fit the McDavid cluster perfectly.
I can see Peter Chiarelli trading out Mark Fayne or Eric Gryba this week, and part of me thinks Justin Schultz may be a little vulnerable but that's likely a deadline item. There's also the Nikitin item ahead, but taking on another meh defender with an extra year is a bad play in my opinion—somewhat similar to the Korpikoski trade.
LOWDOWN WITH LOWETIDE
A busy show with some big brain guests, 10 this morning TSN 1260. Scheduled to appear:
Jonathan Willis, Cult of Hockey: Jon's take on the game and the team after 21.
Open line 10:40, Eskimos, Oilers, things DSF said, whatever you like!
Darrin Bauming, TSN1290 Winnipeg. The Grey Cup host city is gearing up!
Gerry Moddejonge, Edmonton Sun. We'll talk Eskimos prep and the big game.
10-1260 text, @Lowetide on twitter. Talk soon!