Anders Nilsson owns an even-strength save percentage of .914 this season, that's good for No. 33 among goalies who have played 10 or more games. Ben Scrivens even-strength a year ago? .897. Victor Fasth? .896.
THE NASTY, YEAR OVER YEAR
Oilers in October 2014: 4-5-1
Oilers in October 2015: 4-8-0
Oilers in November 2014: 2-9-3
Oilers in November 2015: 3-5-1
Oilers after 21 in 2014-15: 6-13-2, 14 points (-31 GD)
Oilers after 21 in 2015-16: 7-13-1, 15 points (-9 GD)
Game 22 last season was a loss, but a solid effort on the road against the Dallas Stars.
https://twitter.com/NicholsOnHockey/status/669251232494546944
https://twitter.com/NicholsOnHockey/status/669251912831668224
It would have to be a three-way deal to my eye. Edmonton gets Hamonic, NY Islanders acquire a plug and play defender and the other team takes a forward, prospect and or picks from Edmonton. Candidates? Fayne and a pick? Does that get something done? I'm running the prospect list now and nothing rhymes unless the Oilers decide to do something stupid and Chiarelli won't trade Connor McDavid, Leon Draisaitl or Darnell Nurse. The others? They don't get you there.
Among veterans, I don't think PC trades Hall, Nuge, Sekera, Klefbom (heh, veteran!) and probably not Jordan Eberle before McDavid gets 20 games in with 14 starboard. Who is the best player not on that list? Probably Benoit Pouliot. I like him plenty. Something around Mark Fayne and a valuable draft pick, seems to me, is the highest value Chiarelli has to offer.
Day 21 without Connor McDavid. #PrayForMcDavid pic.twitter.com/ukOap12uLY

— Baggedmilk aka Lil Turbo (@jsbmbaggedmilk) November 25, 2015
Hall-Draisaitl-Purcell, Pouliot-RNH-Eberle, Hendricks-Letestu-Yak, Gazdic-Korpikoski-Pakarinen. Nurse-Sekera, Klefbom-Fayne, Davidson-Gryba.

— Jack Michaels (@EdmontonJack) November 23, 2015
If the Oilers run the same lineup (Nilsson is already named as starting G) I'd be pleased—although it would be nice to see Anton Lander draw back in over LG. We'll see. I really like the defense right now and Purcell's adding to the top line. If the Nuge line can cash tonight, I like the Oilers chances of having a handsome road trip.
THE BLUE, THROUGH 21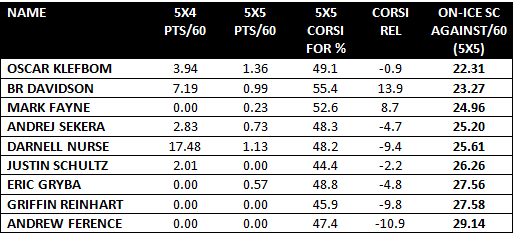 Klefbom—Fayne is strong now, they've tightened like Archie Bell and the Drells. Todd McLellan made a point of mentioning the second pair (Nurse—Sekera). The third pairing is good, and the entire crew is good enough to have me genuinely worried when Justin Schultz draws back in against the Detroit wheels. Klefbom has been a revelation without JSchultz, hope Todd McLellan sees it that way, too. The Davidson rel shines like a freaking beacon.
Check out the offense from Klefbom, Davidson, Sekera and Nurse. Some solid boxcars this season. Who would you call the MVP among the defensive group in the first 21? I'll go Klefbom, for the range of skills, but you could argue for a couple more men in this group. Another 60 games from Sekera like the last one and he'll slide into the 'Pouliot' file of free-agent signings.
THE FORWARDS, THROUGH 21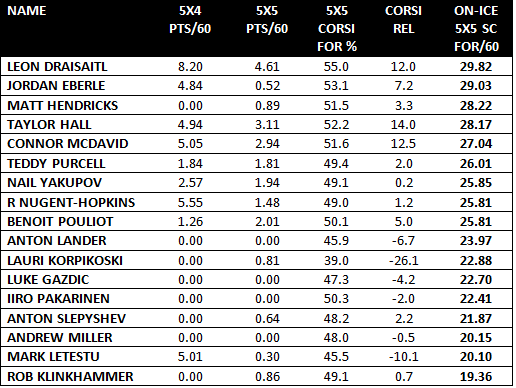 MVP among this group? I'll go Hall, but OH MY the runs by McDavid and Leon will live on in my memory for a long damn time. Lordy. Jordan Eberle didn't play a lot in this first 21, but seems to be finding the range now. Todd McLellan will need to figure out the bottom 6F and I think we might see something happen there sooner than later. Maybe McDavid plays New Year's eve and scores twice, sings Auld Lang Syne and drives everyone home in an Uber. When he does return, picture this on a day in December:
Look right? That 3line LW needs to be more skilled, but that's for next season. I wonder if they consider running Hendricks with Nuge and Eberle, and we could see 14 move up to the McDavid line right away. Can these three lines average 70 goals each? Thoughts? Come on, SlepSlappy!!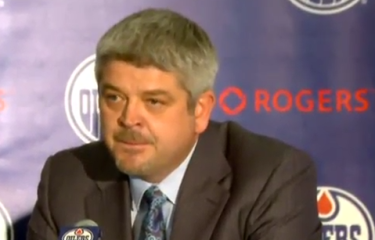 Todd McLellan: "I see growth in young players, and I see old dogs learning new tricks." Source
The goal differential doesn't match the won-loss record, and the verbal is decidedly upbeat for a team this deep in the second division. A win tonight gets Edmonton even with the Godless Flames, the Avalanche and ahead of the Blue Jackets depending on other scores tonight. The fun starts when Edmonton gets on a bit of a roll, because the division standings offer the real meat of the season:
One of the key indicators (goal differential) has Edmonton ranked No. 5 in the division and a win tonight moves the Oilers within five points of a playoff spot. It's vital to get some points this trip, stay within reach of Van. The easier schedule and the return of McDavid should allow this team to romp a little in the new year.
Siste døgn av draktaukjonen. Heng med helt inn og støtt en god sak. https://t.co/BGVK9bcVpZ #sammenervisterke pic.twitter.com/EIhFmwK4jW

— Stavanger Oilers (@StavangerOilers) November 25, 2015
Ahem. If the Oilers are looking for a fourth uniform (their third is perfect, talk of retiring it will not be tolerated) this item is a fabulous novelty. I believe it's for charity and the Slap Shot feel to the photo adds to its look. Well done, Oilers!
2016 DRAFT

Central Scouting has issued a new 'players to watch' list and the London Knights have an insane group of prospects this year. Early days, and we won't get into this for some time (January at the earliest) but this is the first list that shows the depth of some of these teams and leagues. The USHL group is mammoth. I'm impressed with this Olli Juolevi fellow, you can read about him here.
LOWDOWN WITH LOWETIDE
A busy show, 10 this morning on TSN1260. We will have open line time too, so call or text in! Scheduled to appear:
Dustin Nielson, TSN1260. Live from Winnipeg, we'll talk Grey Cup and Dusty's experiences in Manitoba.
Dan Auchenberg, Sherwood Park Fury. Turned around the program in a heartbeat, we'll talk about the women's program overall and his team specifically. There are a lot of opportunities for women's hockey in the USA, we'll chat about it.
Bruce McCurdy, Cult of Hockey. The wise McCurdy will drop in to discuss Nilsson, the blue, the Yak and the night Raleigh broke our hearts. We'll talk some football, too.
Dave Jamieson, TSN1260. Dave will regale us with more Grey Cup week stories, God they're funny.
10-1260 text, @Lowetide on twitter. 90 minutes away!