Back in the 1970s, variety was an issue. Most people shopped at the same stores because towns had only one or two in each shopping category. For instance, most of the stuff we bought for the house came from Nelson Lumber in Lloyd. Same as everyone else. So, you'd all end up with the same wood paneling in everyone's basement. Seriously. It wasn't expensive, easy to put up and required very little (if any) maintenance. Nowadays, you have to look hard to find it, people hated it after awhile BECAUSE everyone else had it and of course it's been forty bloody years. Blonde wood paneling didn't come to my town, but it got to Pittsburgh in the 1970s and in Pittsburgh folks are too damn busy to take down the 1970s. Thank you Pittsburgh, you make me feel mighty real.
Chiarelli on making a trade to save the season: "It doesn't mean that you won't make a move, but the last thing you want, is to try and go out and force a move to shake things up. I'm not adverse to making moves and certainly I've had a lot of conversations in the last two weeks. But to think I have to go out and make a move because I have to shake things up, I think that's the wrong way to approach it." Source
This is, of course, the correct path. Peter Chiarelli chose his team over the summer, made some bets that worked (Andrej Sekera, that McDavid kid might have a future) and was wrong on damned near everything in-house (Darnell Nurse, Leon Draisaitl)—one imagines his handy-dandy assistants were front and center on those things. Perhaps they'll fire up the forensics rack in the spring.
DEALING WITH MEDIA: CONTROL THE MESSAGE
It is important for the Oilers to get their message out in the best way possible, to control the daily content. Media avails can go sideways (as an Oilers fan, you know this) in a heartbeat. From what I can tell, there seems to be some kind of 'controlled opening' for Chiarelli, and then the hounds are released once the pace and setting are established. Current avails go like this:
Early reporter pumps in a difficult question that will be asked by others, but frames it around a softening sentence. "Larry, we know those forklifts have been known to tip over and kill people, so that's done. But is there any way to make sure it doesn't happen again?" that kind of thing. The reason the question is asked? It's important to get to the meat early, because a more focused question ("Your safety record is insane, what in the hell is wrong with you people???") may startle the spokesman and it's harder to control the message.
Once the central question is asked and answered ("I'm disappointed, but we're staying the course") the follow ups are easier to answer ("as I said, we're staying the course and one of the reasons is we don't want to make a trade just to make a trade, that's when mistakes happen") and the avail goes along happily without much fanfare. Reporters get their quotes, write their stories, the office is happy because they can put something online and in the paper, and the process continues.
BUT THERE'S A PROBLEM
In the olden days, teams could use the media as an extension of their own PR department—some will say that is still the case. Glen Sather used to do contract negotiations through the media, giving interviews that cast youngsters as perhaps selfish as the day of their renewals arrived. By the time Kevin Lowe took over, no one was that brash, but in terms of give and take with media, I don't think much changed. He had his contacts and brought them in as he saw fit (by now the media was cynical, but not like they are now) and the media bit him from time to time but there was a working relationship.
Steve Tambellini—again this is me—didn't trust anyone because he knew the leaks were coming from inside the house. I bet you a 2-4 Tambellini covered his mouth and made whirring sounds as he talked into a phone at the office. How do I know this? Well I don't, but can say the period when Tambellini ran the team, it was dark days for the media.
MacT jumps in, and it's like we took a commercial break but we're back with the Johnny Carson show, business as usual. Relationships are relationships, and rapport over a long period builds trust, even though the media is not your friend. This is all my opinion, but I'll bet it's close.
IN THE DAYS AFTER THE RAPTURE
Peter Chiarelli is a veteran GM and he's worked in a strong media market filled with the crazy and the good, so there's zero doubt in my mind the man has a plan in regard to controlling the message. The plan, as I see it, is the following:
Hold very few media avails, and when you have one, make it in Pittsburgh in front of a 1970s wall. Ringing phones optional.
Drive home the important things early: We're disappointed, not making trades, had to send Griffin down even though I'm seeing good things, throw in a bone for the kids in Bakersfield, thanks everyone don't forget about the golf tournament in July, see you at the draft!
Know who you can trust (remember, we know these media folks far better than the GM), and for God sakes make sure you've covered the important points previously. The reason for that? One of the truly effective responses to a question is "As I said not one minute ago….." because it makes the person asking the question look like they're not paying attention, or being pushy. NOTE: Terry Jones doesn't care, he keeps pushing. This is an asset for a reporter.
Make sure you know ALL of the possible questions. Make sure to get out in front of things, as in: "I'm sending Griffin down, don't want to, but we can't have nine D" so the next question can't be "does your acquisition of Reinhart, who was sent down today, expose at least one of your summer transactions as being a failure?" and on it goes.
It's a damned good strategy to my eye, but you can't lose the reporters because the message from the team loses impact unless it's THE story of the day. The team will want to control the content, as much as possible. If one (or more) of these veteran reporters decides the team isn't forthcoming, or these scrums have no value, it may free said reporter to use his or her extensive contact list to work outside the current coverage cocoon. Friends close, enemy closer.
Now. If any Edmonton newspaper folks are reading this and looking for story ideas, may I uggest a few:
Did the Oilers make a boner by acquiring Griffin Reinhart, who lost his NHL job to Darnell Nurse and Brandon Davidson?
Why can't the Oilers goalies goal?
What do other NHL teams really think of the Oilers?
Is there pressure from the league for the Oilers to improve? Perhaps an article on the changes to the draft lottery that were made with the Oilers in mind, with a quote from someone like Ed Snider—who has to be seething about the talent drain to the NHL's most northern outpost.
An independent former GM who could go over the last five seasons of transactions and rank them.
A series on the 2016 draft, complete with a running count of where Edmonton is projected to select players (they could use this blog as a resource).
There. Some of those should be good thought starters.
SHOULD YOU WORRY AS A FAN?
No. This is all curio stuff, inner workings deals. I think Oilers news will—more and more—break via the broadcast rights holders and the Oilers own website—with the newspapers on the outside looking in. This coincides with, and I'm being serious now, the very real and harsh truth facing the men and women of media. Downsizing is a ghastly thing and it's on the minds of everyone in the industry. Now, a man who has been on the beat since the days of wood paneling is likely set, but what about the guys 10 years in? I have a tremendous amount of sympathy for these people (you may not, and that's fine) because the amount of work that goes in to getting any kind of tenure in the industry is incredible. Every small event, every goofy angle, every blasted prediction, the hard work to get there is mind numbing.
So, we are here. What happens now? As someone who has observed Edmonton media (and spent time in it) for decades, I predict we may be in for a very nice run of several months worth of incredible stories. These reporters aren't going to wait to read a breaking story they have no access to, they're going to find their own stories to compete with the Oilers-driven verbal. Nothing bad about that for the fan, not one damn thing. About time the media in Edmonton got rid of that wood paneling.
ABOUT LAST NIGHT
Fantastic game. Todd McLellan needs only time, another defender and a goalie who does what he says he'll do. Speaking of, Anders Nilsson's EV SP is now .917 and that's miles better than Ben Scrivens (.897) one year ago. Nilsson ranks No. 32 in the NHL among goalies with 10 or more starts. He's winning the job, but miles to go.
DEFENSE, LAST NIGHT

Davidson—Schultz looked good from here, there were a few antsy moments for both and Schultz (while on the PK) got one of those 'puck over boards' penalties. Neither man was involved on the PP but both played significant amounts on the PK. Well done Todd McLellan, a smart move bringing Schultz in slowly (only Fayne played less at evens).
Klefbom—Fayne once again received the tough assignments and I remain stubborn in my defense of the duo. Oscar got Malkined by one of the best players on the planet for an incredible goal and Fayne was also in photo. I think they performed well considering the opponent and remain hopeful we don't have to go through one month of Klefbom—Schultz before McLellan sees what we know.
Nurse—Sekera had some adventures and I believe they were facing less difficult opposition than the Klef pairing. For that reason, the numbers are disappointing, although the boxcars were good (no minus, Sekera an assist).
CENTERS, LAST NIGHT

One thing about McLellan, it's usually hard (especially on the road) to see what he's after—as opposed to the other coach—in terms of matchups. Mark Letestu performed well in my opinion, he seems to be finding his way a little more. I don't know if we're counting him as a positive add, but would suggest the 'epic fail' comments are overly dramatic.
Leon Draisaitl is an absolute joy to watch. At 20, he scored a big goal for the Oilers, battled one of the best players in the game and helped his team walk out with two points. I hope he plays here until he's 40, winning his final Stanley in the same way Jean Béliveau won his final one: A smokey rink in Chicago, in shocking fashion. I imagine comments about his speed will end in the next two years and not return until his 35th birthday. He's a killer. I love his game. Anton Lander is in more plays again, good to see. I liked his game, he's finding some chem with his linemates and he is one of several players who mark smart, subtle plays in-game.
Ryan Nugent-Hopkins may be the media choice for sacrifice this season, lordy they're all over him. I watch the games and I look at the numbers, and the flu issue aside, he's sublime. Skated miles and had a monster assignment, came out even in plus minus, had three shots, an assist and worked his tail off. I remain amazed that people seem hellbent on calling out this team's best players. At least they're not on Hall anymore.
WINGERS, LAST NIGHT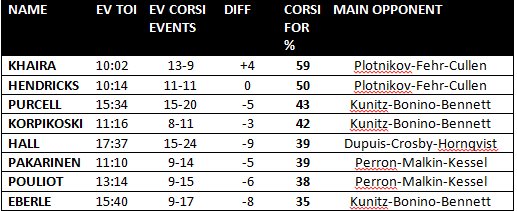 Jujhar Khaira had a fine debut, honestly he was solid. Made a great interception of a pass and got a shot off, there was a better option there but we can't expect him to negotiate it in real time in game one NHL. Matt Hendricks must make his coach smile every night after the game, just a hard-working veteran who works and works and works. Warrior.
When I look back on this season and wonder when I became a Teddy Purcell fan, it'll be this little book of games when they really needed him to be steady and productive. He's on pace for 45 points this year, and makes smart plays, places the puck in good spots, passes well, has more to his shot than the reputation implies. Smart, smart player, he'll fetch something of value at the deadline but I'd argue for at least thinking about keeping him.
Lauri Korpikoski had one of his better games, scoring a goal and offering better form and structure than in most of his previous efforts. He's kind of a strange player, he shows up in odd spots and then struggles to make a play. Todd McLellan likes him, he played third-line minutes again last night.
Taylor Hall is a wonderful, wonderful hockey player. He was struggling to post a crooked number on this trip, nice to see him get rewarded for hard work. Took a penalty, but it looked like one of those accidental things to my eye (not saying he didn't earn the two). Iiro Pakarinen couldn't hold on to the big job, but I think that had to do with an improving veteran back from injury than anything the Finn did. Impressive skill set, don't know why his drafting team passed on signing him.
Benoit Pouliot had four shots, threw some shade (I know I'm not using that right, but I like the word there) on the Korpikoski goal and had a reasonably productive night. On pace for a 43-point season. Jordan Eberle, like Lander, was in on more plays last night. Made a quality dive to interrupt a promising sortie heading the wrong way and scored in the shootout. Oilers need Eberle to deliver, and he's underachieved, but as is the case with the Nuge I'm surprised people (media people) are drilling him. Clearly not at 100 percent and he has to be better, hell I bet he would tell you that. He isn't 40 and he didn't marry Scarlet Johansson, so I assume hockey still matters to 14. He'll be back soon with a flourish.
WHAT'S THE STORY, MORNING GLORY?
Oilers in October 2014: 4-5-1
Oilers in October 2015: 4-8-0
Oilers in November 2014: 2-9-3
Oilers in November 2015: 4-6-2
Oilers after 24 in 2014-15: 6-14-4, 16 points (-33 GD)
Oilers after 24 in 2015-16: 8-14-2, 18 points (-13 GD)
If the Oilers win in Toronto, we'll have to consider November a slight change in the weather—and a possible turn north.