The problem is, you develop a past. When a fan base first becomes aware of a player, a clock begins ticking in their brain. There were actually patient Oilers fans when Taylor Hall was drafted, and Ryan Nugent-Hopkins, too. All of that patience is gone now, for fans, but it is important for the Oilers management to stay the course. Fans are yelling now, for the heads of their best players, men like Taylor Hall and Ryan Nugent-Hopkins. PC can't trade those men for the offers on his desk, he must keep his powder dry. We can be struck by madness, Peter Chiarelli can not, and that is vital to the future of this franchise.
Why? As angry as the fans are now, imagine Hall winning a Stanley Cup in Calgary, Vancouver or Montreal. As a devout follower of the Montreal Expos, ask me how it felt to see Gary Carter win the 1986 WS in a Mets uniform. Yeah. Sucks. And blows.
I was heartened by the words of Peter Chiarelli a few days ago, when he made a tremendous amount of sense for a man overseeing a team that (at times) appears to be intent on reenacting the scenes from Slap Shot.
Chiarelli on making a trade to save the season: "It doesn't mean that you won't make a move, but the last thing you want, is to try and go out and force a move to shake things up. I'm not adverse to making moves and certainly I've had a lot of conversations in the last two weeks. But to think I have to go out and make a move because I have to shake things up, I think that's the wrong way to approach it." Source
Those words have iron, but the man who chose them must have moments where he, just like the fans he represents, feels like taking a Louisville Slugger to the hotel furniture. Stay the course, Chiarelli, and we'll try to remember you've been on the job for six months.
PRIDE: IT
'

S A THING, SEASON OVER SEASON
Oilers in October 2014: 4-5-1
Oilers in October 2015: 4-8-0
Oilers in November 2014: 2-9-3
Oilers in November 2015: 4-7-2
Oilers after 25 in 2014-15: 6-15-4, 16 points (-36 GD)
Oilers after 25 in 2015-16: 8-15-2, 18 points (-16 GD)
Oilers in December 2014: 2-8-4
Oilers in December 2015: 0-0-0
I had hoped we would be talking about taking off ramps and heading back to the land of unicorns, clear mountain streams, women of genuinely questionable repute, really good beer and no hangovers. Instead, we're back in Shawshank, I think this is the laundry room.
DEFENSE, LAST NIGHT

Nurse-Sekera had a solid evening, I like the veteran

'

s game. He was -2, but had inside coverage on Kadri

'

s goal (tip) and the EN was an EN goal. Nurse had his wheels going, tough to do in a week with a lot of games. I remain hopeful the Oilers continue this pairing, should pay off later this season when the rookie takes a step forward.
Klefbom-Fayne was a tale of two cities. Klefbom was challenged and hurried and injured, but kept his head and came out fairly well. Fayne, who I support as the other half of the pairing, was very poor. Errant passes, always a step slow and didn

'

t make many solid decisions with the puck. I suspect we

'

ll see new pairings and if we do, I blame Fayne for what is to come.
Davidson-Schultz had its moments of good and bad, I could live with this as a third pairing I think. Schultz was in chase mode on the PP GA, but I

'

ll credit some slick puck movement by the other team. 19 gave the puck away a time or two, really needs to tighten that up. Hit a post, and sent a puck 200 miles above earth on a fantastic PP chance. Hit the net, Justin! Davidson didn

'

t play in the second half of the game, suspect injury and we should find out today.
If I had to pick a defenseman to pull from the lineup, it would be Fayne, no question. Based on the roster and available options, that would be a mistake, also no question.
FORWARDS, LAST NIGHT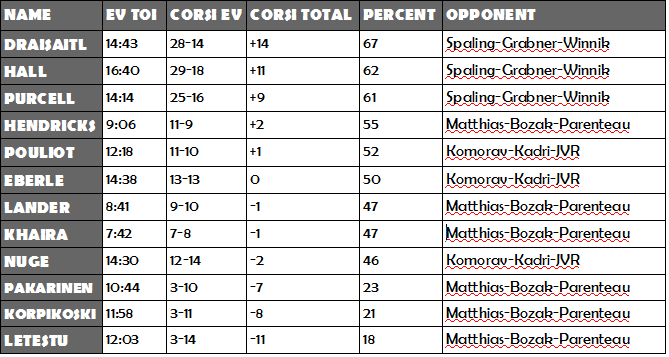 Leon-Hall-Purcell are really kicking it now, absolutely feeling it and getting some nice matches. The concern? Offense was spotty despite good possession stats and (I thought) good chance totals. War on Ice had Individual high-danger scoring chances for this line at Hall (4), Leon (2), Purcell (2). The rest of them? One for Khaira, one for Darnell.
Nuge-Pouliot-Eberle got some looks but nothing dangerous. It sounds like Todd McLellan is getting impatient with this line and we may see a change. I am not worried about the Nuge as an Oiler, but the other two may be drifting from the rest of the cluster in terms of future.
Lander-Hendricks-Khaira didn

'

t get much done offensively, but that isn

'

t something we

'

re likely to see from them. I thought there were some good things, Khaira probably earned another week in the show (now watch, they

'

ll send him out today).
Korpikoski-Letestu-Pakarinen and I

have mentioned it before but Korpikoski is struggling badly and he might be bad enough to get a veteran's healthy scratch. That's a rare thing in all kingdoms but he earned it. Letestu was also bad, poor passing riddled this line along with a penchant for icing and general tomfoolery. Pakarinen was the best of a bad lot but he could be in Bakersfield by sundown.
THE HEAT IS ON
Todd McLellan had some words after the game. McLellan is an effective communicator and it doesnt take a lot to read between the lines:
"I didn't think we were a very hard team. I didn't think we stood over a lot of pucks. I didn't think we won a lot of battles along the boards. I didn't think we were competitive enough in a lot of areas."  Source

"When I look at the trip as a whole, we had some key, key people really under-perform on the trip. Significant minus numbers, not hitting the score sheet. It can't always be the (Leon-Hall line) that provides that." Source
"We're not where we need to be. We've got work to do as a team, work to do as an organization to get bigger, stronger, harder, and physically win more battles than we lose." Source

I think it's fair to identify Nuge and Eberle as the main targets of that scoresheet item, but the Nuge doesn't belong on the list in my opinion. Why? Let's look at scoring over the last 10 games and see where the real issue lies:
Leon Draisaitl 10, 5-6-11
Taylor Hall 10, 3-6-9
Teddy Purcell 10, 2-6-8
Ryan Nugent-Hopkins 9, 1-4-5
Benoit Pouliot 9, 2-2-4
Jordan Eberle 10, 2-0-2
Mark Letestu 10, 1-1-2
Iiro Pakarinen 10, 2-0-2
Lauri Korpikoski 7, 1-0-1
Anton Lander 9, 0-1-1
Nail Yakupov 7, 0-1-1
Eberle is fighting it for sure, he has been slow to come back from injury and that's a concern. Nuge? I do think he's shy at evens but the points are there and let's remember he gets the horns in terms of matchups every night. The sins of this team are not specific to the Nuge or even Eberle, they are (once again) the sins of youth and lack of real depth in important places.
Dreger: Chiarelli doesn't want to give up Nurse or Klefbom and Snow doesn't want Eberle for Hamonic. #Oilers #Isles https://t.co/s90GqKOSXh

— Chris Nichols (@NicholsOnHockey) December 1, 2015
This tells you that Peter Chiarelli is doing his job, folks. Jordan Eberle  is a $6 million dollar a year winger who can't stand up for falling down, but this too shall pass, and when Eberle starts scoring again he'll be too valuable to trade. Eberle and Nuge will find a way, their history screams it.
The defense looks far better than it did awhile ago. Still major issues, but if I'm PC another forward who can check and score is a really good fit about now (and this assumes Davidson is okay).
Frank Seravalli, TSN: Babcock suggested after the morning skate on Monday that the Oilers were ahead of the Leafs' rebuild, given that Edmonton has so many top picks already in the NHL while most of the Leafs are in the AHL or junior. Aside from a cornerstone like McDavid, it's fair to debate whether the Oilers are truly further down the path from Toronto. Source
I think this probably represents the thinking of most observers currently, but for me there are major differences between the two teams.
Edmonton has a jaw-dropping group of talent with real, exceptional strengths. When they are locked and loaded and healthy, other teams will feel the pain. They have real and substantial problems, but they are missing 6s and 7s and 9s; they have the Jacks and Kings.
Toronto has a great coach and veteran workers like Daniel Winnik, who I love as a hockey player. They aren

'

t close to having the kind of talent that will take them to the promised land, it will take time, and a lot of it, to get there unless Steven Stamkos comes available this summer.
If you want to know the reasons Edmonton lost, there are some that hold water beyond the usual.
Three games in four nights
McDavid is hurt
Yakupov is hurt
The center position remains badly in need of more scoring depth
Korpikoski is a tire fire
Darnell Nurse, as good as he is, remains a rookie pro
The bottom 6F don

'

t have a lot of actual talent
On the other hand, there are some things to like:
Goaltending seems to have settled
Defense isn

'

t as bad as it was previously, less running around
Leon and Hall are fantastic together, and Purcell fits like a glove
The toughest part of the schedule is done
Today, because of Todd McLellan's comments, you're going to read and hear a lot of negatives about the Nuge and Jordan Eberle. That's fine, they are professionals and that comes with the territory.
None of it matters, unless Peter Chiarelli does something in a fit of pique. If he does, the same angry fan base calling for him to take action will never forgive him.
Ever.
And that's the struggle for Peter Chiarelli this morning.