This is Leon Draisaitl. He came to training camp bound and determined to make the opening night roster, but they demoted him instead. Leon sulked a little, went to work, and has been punishing opponents non-stop for since returning. What a season!
IF WE MAKE IT THROUGH DECEMBER, YEAR OVER YEAR
Oilers in October 2014: 4-5-1
Oilers in October 2015: 4-8-0
Oilers in November 2014: 2-9-3
Oilers in November 2015: 4-7-2
Oilers in December 2014: 2-8-4
Oilers in December 2015: 0-0-0
Oilers after 25 in 2014-15: 6-15-4, 16 points (-36 GD)
Oilers after 25 in 2015-16: 8-15-2, 18 points (-15 GD)
The 26th game last year was a 3-2 OT loss to Winnipeg, as the Oilers stumbled toward Christmas. I remember this period being very trying for the entire fan base and the comments from this thread reflect it. The post itself has a somewhat similar feel, save for the fact no one is talking about firing the coach at this point.
Shots For Per Game This Season (Last Season) in All Situations: 28.7 (28.4)
Shots Against Per Game This Season (Last Season) 5×5: 29.3 (30.0)
Goals For Per Game This Season (Last Season) In All Situations: 2.44 (2.35)
Goals Against Per Game This Season (Last Season) 5×5: 3.08 (3.37)
All of the numbers are just a little better, you can see the Oilers climbing the mountain (going from -1.6 shots/60 to -.6 shots/60) but they need to keep pushing. I am hopeful the last 40 games of the year allow Edmonton to close the gap before April 2016.
BREAKING UP IS HARD TO DO
Elliotte Friedman: No doubt Chiarelli is going to perform major surgery. But he needs to hold more than Queen-high. Source
That is exactly it. The issue for Edmonton is they won't trade their really good pieces and no one wants their under-performing players. As you'll recall, I was singing the praises of GM Peter Chiarelli just a day ago about his steady guidance of the team through a difficult time, and his recognition of the spot he is in.
Chiarelli on making a trade to save the season: "It doesn't mean that you won't make a move, but the last thing you want, is to try and go out and force a move to shake things up. I'm not adverse to making moves and certainly I've had a lot of conversations in the last two weeks. But to think I have to go out and make a move because I have to shake things up, I think that's the wrong way to approach it." Source
That's the play here, Edmonton is No. 30 overall now. The spot I think Chiarelli may covet, that last playoff spot in the Pacific division, is nine points away. If Edmonton gets there, it will be a miracle and there is no way this long shot team is worth a major deal. This sliver of hope is the definition of a distant bell, crazy crazy to even speak its name.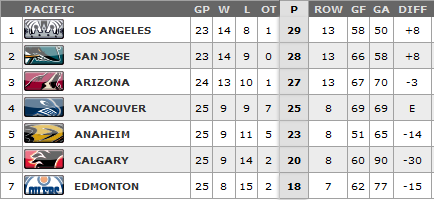 On Monday night, Todd McLellan was pointed in his post-game comments and it was pretty obvious who he was unhappy with after a difficult performance.
"When I look at the trip as a whole, we had some key, key people really under-perform on the trip. Significant minus numbers, not hitting the score sheet. It can't always be the (Leon-Hall line) that provides that." Source
That seems pretty tame to my eye, but it is clear who is being called out. Bob Nicholson decided to double down on RNH and Jordan Eberle.
Bob Nicholson: 'They are players that have been very good for our team.

They haven't performed this year.

This last road trip, they haven't been where they need to be for our team to be good."
I am prepared to take issue with that statement, the underlined portion. Jordan Eberle is a somewhat different case, he is in fact struggling and fits the description. Nuge? The flu and the road trip aside, he appears to be right on target for another solid year.
RNH on pace for 4th 50 point season before age 23. Players to do that over past 20 years: Crosby. Kane. Kopitar. Kovalchuk. Stamkos. Toews.

— Adam Gretz (@AGretz) December 1, 2015
Nuge has been very consistent over the years, even as he improved with each passing season. From 18 to today, you can find a lot of quality in every line.

When I hear management calling out the Nuge because they feel he hasn't performed well this year, I begin to wonder. Bad week? Sure. Flu got him down? I hear it was a tough one.
If this window of subpar performance is enough for Peter Chiarelli to contemplate dealing RNH, I am going to suggest this is going to be a long decade. If this is calling out a player, I am going to suggest this was overkill. If this was a case of a manager going solo in a television studio, I am genuinely afraid for the future of this organization.
I would like to hold my own little media avail, if I may. Right now, here. I am far less confident in this management group than I was on Saturday. If they trade Ryan Nugent-Hopkins, they better be right. More than that, I am disappointed in the men running this team. They haven't performed this year.
OILERS FORWARDS, 2015-16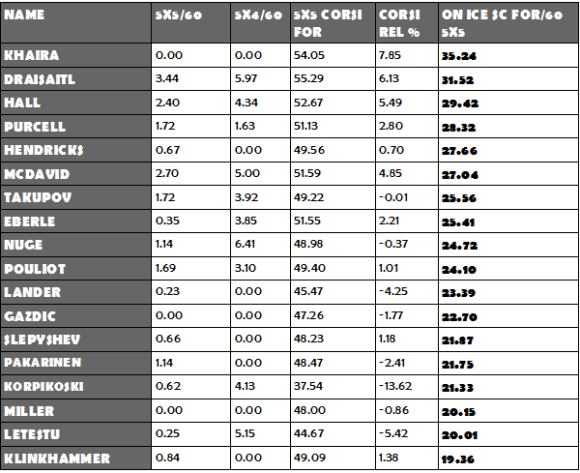 The area of weakness for the Nuge-Pouliot-Eberle line is even strength scoring. A lot of that has to do with opponent and usage, any fool can see that just by watching the games and reading the post-game usage charts.
If you are asking me, I think the Oilers will eventually move on from Jordan Eberle, but that is down the line, perhaps summer. Not because he is a poor player, Eberle is a quality offensive player and that holds high value. This valley of struggle has a reason, we may not like it, or we may believe he should be farther along, but no one questions his ability to score when 100 percent.
Trading the Nuge, even in summer, is a foolish idea. The Oilers finally have depth and can bring along McDavid and Draisaitl without having to worry about them spending every night in the land of the Kopitars.
I sincerely believe that the events of yesterday have a lot to do with management pride and less to do with the performance of Nuge and Eberle. If Oilers management would like to blame someone, perhaps they can return to the events of summer when they stopped short of balance. I believe the Oilers will make the playoffs with a balanced roster, and trading RNH takes you away from that goal.
It has been a strange 48 hours. Reactionary management does that to you.