Nilsson Schmilsson, man what a game! The Oilers and the Bruins facing off is never an easy item for me, because my roots with both franchises go back decades. This was a fine result, just like a year ago when I saw the Bruins-Oilers with my daughter, a newer and very loud hockey fan at the time. I will remember that game forever, this one won't have the same sustain, but it feels good this morning.
ME AND MY ARROW, YEAR OVER YEAR
Oilers in October 2014: 4-5-1
Oilers in October 2015: 4-8-0
Oilers in November 2014: 2-9-3
Oilers in November 2015: 4-7-2
Oilers in December 2014: 2-8-4
Oilers in December 2015: 1-0-0
Oilers after 26 in 2014-15: 6-15-5, 17 points (-37 GD)
Oilers after 26 in 2015-16: 9-15-2, 20 points (-15 GD)
The goal differential is far better, and a lot of that has to do with the goaltending. Last night was encouraging because of Nilsson, but also because secondary scoring got the Oilers points.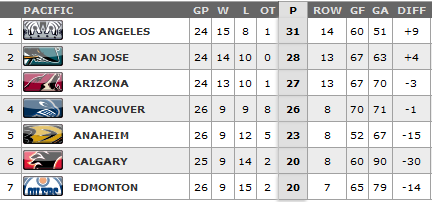 I do NOT think the Oilers should spend any assets on the team currently, but there is a small, small crack open here. I wonder if Anaheim doesn't catch fire and San Jose fall back, leaving that last playoff spot wide open. Don't go planning for your playoff tickets, but there is still time. Now, last night.
It's been a month since Connor McDavid's injury. Oilers now 4-7-2 in that span without him.

— Craig Custance (@CraigCustance) December 3, 2015
WITHOUT YOU
Anders Nilsson is up to .915 SP now and we are looking at a possible solution to one of the goalie options. Nilsson has some issues, but has settled in and seems to be taking over the No. 1 job. His EV SP is up to .921, and that ranks him No. 29 in the NHL among goalies with 10 or more starts. Small victories are big steps.
Cam Talbot has to get another game here soon, but the Buffalo and San Jose games are important in the coming days, so maybe he gets Dallas.
Tonight's oilers game is brought to you by the number 30…..the letters f and u….and the word soft

— JD (@JackieDee16) December 3, 2015
DEFENSEMEN, LAST NIGHT

Klefbom-Fayne had a solid night. Fayne made a tremendous desperation play on a four-on-one, likely saving a goal, and one hopes he gets some credit but that seems like a train that has long left the station. I think his number above is fair, some chaos there, too. This pairing had Chara out for much of their shifts (Klefbom 8:08 v Chara) and that cannot be fun.
Klefbom was very good by eye and number, and had shifts with pretty much everyone. In 16 seconds at evens with Schultz, their Corsi was 2-0. Prepare yourselves, people! It is coming!! I am kidding, but only a little. Terrific night for the young Swede and he was rewarded with some OT time, skated miles against some of the better NHL men.
Schultz-Gryba had their moments, and I do not think we will see them together long. Schultz made some unforced wobbly plays but also skated miles and the strongest criticism I can muster is that you would like to see him do more against softer competition. His slapshot needs a sight, badly. Gryba made a ghastly play late, passed the damn puck right to a Bruin. Lordy. Gryba played 2:11 with Nurse, perhaps suggesting a future pairing.
Nurse-Sekera had a tough evening and I do think we might see the rookie slide at some point. Sekera couldn't get the puck out of harms way in the moments before the Chara goal and Nurse checked down to stop an open look because Nuge was following Eriksson. Nurse made the right choice but was neither fish nor fowl on the play, couldn't get it right, that is a tough spot for a rookie. He may need a less difficult string of games here. At least a couple of times Nurse put Sekera in a tough spot, including (to my eye) the Krug goal.
EVERBODY'S TALKIN'
Todd McLellan: "I can see Darnell standing up before his name is called- that's a sign of a guy that is confident and is ready to go. He wants to be on the ice. Whereas, some guys that aren't real sure of themselves kind of wait for their name to be called, he's already half way up and his ass isn't on the bench any more, he's playing like that..good for him."
I love the fact Nurse is playing this high on the depth chart, but the Oilers have to at least think about moving him down, at least for a time. Davidson-Sekera, Klefbom-Fayne, Nurse-Schultz? I dont know.
FORWARDS, LAST NIGHT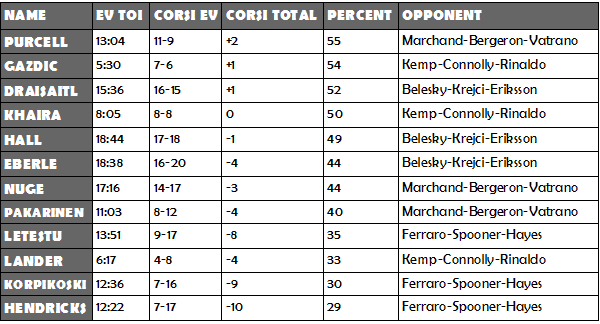 Pakarinen-Nuge-Purcell faced an uphill climb because that isn't really a two line and they were facing Bergeron and his trio. Nuge spent much of the evening in prevent mode and (I feel) did a credible job. He continues to take a sound beating in the verbal department in several areas, suspect the fan base will eventually turn on him. He's 22. Purcell is now trolling the fans who don't like him, that was a sound game with brilliant takeaways, fantastic puck placement and generally exceptional play. Pakarinen is a player I have liked from early days and continue to see him good, the question is the offense and there is only one way to find the answer: Play the man.
Gazdic-Lander-Khaira had their moments, Khaira appears to be grabbing a foothold on a depth role. He's big, strong and can skate, we don't know his offense but his resume suggests we should assume 'Brad Winchester' offense. Lander is in a very low role, he has too much talent for this but maybe he can gather some momentum through this kind of work. He looks slow compared to last season, wonder about injury. Gazdic is going to have a 55% Corsi at the end of the year in less than 150 minutes if this keeps up.
Hall-Draisaitl-Eberle had a good night to my eye, Hall is an impact NHL player and if he could score on breakaways he'd be even better. He skated miles, impacted most of his shifts and the one offensive sortie gave Eberle a golden chance but Rask made a fantastic save. Leon didn't score but don't you worry, he is getting good looks, working hard and using that big body well. If you're critical of this line, I ask you to consider Chara v. Hall was 10:22 of the 60 minutes. Hall-Leon is a formidable combination.
Korpikoski-Letestu-Hendricks trolled the world last night, getting fed by the Spooner line and scoring twice. The shortie was terrific, the second goal even better and timely. I imagine we'll see this line again but if they play a dozen minutes against Dallas at evens don't expect two GF.
JUMP INTO THE FIRE
TRADE NUGE? WHY? @travisyost on why dealing #RNH is an extremely bad idea. https://t.co/0M6dkDmK0Q pic.twitter.com/yWCOrQMI5i

— TSN Hockey (@TSNHockey) December 3, 2015
I think trading Nuge is madness, have expressed it over a few days and will not bore you again with my charts and numbers. I do think the Oilers have started to make decisions and if they want to keep Nuge and improve the size of the skill, that means bigger wingers and defensemen.
What does that look like? I will guess that Jordan Eberle, Teddy Purcell, Anton Lander, Justin Schultz and Mark Fayne are vulnerable. I suspect Milan Lucic, Dustin Byfuglien  and any number of big wingers in the AHL are on the radar. Chiarelli's Bruins had a bunch of 6.04, 220 wingers and Chiarelli's Oilers will be the same, in time.