Leon Draisaitl continues to be a major story across the NHL this season. His splendid play in OT during the Dallas game has Edmonton looking at a substantial winning streak for the first time this year. His scoring at 5×5 has him No. 3 in the entire NHL at this time. When Leon Draisaitl is on the ice with Ryan Nugent-Hopkins, his 5×5/60 is 5.30! Something to keep in mind when all the injured men return.
ALL I WANT FOR CHRISTMAS, YEAR OVER YEAR
Oilers in October 2014: 4-5-1
Oilers in October 2015: 4-8-0
Oilers in November 2014: 2-9-3
Oilers in November 2015: 4-7-2
Oilers in December 2014: 2-8-4
Oilers in December 2015: 2-0-0

Oilers after 27 in 2014-15: 7-15-5, 19 points (-37 GD)
Oilers after 27 in 2015-16: 10-15-2, 22 points (-13 GD)
Oilers are basically playing with house money for the rest of December now, as the Oilers last year would hammer out losses until Craig MacTavish was ordered to pull the chute (my interpretation only). G28 a year ago was a 2-5 loss to the San Jose Sharks and it is here.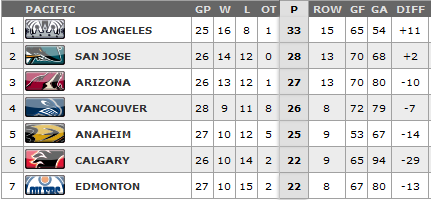 The Oilers could be three points out of a playoff spot  (and two points behind Vancouver!) with a win today. The games-in-hand column is an issue with all other teams in the division, but the enormous cracks forming in the land of Skana are obvious. This is WAY better than talking about next year's draft in December!
OILERS BLUE, IN A BOX 2015-16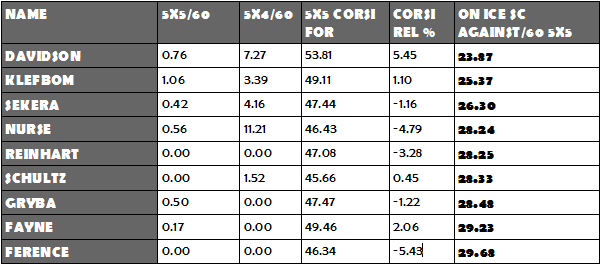 Brandon Davidson is apparently back tonight and I hope we see him in a prominent role at evens and PP. If he replaces Darnell Nurse or Mark Fayne in the top 4D I won't be surprised, if he is promoted in front of Justin Schultz it shows us Todd McLellan has very good vision.
Brandon Davidson, Oscar Klefbom and Andrej Sekera look like quality from here, and the rambunctious play of Darnell Nurse is capturing the imagination of Oilers fans (and possibly management). I would pull the 20-year old instead of the veteran Fayne from the top 4D, but there is exactly one snowball's chance in hell of that happening. Why would I put Nurse on the third pairing? He is struggling and Sekera has to be lead man here, so giving the veteran a strong option is the right play. Suspect Todd McLellan will be forced to make a move at some point with this tandem, it is unlikely to be today.
Ference on the IR is manna, and I say that as a respectful Bruins fan who will go to my grave with the lasting image of No. 21 with the accidental finger, and the winning of everything, as the trump cards in his career. I am now reading verse with flair about Eric Gryba and his magical skills, but I am not buying nor should you.
Klefbom not practicing tells me he may be touch and go for the games this week, something to keep in mind as we move forward. The long-term development of Nurse is also in play here, Edmonton cannot employ him in the top pairing, have him struggle, and expect strong development from this player.
FORWARDS IN A BOX, 2015-16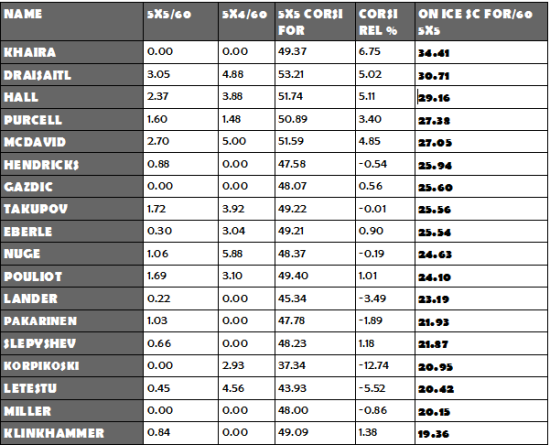 Taylor Hall and Leon Draisaitl remain one of the truly troubling pairs for NHL teams, they carve you up and rip your flesh. Fantastic tandem.
Taylor Hall in the EJ: "The advance-stats nerds are going to say that we don't deserve two points and we shouldn't even come to practice today, but it's the score at the end of the game." Source
Taylor Hall doesn't have to love advanced stats to be good at them, and so I am thrilled with this quote. I would say that advanced-stats nerds were the ones trumpeting Hall as brilliant back in the spring, when many fans and observers were wondering why he wasn't performing at established levels (Hall had significant injuries and came back too soon, the performances bear that out). (Note: I am not a stats nerd, but have spent more than a decade trying to keep up with them).
We forget because he is on the IR, but young Connor McDavid remains an impact rookie waiting for his release date, likely to bring spirited Russian Nail Yakupov along with him on the return date. Teddy Purcell and Matt Hendricks are veterans enjoying strong seasons and are both important to this recent run.
Jordan Eberle, Ryan Nugent-Hopkins and Benoit Pouliot all have areas of strength based on the numbers above, but their established levels tell us they have more to give this season. History teaches that players in or entering their prime who under-perform in one segment of the season are very likely to spike at a later point. I suspect that is the case with this trio and look forward to it. Eberle appears to be finding the range as we speak.
TRADE? WAIVER CLAIM?
Yesterday, the Edmonton Oilers called up Ryan Hamilton while also placing Benoit Pouliot on IR. That transaction is unusual because Pouliot was day-to-day and appears to have gotten worse or recovery is taking more time (I think it was the Phaneuf hit). Hamilton is an interesting recall but perhaps lacks the foot speed required to play with the speed demons at the top of Edmonton's forward group.
Three more items make this even more interesting:
Edmonton also placed Andrew Ference on IR, effectively opening up a roster spot.
Chicago waived two-way winger Viktor Tikhonov, who has a range of skills.
Bryan Bickell 'may' be recalled today by the Blackhawks according to this report.
Nikita Nikitin appears to be arriving at form, scoring six points in his last five games.
Miles of speculation there, but it is possible Edmonton grabs a winger from the windy city today. Here is a very brief thumbnail sketch of the two men;
Bickell is 6.04, 225 and brings a physical edge to the game. He is 29 and his $4M cap hit is for this and next season. He has enjoyed some offensive success and was part of two Chicago Stanley's. This is a Chiarelli-type.
Tikhonov is is 6.02, 189 and brings speed and two-way acumen to the game. He was enjoying a quality KHL career before this season (last season's NHLE: 82GP, 11-21-32) and could be the Pisani we have been looking for all of these years.
I would prefer Tikhonov, doubt he clears waivers and I believe at least one other team has claiming rights before Edmonton. Although it is clearly a stretch, the Bickell item probably fits better into Peter Chiarelli's established history of roster makeup.