Have you ever stayed up all night, waiting for the sunlight? It is cold, lonely, still. There is no quiet I have ever known like the pitch black of 4am in Saskatchewan, alone with the coyotes and the loons. Since 2006 summer, in a very real way, the Edmonton Oilers have been in an endless loop of 4am Saskatchewan, with the loons and coyotes and the crazy. Today, this morning, I think we can see the first rays of sunlight catch our eye. It is morning in the north country. It is long past time to be going home.
The young Oilers are on a three-game winning streak and these are good times for fans. Do not plan a parade, but you are free to wear your Oilers jersey in public and snicker at the Canadian teams in Calgary and Toronto.
SOUR SUITE, YEAR OVER YEAR
Oilers in October 2014: 4-5-1
Oilers in October 2015: 4-8-0
Oilers in November 2014: 2-9-3
Oilers in November 2015: 4-7-2
Oilers in December 2014: 2-8-4
Oilers in December 2015: 3-0-0

Oilers after 28 in 2014-15: 7-16-5, 19 points (-40 GD)
Oilers after 28 in 2015-16: 11-15-2, 24 points (-11 GD)
It comes down to this: After that crazy road trip (0-4-0) to start the season, Edmonton is now 11-11-2. Music! Music? Well, music drifting in the window, just barely audible. Okay! Faint music!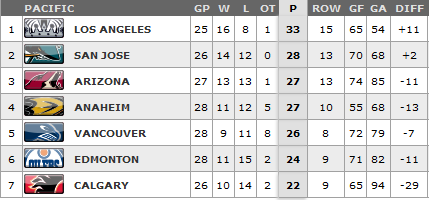 Edmonton is No. 25 overall, tied with Carolina, and three points out of the playoffs. The team they are chasing has the same goal differential and Edmonton will get that crazy McDavid line (Yak, Poo) back in the coming weeks. Orly, we're turning north!
Taylor Hall scored 2 points to help Oilers win 4th in 5 games: "We are getting closer and closer to where we want to be." #oilers #nhl #yeg

— Marty Klinkenberg (@globemartyk) December 7, 2015
Oilers Taylor Hall after 4-2 win over Sabres: "It's important for us stay in the race. You never know what can happen." #yeg #oilers #nhl

— Marty Klinkenberg (@globemartyk) December 7, 2015
DEFENSE, LAST NIGHT

Todd McLellan likes this group. Know why? He rolled them evenly. Either that or he didn't fear any matchup Buffalo could send over the boards (and that could be true, too).
Klefbom—Schultz and I knew it. Oscar Klefbom was and is wheeling now, fantastic range from the young player. With JS alongside, I suspect Klef's explosiveness will be curtailed. Dammit. That said, a fine evening in terms of performance and they did battle the toughs. Schultz will never have calm feet, but that was a solid performance.
Davidson—Gryba was a nice pairing, I preferred the young player and his decisions to the veteran. Gryba does provide toughness and he had some snarl last night. Is Davidson this decade's Pisani?
Nurse—Sekera once again had the toughest competition but they were 50 percent as a pairing (11-11) and that is solid. McLellan is sticking with them, that is a tell about Darnell Nurse. This is a player who the organization sent away to start the season, and now he is in the top pairing. I think that gap, that canyon, is one of the things we will talk about in the spring and summer. Peter Chiarelli and Todd McLellan had to rely on organizational intel in pre-season and probably made their choice relying heavily on recommendations. Those reports were bunk. Who was sending the reports?
I think we may see this group of D for awhile, and wonder how many games Mark Fayne has left as an Oiler. For me, he is a veteran NHL defenseman and one suspects he will play a long time in this league. Doubt it is in Edmonton. I also wonder about Eric Gryba long term, you can see what McLellan is doing with mobile defensemen who can both stand up at the blue line and scoot back for retrieval. I think that is the template and Fayne, Gryba and Reinhart possibly don't fit that bill. I am not sure about Reinhart, he may be able to handle the role, suspect we see him again later in the year. The test for this management group is Justin Schultz. How smart is Chiarelli? We wait.
If the NHL wants to prevent the Oilers from drafting 1st again all they have to do is hire some competent refs.

— Matt Henderson (@Archaeologuy) December 7, 2015
This entire scenario kills me. It is over, NHL. You already let this happen! The time to stop the Oilers was before McDavid. Now? It is done. Fin.
FORWARDS, LAST NIGHT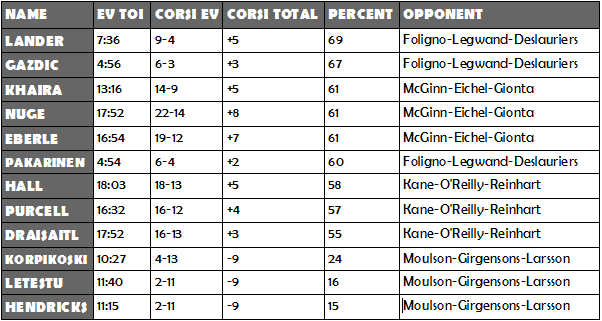 It was a good night for all but the checking line.
Gazdic—Lander—Pakarinen didn't play a lot, save Lander who performed some extra duties. Still, they did post some crooked numbers and had a good evening. McLellan has them forechecking like madmen, that is a key imo to this team's success. Every minute outside the defensive zone is success. This is the line that will get flushed when Pouliot-McDavid-Yakupov return, not a shred of doubt in my mind. I still hold out hope that Lander can turn it around, there is a player here, swear to God.
Khaira—Nuge—Eberle had a strong night, Eberle had 5 shots and a goal, Nuge posted three more and Khaira had a cool wheel play that almost cashed. I suspect we will see them later in the week. The two veterans are coming out of a funk, and Khaira is building a nice little scouting report in these games. Is he a guy who hangs around after the injured return? He might be, I think the size/speed/truculence may have earned him an NHL gig. The scoring is going to be the concern, but that is for another day. How many Condors could get called up and play with this kind of skill without looking a fool? Not too damn many, folks.
Hall—Draisaitl—Purcell had the toughest matchup and slayed. They left the Sabres top line with No Time (Leon was 9-4 against O'Reilly, Hall was 12-4 and a bitch slap against Kane). Hall has moved into another dimension at this point, he can impact the game any time he wants. Took some major hits though, that is a concern. Absolutely flying right now. Purcell does a dozen things a game that make you appreciate him, I am officially going to miss him when they make a deadline deal.
Korpikoski—Letestu—Hendricks had a tough time (Korp was 1-7 against Girgensons) and they played the lesser men. Tough ZS were not an issue (Letestu had four, Hendricks one at 5×5) and on a night when Anders Nilsson was +10 in Corsi differential these numbers are beyond poor.
I wonder about the future for some of these forwards. The list of guys who will eventually come back is long (McDavid, Pouliot, Yakupov, Klinkhammer, Slepyshev) and one or two names could get lost in the flood. Lauri Korpikoski has been very poor, surely Todd McLellan's notes say the same. Jujhar Khaira is a better player in these last games than the Finn, and that is crazy.
WE'RE GOING STREAKING!!! #Oilers pic.twitter.com/KfrUaKksTX

— what's her name (@Kage_99) December 7, 2015
EBERLE
Bruce Garrioch: Oilers GM Peter Chiarelli is looking to make changes and RW Jordan Eberle is prominent on the market, but it sure sounds like it will be difficult for Edmonton to make a significant move before the deadline. Since Chiarelli likes his teams to play hard (see the Bruins for details), he'll want to change the mix with the Oilers at some point. The only way for the Oilers to get the 25-year-old Eberle and his $6 million cap hit that runs until 2018-19 is if Edmonton is willing to take back a player or two to even up the money. Ideally, the Oilers want a good, young player in return with plenty of upside. Several teams believe that's an off-season deal for Chiarelli. Source
I think it is open season for media on the Oiler roster now, but Eberle will pile up goals in the next while and the heat will be off of him. Remember when people were all over Hall late last season? Yeah. One thing Garrioch does give us is a new wrinkle: A very good, young player. It suggests PC would be willing to take another Purcell for 2016-17 as long as there is a good young player added to the package.
Young forwards over 200 pounds who can play with skill? Mika Zibanejad, Charlie Coyle, Nick Bjugstad, Ryan Johansen, Boone Jenner, Aleksander Barkov, Tomas Hertl. Any of these seem like a match?
The one area this does make sense: It shouldn't be too difficult for Peter Chiarelli to find inexpensive free agents willing to play (or take a discount) to play with the centermen on this team. We will see.
INDIVIDUAL HIGH-DANGER SCORING CHANCES
3-Jordan Eberle
2-Taylor Hall, Leon Draisaitl
1-Teddy Purcell, Oscar Klefbom, Luke Gazdic
Nilsson says tonight wasn't his best game & would like to have first goal back, praises teammates for response. pic.twitter.com/HtpacIaued

— Edmonton Oilers (@EdmontonOilers) December 7, 2015
Thank you, stranger! He is .922 overall SP and .927 at evens, making him No. 15 and No. 18 in the NHL, respectively. At what point does Peter Chiarelli talk to the agent? He would have to see this over a longer period for sure, but Nilsson had a fine year in the KHL last season and is continuing the run this season. Interesting development.
LAGESSON TO WJS
#Juniorkronornas förbundskapten Rikard Grönborg har tagit ut denna preliminära trupp till JVM 26/12-5/1! #twittpuck pic.twitter.com/P4rlTjJ7Qm

— Tre Kronor (@Trekronorse) December 7, 2015
There will be very few Oilers prospects at the Christmas tournament, possibly Lagesson and Caleb Jones being the only two. Nice to see the young Swedish defender make the list.
LOWDOWN WITH LOWETIDE
We are back! Me, Lt. Eric and the usual cast of zany characters hit the air at 10 this morning, TSN 1260. Scheduled to appear:
Scott Burnside, ESPN. We will talk about teams in trouble, lack of scoring, and this recent surge by the Oilers.
Andrew Bucholtz, 55-Yard Line. Chris Jones heading to Regina, does that mean the return of Jason Maas to Edmonton?
Sunil Agnihotri, The SuperFAN and Copper & Blue. Is it real, Sunil? Can we begin to grow flowers and will our sense of smell return? Are the Oilers good? Will it stay? Dammit Sunil, answer me! 11:05. Ish.
Carol Schram, Bleacher Report and Hockeybuzz. The Canucks are struggling badly. Is this short term, or are we witnessing the end of glory Sedins?
10-1260 text, @Lowetide on twitter. Also, I will be on the round table at 10 this morning with Dustin, Wil and DVD. Eskimos talk, Oilers and probably Creed. The movie! Plus, at 2 this afternoon I will be part of an analytics discussion on the Jason Gregor Show. Darcy McLeod and Michael Parkatti will be the big brains, and I will chime in from time to time on what should be an interesting conversation. Hope you can tune in!