The NHL gave its member teams a number to work with for next season's cap, and it is $74.5 million. That is mostly good news for the Oilers, who have several of their best young players under control at manageable to reasonable to outstanding contracts.
Salary cap ball park projection given to governors: $74.5 million for next season. That includes five percent inflator

— Pierre LeBrun (@Real_ESPNLeBrun) December 8, 2015
ROSTER AND CAP NUMBERS, 2016-17
Goal (0)
Defense (5): Andrej Sekera (5.5); Oscar Klefbom (4.1); Mark Fayne (3.625); Andrew Ference (3.25); Darnell Nurse (1.713);  TOTAL $15.332
Center (5): Ryan Nugent-Hopkins (6.0); Connor McDavid (3.775); Leon Draisaitl (3.4); Mark Letestu (1.8); Anton Lander (.988). TOTAL $15.963
Left Wing (4): Taylor Hall (6.0); Benoit Pouliot (4.0); Lauri Korpikoski (2.5); Jujhar Khaira (.894). TOTAL: $13.394
Right Wing (3): Jordan Eberle (6.0); Nail Yakupov (2.5); Matt Hendricks (1.85). TOTAL: $10.350
17 PLAYERS, $55.039
CAP ROOM: $19.461
There are some things to note:
I have included full bore on bonus dollars for McDavid, Draisiatl and Nurse.
I have Reinhart in the minors, add $3.213 (that includes bonus) to place him on the roster.
RFAs like Justin Schultz, Anders Nilsson, Iiro Pakarinen, Luke Gazdic, Brandon Davidson will or not return.
UFAs like Teddy Purcell, Nikita Nikitin, Rob Klinkhammer, Eric Gryba and Cam Talbot are not included.
Jonathan Willis wrote a valuable piece on the subject here. The Andrew Ference buyout is $1.08 million.
The goaltending should come in at less than $5M, and I will add Reinhart and delete Ference in the roster below. I do think Brandon Davidson and Anders Nilsson get signed but at this point expect the RFA turnover to be massive. Lots of players not coming back for 2016-17.
A little grit goes a long way! ?? https://t.co/kjpQKgvomp #Oilers pic.twitter.com/IvFmkjWPa3

— Don Ellis (@Don_COi) December 8, 2015
PROJECTED ROSTER, WITH PLAYERS SIGNED BEFORE FREE AGENCY
Goal (estimated $5M): Anders Nilsson, Cam Talbot or similar
Defense (estimated $12.67M): Andrej Sekera 5.5; Oscar Klefbom 4.1; Griffin Reinhart $3.213; Darnell Nurse 1.713;Brandon Davidson 1.00.
Center (estimated $15.963): Ryan Nugent-Hopkins 6.0; Connor McDavid 3.775; Leon Draisaitl 3.4; Mark Letestu 1.8; Anton Lander .988.
Left Wing (estimated $13.394): Taylor Hall 6.0; Benoit Pouliot 4.0; Lauri Korpikoski 2.5; Jujhar Khaira .894.
Right Wing (estimated $10.350): Jordan Eberle 6.0; Nail Yakupov 2.5; Matt Hendricks 1.85.
Projected Total: $60.233
Cap room for Travis Hamonic, Frank Corrado, Milan Lucic and Kyle Okposo: $14.267M.
Cap numbers via NHLNumbers. I think we will see more change than implied and doubt we see the four men mentioned here arrive, but two defensemen and two forwards would seem to be the off-season list. Maybe more if they deal Eberle, seems to me Leon may end up being a RW next season, that would turn Okposo intro Frans Nielson.
OILERS DEFENSE, 2015-16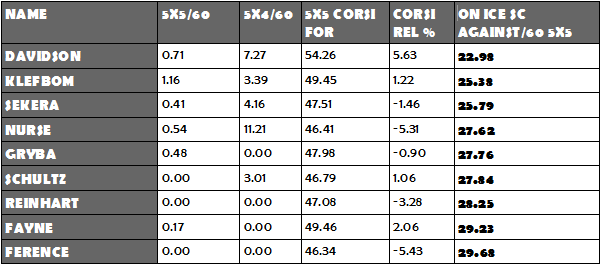 The top four men on this list are my favorite player-type, boasting a range of skills and useful in many areas. That is genuinely nice depth, the only negative being three of the four are very young. I think Edmonton keeps those four men (and Reinhart, because GMs do not give up on their investments easily and we need to see more of the GR story before he is flushed), but these are probably 'last days as an Oiler' for Justin Schultz, Eric Gryba, Mark Fayne and Andrew Ference. They will not be back in 2016-17.
Brandon Davidson showed his talent late at every level, perhaps that is the key element in finding gems later in the draft. He is going to get a push, Edmonton needs to know what he is by spring. He looks like a legit NHL defender, after that its a matter of flying thousands of sorties.
OILERS FORWARDS, 2015-16 SEASON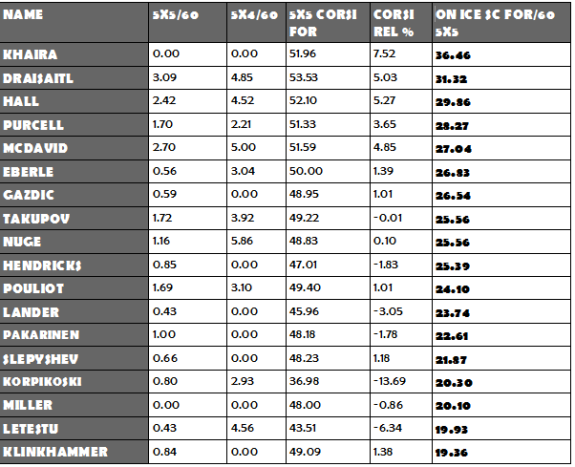 There is gold in these numbers. Draisaitl, Hall, McDavid, Purcell have good to great numbers across the board. Nuge and Eberle have some work to do and Pouliot faltered as he neared the IR, but these are quality NHL players. Who in that group do you trade in the summer? Probably Eberle, that Garrioch story was fascinating because the return was a young player, an inexpensive but bona fide player:
Bruce Garrioch: Oilers GM Peter Chiarelli is looking to make changes and RW Jordan Eberle is prominent on the market, but it sure sounds like it will be difficult for Edmonton to make a significant move before the deadline. Since Chiarelli likes his teams to play hard (see the Bruins for details), he'll want to change the mix with the Oilers at some point. The only way for the Oilers to get the 25-year-old Eberle and his $6 million cap hit that runs until 2018-19 is if Edmonton is willing to take back a player or two to even up the money. Ideally,

the Oilers want a good, young player in return with plenty of upside

. Several teams believe that's an off-season deal for Chiarelli. Source
What would that look like? I imagine the ideal is Mike Hoffman before he spiked, but that is a hard thing to pry away from NHL teams. Who might want Eberle? Lots of teams, any club with scoring problems for sure. Winnipeg is an interesting option. Anyway, if Eberle scores five more goals in December all this talk will go away, fairly certain.
anders nilsson is stopping almost everything right now (.925SV%). can the goaltending get any better than it is right now?

— Jeff Chapman (@NewWaveOil) December 7, 2015
PROBLEM SOLVING
Peter Chiarelli added several pieces in summer (McDavid, Sekera, Talbot, Letestu, Korpikoski, Reinhart, Gryba, Nilsson) and of course some have worked out so far while others are already showing themselves as unsatisfactory. We don't have enough blacktop behind us to be sure on Talbot and Letestu, and I am comfortable with calling McDavid, Sekera and Nilsson (at least in a backup role) as not being issues for 2016-17. Fair? What then are the issues facing Peter Chiarelli in summer?
That will be the subject of this blog for the immediate future. In your mind, if you change out Jordan Eberle and Justin Schultz, while bringing in a young, rugged winger and a tougher defender, that is the end game between now and next September. I am convinced of it and that construction project could begin any day.
Natalie Wood. pic.twitter.com/SI1SRPGAez

— Lost In History (@SadHappyAmazing) November 23, 2015
LOWDOWN WITH LOWETIDE
A busy morning, lots to discuss and who knows maybe Alex Semin will get claimed at 10. Scheduled to appear, TSN 1260 at 10:
Jonathan Willis, Cult of Hockey. PLAYOFFS? PLAYOFFS?
Scott Zerr, Cult of Hockey and TSN1260. How is Griffin Reinhart doing in Bakersfield? Brossoit's injury.
Jamie Nye, CJME Regina. Chris Jones in Regina: There will be blood.
10-1260 text, @Lowetide on twitter and maybe a surprise guest or two.