I am sure fans of established teams would look at a three-game winning streak as a nice start, but for fans of the Edmonton Oilers this run is like finding oil on the back 40. Will it continue against Todd McLellan's old team?
Since Nov 1, #Oilers have posted a 49% CF (adj), good for 16th in the league. Save% has been 92.1%, up to 20th in the NHL. Progress!

— Sunil Agnihotri (@sunilagni) December 8, 2015
Music! Small victories are big steps, and if you can go through the stats pages and find Edmonton mid-pack in some of these categories, that is some very good news. It is a significant game tonight.
TRAIN IN VAIN, YEAR OVER YEAR
Oilers in October 2014: 4-5-1
Oilers in October 2015: 4-8-0
Oilers in November 2014: 2-9-3
Oilers in November 2015: 4-7-2
Oilers in December 2014: 2-8-4
Oilers in December 2015: 3-0-0

Oilers after 28 in 2014-15: 7-16-5, 19 points (-40 GD)
Oilers after 28 in 2015-16: 11-15-2, 24 points (-11 GD)
In what will become a month long theme, Edmonton lost G29 a year ago, 2-1 to Anaheim. The total points of December 2014—eight—would be equaled with a win tonight. Lordy. The Oilers have a 21 percent chance of making the playoffs. Another lordy.

A win tonight and Edmonton is two points out of the playoffs. Triple lordy and whisper hallelujah!
"I wasn't too worried, but it's nice." @jujhar94 on finding out he has been credited with his first @NHL point https://t.co/EbtyMss6TB

— Edmonton Oilers (@EdmontonOilers) December 8, 2015
Very pleased to see this, Khaira deserved that point based on his own fine play and it more than meets the modern definition of an assist. I mentioned yesterday on the Lowdown that Khaira has arrived in the NHL and done the things we hoped to see from Tyler Pitlick and others. These early NHL games are leaving a very good impression, and no matter what happens when the regulars get back, one suspects Khaira has vastly improved his standing. Where that leaves Bogdan Yakimov is an open question.
FORWARDS IN A BOX, 2015-16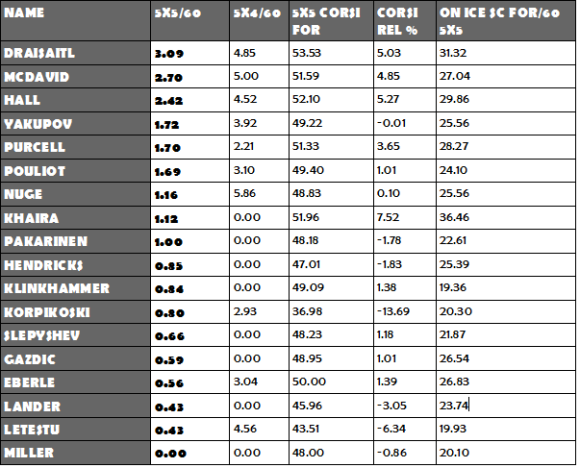 There is enough firepower here for six men to clear 2.00/60 by season's end and I suspect all of Nuge, Eberle and Pouliot to join Leon, McDavid and Hall in the quality room. Yakupov? We will see, Jordan Eberle may get a push when the phenom returns. We have been talking about three scoring lines all week, and while I still think three pairs works in theory, don't know if it will work for McLellan:
Hall—Leon
McDavid—Yakupov
Nuge—Eberle
The problem, as I see it, is that Nuge's partner needs to be a two-way player and Eberle isn't it. So, one suspects McDavid gets a look with Eberle before anything shakes out. If I am betting on a work around for the unicorn trio of lines, it might be this:
Hall—Nuge—Draisaitl
Pouliot—McDavid—Eberle
And that includes out the Russian, so I think we can safely say the month of January may be a big audition for 14. If Peter Chiarelli wants a rugged winger in the top 6F, one or more of Eberle, Yakupov or Pouliot will be heading out. Bottom line: I don't see unicorns in Edmonton, don't see three scoring lines, not in 2016-17.
DEFENSE IN A BOX, 2015-16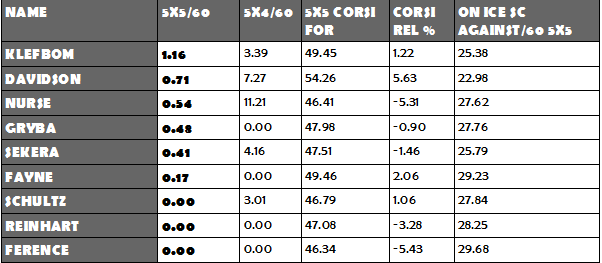 I like this list plenty, because the yutes are doing well. The bottom four are candidates to go, along with Eric Gryba. I think Peter Chiarelli wants to see the long range forecast of Reinhart, but Klefbom, Nurse, Davidson and Sekera are going to be here for awhile, for some at least the end of the decade.
What will be added to the top 4D? Aside from Reinhart (I suspect he comes back up soon, possibly with a Fayne trade, although we should not discount a showcase month for Nikita Nikitin) I would guess we see two right-handed defenders, including a substantial player (Hamonic or better) to play with Klefbom. If Todd McLellan has gone this long with Nurse—Sekera we may be looking at the first true pairing of the "McLellan Oilers" era.
MCLELLAN'S FORMER PLAYERS
Logan Couture: "I definitely wouldn't be the player I am without Todd and this whole coaching staff." Source
Anders Nilsson (@EdmontonOilers) improved to 6-0 in 6 career shootouts. He has denied 13 of 16 career S/O attempts. pic.twitter.com/ka7dOhMEzO

— NHL Public Relations (@PR_NHL) December 3, 2015
SCORING AND GOALTENDING, LAST 10 GAMES (5-3-2)
Taylor Hall 10, 3-5-8
Leon Draisaitl 10, 3-4-7
Teddy Purcell 10, 1-6-7
Jordan Eberle 10, 4-0-4
Mark Letestu 10, 2-2-4
Ryan Nugent-Hopkins 10, 0-4-4
Benoit Pouliot 7, 2-1-3
Andrej Sekera 9, 1-2-3
Brandon Davidson 8, 0-2-2
Matt Hendricks 10, 1-1-2
Oscar Klefbom 10, 1-1-2
Lauri Koprikoski 10, 1-1-2
Anton Lander 9, 0-2-2
Iiro Pakarinen 10, 2-0-2
Luke Gazdic 4, 1-0-1
Jujhar Khaira 5, 0-1-1
Darnell Nurse 10, 0-1-1
Justin Schultz 5, 0-1-1
Nail Yakupov 4, 0-1-1
Anders Nilsson 9, 1.97 .937
Cam Talbot 1, 4.00 .875
Anders Nilsson was the star of this stretch, no doubt at all. The Hall—Draisaitl pairing found a quality third in Teddy Purcell and that is a very good thing. At the very least, we will see an increase in trade value for the veteran winger.
As this snapshot shows, that Nuge—Eberle line needs to pump up the offense, but it is also true recent games have seen exactly that step being made. Scorers take time to get comfortable and find the range, 14 has been saying he is comfortable for some time and now the results are coming.
I love Anders Nilsson and I don't care who knows! @EdmontonOilers

— Ztacy The McDrummer (@ztacy1) December 5, 2015
TRADE WINDOW OPEN FOR CHIARELLI?
I think we are in the window of opportunity for trade at this point. A few key things have happened through the first 28 games of the season:
The players from the previous regime who were not part of the solution (including Nikita Nikitin) have been identified and are gone or going.
The previous admin appears to have been incorrect about the NHL-readiness of Darnell Nurse and Leon Draisaitl.
Peter Chiarelli has had a chance to evaluate players, and has made his decision on men like Mark Fayne, Anton Lander and Justin Schultz.
Todd McLellan knows what he wants to get this team to the next level. I would suggest his list would include more consistent secondary scoring, more physical edge front and back, and more penalty killers. That is a guess.
What is the next step? I think we could see at least one addition in the coming days and weeks. What kind of player will they be looking for?
A big forward who can play up and down the lineup, probably a winger but that isn't a certainty.
A right-handed defenseman who has a range of skills and can play the McLellan style (which requires the ability to both stand up the sortie at the blue, win the skating contest back to the puck when it is dumped in on that same sortie, and then identify the best plan of action when arriving at the puck).
WHO are these men? Don't know. Stylistically, Nathan Horton and Travis Hamonic probably fit in my opinion, but their actual names and their asset cost is beyond me. We should also begin to see Chiarelli add back draft selections lost from the 2015 draft, although the quality of this year's draft may dictate a prospect return instead.
LOWDOWN WITH LOWETIDE
A fun morning with friends, 10 on TSN 1260. Scheduled to appear:
Bruce McCurdy, Cult of Hockey. Our friend will give us his insight into a team that appears to be heading north with a full tank of gas and a motor that runs. No idiot lights blinking either.
Sean Bissell, Donnan Hockey. An exciting night for Sean, and your Ask the Coach questions.
Tom Lynn, Veritas Hockey. Expansion opportunities for players, and we will speak of the young Tikhonov, now a Coyote.
Allana Phillips, CFL is for Girls. Eskimos Grey Cup win and all kinds of activity since.
10-1260 text, @Lowetide on twitter. Talk soon!