The Edmonton Oilers can play good teams, make mistakes, have long periods of subpar play, and win the game. That is news. Seriously. Last night, they spent most of the evening chasing a tired team who were clearly focused on two points. They won the game, I do not think that would have happened one year ago. Goaltending? Yes. Leon? Sure! Hall going super nova? Giddyup. Those kids are coming on defense, too. Music! Peter Chiarelli, Todd McLellan and structure. Who knew? Now, do it again, with more consistency and less chaos. Please and thanks.
https://twitter.com/myregularface/status/674820583402643456
HOLD ON, I'M COMING YEAR OVER YEAR
Oilers in October 2014: 4-5-1
Oilers in October 2015: 4-8-0
Oilers in November 2014: 2-9-3
Oilers in November 2015: 4-7-2
Oilers in December 2014: 2-8-4
Oilers in December 2015: 4-0-0

Oilers after 29 in 2014-15: 7-17-5, 19 points (-41 GD)
Oilers after 29 in 2015-16: 12-15-2, 26 points (-10 GD)
This is pretty fabulous. Now, I do think the NYR game is set up for some shuffle, maybe Talbot gets a start and there is a chance Nikita Nikitin gets called up and draws in. The Oilers are three points out of the playoffs and have won four in a row. You cannot dismiss this progress, no matter how cynical you are, not possible. There are issues, yes. There are also real and substantial examples of progress.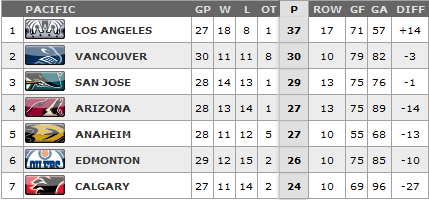 Edmonton had all kinds of trouble against Thornton, Pavelski, Marleau, Ward, but that happens to all teams. They bent, but did not break. The possession game has been uneven of late, need to bring back Archie Bell and the Drells.
ABOUT LAST NIGHT
There are no fancies for us, the string at Rexall detached from the soup can, leaving us to see the game through a 1975 lens. It still looks damned good for the most part.
Andrej Sekera: Started the game by getting run over by a big SJS forward (Thornton, I believe) but skated miles and with the exception of being the smaller man in almost every battle, he was good. Sekera played just 15:08 at evens.
Taylor Hall: The man can push a river and his prime is going to be exceptional. 1-1-2 on the evening, the OT goal was demon speed and balls out hockey. Damn that was nice.
Jordan Eberle: Another 1-1-2, Eberle had moments where he folded like a cheap suit but also came to play. The goal he scored is the reason he makes $6 million large, he is a born goal scorer. Now officially on fire offensively.
Teddy Purcell: Such a sweet pass to Leon, he is so damned good with the puck on his stick it is to laugh. In a 10-year period where veteran careers go to die, Purcell is bucking the trend this year.
Justin Schultz: The defensive side of the game is not his friend, and at this point in his return from injury there is some bad timing.
Luke Gazdic: He is, right now, the best Luke Gazdic we have seen.
Matt Hendricks: Along the wall, with the puck loose and available, sitting maybe two feet inside the Oiler line, that is where he shines. He is opposite-Lupul all over the ice. Love that guy.
Darnell Nurse: At 20, he is an actual bull in a china shop. Physical, rambunctious, up to the challenge, he provided coverage against sublime San Jose talent and survived. At 20. I am thrilled with his progress, still think a lesser role might benefit him. Played forever at evens, had an assist on the night.
Iiro Pakarinen: 0-1-1 on 8:48 at evens, he jumped up with Nuge and Ebs, did not look out of place to my eye. Will he make it in the NHL? Don't know. Games like last night help, for sure.
Lauri Korpikoski: A quiet 12:55. That is progress.
Leon Draisaitl: 1-1-2 and 43 percent in the fo circle, I loved his night and cannot believe the good fortune of that 2014 draft. The goal was dynamite, fantastic, but the OT assist was something else again. His reach appears to be about 90 feet.
Anton Lander: The only man with a minus, wildly unfair to my eye on a night when he brought true meaning to 'utility forward' deployment. Won 10 of 11 faceoffs, played up with Nuge and Ebs for a time (Nuge misses Pouliot) and earned his roster spot.
Jujhar Khaira: 0-1-1 and you can see him progress as games go on. He made a dandy pass to Eberle on his goal, but was the goat on the Marleau goal all the way. Mistakes happen, and rookies are rookies, but he is making plays in the NHL. Very nice.
Mark Letestu: 60 percent in the dot, played well to my eye in a tough, checking game. If he had spotted Hall wide open on an offensive sortie the game would have ended in reg, but you can say that about a lot of players in a year. Nice game.
Eric Gryba: I don't see it, beyond the physical play. Walked early by (I believe) Melker Karlsson and that statement tells you everything.
Oscar Klefbom: Lordy. What a talented young player, so mobile and intelligent in his reads. We haven't watched an Oiler draft pick with this range of ability in years. Steady, reliable, tireless.
Brandon Davidson: Another quality effort to my eye, put that shot on the power play dammit! Nice evening spent playing smart D, he had one epic shift that can serve as 'opposite Chorney' as he seldom made a poor decision during a period where he simply could not get off the ice. Ended that shift leaning against the net trying to catch his breath. Get your own place, young man.
Ryan Nugent-Hopkins: 1-1-2 and 69 percent on the dot, that is the Nuge we know and love. I bet Peter Chiarelli was impressed. Solid game from a fantastic center.
Anders Nilsson: Made some splendid saves last night, really effective. Was not the difference on this evening (Hall-Leon get my vote) but has calmed the fan base to the point where we no longer worry at previous levels about every shot against.

THE HILL YOU DIE ON
It is always a challenge for people—me, you, anyone—to back down from stated opinion. It is even more difficult to argue your position under circumstances that may not favor your idea or stance without sounding like a stubborn wind bag. Please consider this forum your opportunity to be heard. The important things to remember:
Have the courage of your convictions. If you believe it, stand by it, don't be a wet noodle. Argue it with your words and please give examples. Be specific.
Respect others.
Be open to other, well presented and (most importantly) battle-tested arguments.
Don't be an ass on the internet. The internet has all of those jobs covered.
Corsi Rel is still the best metric for defense, in my opinion. I think Mark Fayne is one of the six best defensemen (four best, probably) on the Oilers, but it's possible to have good numbers and get noticed for negative things—single moments and events can have super importance while being exactly single moments and events.
Mark Fayne is on waivers this morning, I do not think he should be on waivers. That doesn't matter. It is important for you to know this is my opinion, but I welcome input that offers a counter argument. I would ask that all discussion is respectful, and if you have a metric that you believe tells the story, state it and allow the analytical world at large to examine it. Questioning beliefs and changing minds is the only way to improve the world, but if you reject accepted metrics, counter with 'you are stupid, I am smart' then you are not welcome here. I insist on respect for each other in this corner of the Al Gore, and if you cannot honor that, you will not be welcome here today. No exceptions. None.
Lowetide: It's possible to have good numbers and get noticed for negative things—single moments and events can have super importance while being exactly single moments and events. Source
There are many people who will read this today who understand advanced statistics far better than me. I accept that. However, we all understand things in our own way, and for me the number one statistic to look for in hockey is Corsi, relative. Now, that is going to send people hither and yawn and you will read in the comments section (unless people have given up on this blog's ability to be fair—and that is all I have ever offered any of you—I suspect people will want to be heard) about all matter of metrics that have (supposedly) replaced the simple one of yesteryear. I ask only two things of you:
Make sure you are convinced, not by the strength of the prose, but by the strength of the math. If you do that, no one can say anything beyond 'I disagree' and attempt to change your mind.
Be good to each other. If you want to be heard, use your words. Seriously.
I will time out any poster who bullies today and don't bitch to me about it after the fact, I do not want to hear it. No exceptions.
LOWDOWN WITH LOWETIDE
A busy show, 10 this morning, TSN1260. Scheduled to appear:
Darcy McLeod, Because Oilers. The game, Fayne, and things that rhyme.
Scott Cullen, TSN. Oilers, Leafs, who is in the playoff race, mlb winter meetings.
Frank Seravalli, TSN. Logjam in the trade market, expansion talk.
10-1260 text, @Lowetide twitter.