As a fan of the Edmonton Oilers, I have watched some of the all-time greats of the game play in home threads. Wayne Gretzky, Mark Messier, Jari Kurri, Paul Coffey, Glenn Anderson, Grant Fuhr, Kevin Lowe, Andy Moog, Charlie Huddy and on down the line. Doug Weight and his saucer pass, Ryan Smyth and his blood, sweat and tears, memories I will never forget. It is impossible to disconnect any of those memories from Glen Sather. If the 1980s Oilers were hockey's version of the Beatles, surely Glen Sather was George Martin. My favorite Sather memory? His reaction behind the bench after Edmonton won their first Stanley.
Oilers to raise banner in Glen Sather's honor http://t.co/JM1ZE1QXyN pic.twitter.com/2Oye8xbLoj

— NHL INTERMISSION (@NHLnews4u) July 20, 2015
There is a Sather story for every Oiler great 1979-1999. Mark Messier? Glen Sather was impressed by Mark Messier as he played AGAINST the Oilers in the 78-79 season (WHA). Dennis Sobchuk was a pretty good player and legend has it he thought he could take the kid in the Cincinnati Stinger uniform. Messier apparently had a slight edge in punches. 12-0. Sather noticed and picked him 48th overall in the deepest draft in history, 1979.  There is a story for every Oiler involving Glen Sather. Tonight at Rexall, they will put his banner in the rafters. I cannot believe it took this long.
EIGHT DAYS A WEEK, YEAR OVER YEAR
Oilers in October 2014: 4-5-1
Oilers in October 2015: 4-8-0
Oilers in November 2014: 2-9-3
Oilers in November 2015: 4-7-2
Oilers in December 2014: 2-8-4
Oilers in December 2015: 4-0-0

Oilers after 29 in 2014-15: 7-17-5, 19 points (-41 GD)
Oilers after 29 in 2015-16: 12-15-2, 26 points (-10 GD)
Oilers last were 2-4 losers to the Anaheim Ducks in G30 last season, and posted a total of eight points for the entire month of December. The current group has eight points already, so even with a loss tonight the first part of the month has been dreamy.
PACIFIC HEIGHTS UPDATE
Every pre-season I look at the Oilers and project them into their division, the conference and the league overall. As of this morning, the bets are looking better than they have since the beginning of the year.
Division Projection (Actual): No. 5 (No. 7)
Conference Projection (Actual): No. 11 (No. 13)
League Projection (Actual):  No. 22  (No. 25)
Edmonton is missing their entire second line, but the trio will return. The goaltending has settled down and the young defensemen are finding their way. Can they cover my original projections?
OILERS BLUE, 2015-16

This season was made for Brandon Davidson, the young man has gone from the final roster spot to a prominent role on the blue. Those are impressive numbers across the board, suspect we will see him play a feature role moving forward. Oscar Klefbom is playing tough minutes and sawing off possession with a revolving group of partners. Justin Schultz is the latest option, his possession numbers aren't great but he and Klefbom are not getting the push from last season, either.
Darnell Nurse has been going the wrong way on the possession train of late, and now his scoring chance against 5×5 number is sliding too. Suspect he will move into a role on the third pairing at some point. Andrej Sekera is fairing a little better during the tough minutes, not certain who would be next up to pair with him. Edmonton has one defenseman over 50 percent Corsi for 5×5 at this time. Nikita Nikitin arrives today.
Dreger: "There is interest from NHL teams" in Nikita Nikitin. Some believe #Oilers would eat some salary to make it happen.

— Chris Nichols (@NicholsOnHockey) December 11, 2015
Sure. Question: Who does Nikitin replace when he draws in? The only options I can see are Eric Gryba and Justin Schultz, although Klefbom was banged up in practice (a shot also took out Brandon Davidson for a time). Todd McLellan probably waits a game to put NN in, so this may not be a story tonight.
DARNELL
A strange thing is happening with this young man. His possession number after the 14th game was 52.6, with the Oilers record sitting at 5-9-0. Since then, his possession number has fallen to 45.5 but the team is winning (7-6-2) more games over that stretch. Coach McLellan clearly likes him, as reflected in the EV TOI per game totals for the season:
Darnell Nurse 18:47
Oscar Klefbom 17:35
Andrej Sekera 17:01
Justin Schultz 16:17
Eric Gryba 15:48
Brandon Davidson 15:17
I think we will soon see (see soon?) Nurse playing fewer minutes and perhaps Davidson climbing this list. EV TOI is a good measure of what the coach values, and this list is drunk with youth, probably about to get drunker. Where will Darnell play, if not on the top pairing with Sekera? Todd McLellan often allows us a peak at the map with in-game shuffling. Here are the numbers from last game against the Sharks at 5×5:
Nurse overall: 19:34 10-25 (-15)
Nurse with Sekera: 14:05 8-20 (-12)
Nurse with Klefbom: 2:39 0-4 (-4)
Nurse with Schultz: 1:31 (0-1) (-1)
Nurse with Gryba 1:20 (2-0) (+2)
Nurse with Davidson: 1:17 0-2 (-2)
Nurse played against the Thornton line (7:17) and the Marleau line (5:01) and the Wingels line (5:07) for the evening. I think McLellan likes Nurse against the big men like Thornton, and honestly I do too. Those possession numbers are going to go down though, veterans trump rookies early and often. Same as it ever was. I suspect the possession numbers will eventually force a change, either to a set veteran top pair (tougher with Fayne in the minors) or to a 'share the land' template where everybody must get stoned.
None of this is happening unless Darnell Nurse is a helluva hockey player at 20, by the way.
OILERS CENTERS, 2015-16

All good news here, at least the power trio. Leon Draisaitl is hammer of the Gods so far this season, this is the good stuff. Connor McDavid, at 18, posted ridiculous numbers and they came from game five on, when he caught fire. Ryan Nugent-Hopkins had some tough games during the first 29, but his 5×5 scoring is recovering and that 200-foot game is in fashion for any era. Anton Lander and Mark Letestu have been climbing out from under and their big challenge will be getting playing time at evens when He returns.
OILERS WINGERS, 2015-16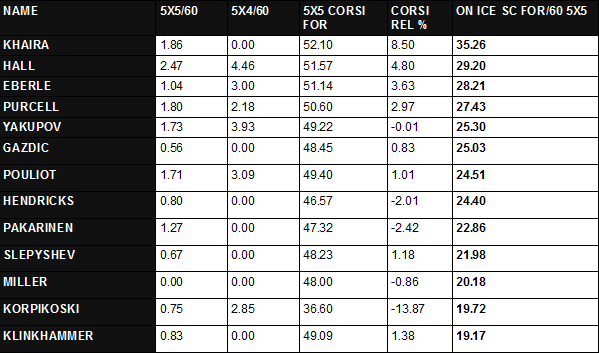 JJ Khaira (apparently everyone calls him this) has played well so far and finds himself on the top of the charts right now. Taylor Hall is not only pushing the river, he is bossing it around most nights these days. Jordan Eberle is No. 3 with a bullet after being in the second division not long ago. Still needs those 5×5 numbers to improve but he has already done half the work since getting back from injury.
Teddy Purcell is delivering on the 1line at this point and he could be there for awhile. A very nice story no matter how this turns out. Nail Yakupov is apparently out through Christmas, damn shame considering the season he was having and the way he was lost. (Yells at cloud, cloud yells back 'McDavid'). Luke Gazdic scored this week, good for him.
For some reason, people took Mark Fayne's demotion as a chance to crap all over Benoit Pouliot. Man, I do not understand that at all. For me, the big man is a very nice fit on the Nuge line and let us not forget he formed a helluva rhythm section with Yak on McDavid's line. Boy howdy, we sure are a forgetful bunch in the northern territory. Must be the fresh air.
Matt Hendricks has been sliding down the chances for 5×5 list over the last week or so, but that is to be expected. He is coming back from injury, has not played with pure skill for weeks, and is back to doing that hard work he is known for around the league. Another solid year for the veteran.
Iiro Pakarinen is in the spot (along with Khaira) where someone is going back to Bakersfield when the veterans begin their return. Rob Klinkhammer must be close, Pouliot skated yesterday, and he might play soon. I wonder if Lauri Korpikoski gets Fayned next? It could happen.
AND NOW, THIS
Glen Sather: "There was a situation in Edmonton that I wasn't prepared to live under anymore. I'd bought our head scout Barry Fraser a watch for 3,000 bucks that was a Cartier worth about seven, and I got a deal on it. And one of the guys (owners) called me up and gave me s— for it and said, 'You can't be wasting our money like that. I called him up the next day and I said, 'You can stick your team up your ass. I've had enough of you. And I had three years left on my contract. It just wasn't gonna work. It was 26 owners, everybody telling me what to do, what not to do and how to do it." Source
THINGS I LIKED ABOUT GLEN SATHER
Glen Sather gave credit where due. When Mark Messier and Glenn Anderson would cross at center and drive defensemen mad, he duly credited the Winnipeg Jets of the WHA (and I will credit my friend Bruce McCurdy, who reminded me of that story the other day on the Lowdown).
Slats was a tough bargainer and made some electric deals for Edmonton. He spoiled Oilers fans, who would get their 'needs' addressed quickly, partly due to the era (no cap) and his proactive approach. I miss that, probably the reason I love the three-for-one idea so much (although that Pronger deal shines like a beacon too).
Jim Devellano: "Glen had Jimmy Carson. He acquired him for Gretzky. He saw that he couldn't win with him, that he didn't really care for him. He knew there were some suckers here (in the media) in Detroit, who coveted him. So he was cunning that way."
John Muckler: "We got along fabulously because our strengths were different. Glen was a great motivator and handler of people, and communicator. He led those kids, taught them how to dress, how to get a haircut, the whole damn thing. My job was to be the X's and O's guy, it worked out great."
Both quotes via the book Behind the Moves.
I think the key to Glen Sather's career, after he was done playing, was he was born to be that guy. He could handle everything well, he was an expert negotiator, loved the grind of that part of the game. He loved to mentor and push the kids to be better, but (save for a famous example involving Messier) seemed to know where the flash point laid and stayed on the right side of the outer marker.
He inspired a generation of managers and coaches, who were so famous as players they didn't feel the need to actually learn the off-ice game from the bottom up. Gretzky, Messier, Lowe, MacTavish, they all missed that valuable Sather lesson and maybe you can only know that lesson if you are a role player. Maybe it was going to be Tyler Wright for the best post-playing career all along and the die was cast from the start.
Either way, what a legacy for a great hockey man. I salute Glen Sather and thank him, for all the good things he brought this city and to the Oilers. And I also salute him for convincing people one year of Cam Talbot and a No. 7 for a No. 2, No. 3 and No. 7 was a gift to Edmonton. If you want to beat Glen Sather in a trade, you better pack a lunch because it will take you all day.
Sail on, Edmonton Oil King. We won't see the likes of you again, and we are greater from having known you.
LOWDOWN WITH LOWETIDE
Today on the show, we will look back on Sather's career and ahead to tonight's game. 10 this morning, TSN1260.
Steve Lansky, Big Mouth Sports. He produced many games Sather coached in, we will look back on a glorious time in our city and one of the major players in the piece.
Antony Bent, FC Edmonton. The Spurs are kicking arse, Chelsea is a story and he will bring up Everton because hope springs eternal.
Travis Yost, TSN. We will talk of Bills and Eagles, and strange decisions in the Capital.
Paul Almeida, SSE. Paul and I will preview the game tonight and discuss the turn north. Is it straight north, or north by northwest?
10-1260 text, @Lowetide on twitter.