It was 80s night at Rexall last night, a wild and crazy time. Everyone but Kool and the Gang got the call, the goal-scorers were hungry like the wolf and that damn puck had eyes without a face. Wow.
LUCKY STAR, YEAR OVER YEAR
Oilers in October 2014: 4-5-1
Oilers in October 2015: 4-8-0
Oilers in November 2014: 2-9-3
Oilers in November 2015: 4-7-2
Oilers in December 2014: 2-8-4
Oilers in December 2015: 5-0-0

Oilers after 30 in 2014-15: 7-18-5, 19 points (-43 GD)
Oilers after 30 in 2015-16: 13-15-2, 28 points (-8 GD)
This 5-0 run has been a great time for Oilers fans and if we are honest, this moment—right now—could be the high mark of the season. A four game road trip, an injured Klefbom, and a Nilsson who had some holes last night, all of those things could mean down beat in the days leading up to Christmas. That said, this team is not playing air tight defense or anything so there is still room for improvement. A 2-2 road trip is a reasonable line in the sand based on how well things are going, fair?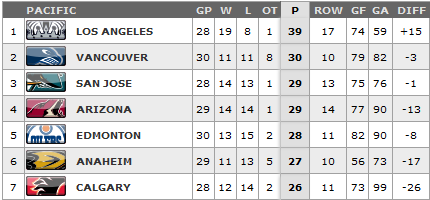 Only one team is out of sight, in what is clearly an addled division. Edmonton has played too many games (everyone but Vancouver has games in hand) but they are in it and No. 23 overall. The goal differential, minus 8, is No. 4 in the division. The Oilers lead the division in goals. !!!! .
Oscar Klefbom is staying in Edmonton to have a finger on his left hand looked at. #Oilers fly out to Boston tomorrow. #Bruins

— Derek Van Diest (@DerekVanDiest) December 12, 2015
DEFENSE, LAST NIGHT

The Klefbom injury really puts the blue in this blue line. Niki Nikitin will probably draw in, they may also split up Nurse-Sekera but we will see. Damn shame about the injury, because Klefbom absolutely posted a stunning evening and Schultz along with him. Fabulous results for both men, when together. Schultz with Klefbom last night 5×5: 20-1; without 4-10.
Nurse-Sekera played the Brassard-Nash line most of the time and it was tough sledding. Nurse had a goal and was plus two on the evening, so the Corgi's will once again go unnoticed but this pairing is getting ripped by the opposition's best.  McLellan wants this pairing, implying the other pairings are the weakerthans. Suspect the road trip will be an adventure for all.
Davidson-Gryba did not play against the feature lines much (Davidson was strong against Zuccarello) and they should have had better numbers, but this was a 1980s game and honestly I cannot tell you why or how Davidson went 0-7 against Fast. It was not the big part of the game, but I think Davidson may be playing in exactly that Monday in Boston.
Final item: Notice the time-on-ice from Nurse. He and Sekera, at evens, played an outrageous line (mostly) and came out the other side. He is 20.
The #Oilers score seven, a bottom six winger gets a hat trick, and Lander STILL didn't register a point.

— Sunil Agnihotri (@sunilagni) December 12, 2015
 CENTERS LAST NIGHT

Leon Draisaitl is Paul Bunyan, with a strick the size of a tree and hands by Charmin. Good LORD what a play on the winner, two really, the deft chip past the defenseman and then pass to Hall for the cash. What an incredible hockey player. Heilige Scheiße, he is good.

Anton Lander is now being trolled by the Gods, posting reasonable numbers and yet getting nothing close to useful offense. When his blue moon turns to gold again, he may carry this team for a week (not really, but it feels like it). Mark Letestu was part of the Lauri Korpikoski Project, grabbed an assist and ended +2.
Ryan Nugent-Hopkins and his line battled against the other Bunyan and his freak center Brassard. That is a tough chore and they were soundly punished (Nuge -3, and 4-11 against Nash) unless playing softer comp (9-6 against Zuccarello). This line needs Pouliot back.
In dressing room after game… Jari Kurri walks over to Korpikoski with huge smile. "What the $@&* Korpikoski." #Oilers

— Jason Gregor (@JasonGregor) December 12, 2015
 WINGERS, LAST NIGHT

I can understand why Edmonton will trade Teddy Purcell, but how tempting is it to see if there is some interest at a lesser rate? Taylor Hall is now top five in scoring and is bitch slapping the river. This is insane.
Matt Hendricks and Lauri Korpikoski were on a line with Mark Letestu and they were the freakers at the freaker's ball all night long. Honestly, this is one of those nights where life is going to make everything easy, and Korpikoski cashed three for the first time in his career. Credit where due, he scored two goals from high traffic areas and made me think of Lumley. Damn Finns, you cannot stay mad at them!
I thought Luke Gazdic and Iiro Pakarinen looked good in places, although they played in the parts of the game where there coaches were allowing the primary players to catch their breath.
Jordan Eberle and Jujhar Khaira were up against it with Nuge on a tough line (Letestu chipped in a little too). This trio needs Pouliot back, and then Khaira may push someone else out. Could we see Gazdic sent down?
Can we just talk about this @Drat_29 move & pass?! 🔥 pic.twitter.com/9y0FnXTk6V

— Edmonton Oilers (@EdmontonOilers) December 12, 2015
It was like Montana to Rice, the world knew where it was going, but the world could not stop it, only stand and witness greatness. That is textbook fabulous.
Oscar Klefbom is 107 games into his NHL career and the Edmonton Oilers rely on him like he is at the 500-game plateau.
I hope Klef isn't gone long.

Last night:

Oiler vs Rags shots last night 5v5:
Klef on the ice 18-4
Klef off the ice 13-25

Wow.

— Woodguy (@Woodguy55) December 12, 2015
This will be the major point of discussion all day (how to deploy the defense), so it is a good idea to start with the coach. Who does he trust? EV TOI by McLellan:
Darnell Nurse 18:56
Oscar Klefbom 17:21 (injured)
Andrej Sekera 17:09
Justin Schultz 16:19
Eric Gryba 15:54
Brandon Davidson 15:23
Andrew Ference 11:51 (injured)
Nikita Nikitin
If Klefbom cannot play on the trip:
Nurse—Sekera
Davidson—Schultz
Nikitin—Gryba
If I had a vote:
Sekera—Fayne
Nurse—Schultz
Davidson—Gryba
Regardless of using @sportsnetmurph as a comparison, Griffin Reinhart is REALLY big!#Canucks #oilers pic.twitter.com/mBH1bF8iiv

— PUCKS ON NET (@Pucksonnetca) October 2, 2015
General Managers are always stubborn about their players, so do not discount the possibility of a GR recall. He is 3GP, 0-2-2 +2 on the farm and could be the choice by management.
GO CRAZY #CONDORSTOWN! @ben_scrivens stops all 31 to kick off the weekend right! pic.twitter.com/e5v2ZT4suB

— Bakersfield Condors (@Condors) December 12, 2015
Good for Ben Scrivens, glad to see it. The Oilers have gone from no goalies to one, and need to find out about Cam Talbot, let alone Ben Scrivens. One would hope the team gets some value back for some of these goalie bets, but at this point I will settle for Scrivens getting his career back on track.
With that goal Ethan Bear is your leader in WHL defenseman scoring

— Andy Eide (@AndyEide) December 12, 2015
Without looking it up, I believe that is Ethan Bear's first career hat trick! #tweetingwithoutnet

— Andy Eide (@AndyEide) December 12, 2015
I ranked Bear No. 9 among Oilers prospects this winter, wrote about him here. Edmonton spends a lot of assets on WHL kids, including Eberle, Nuge and Leon, would be nice to get a good one from the lower portions of the draft (to add to Brandon Davidson).