The Edmonton Oilers are being careful about updates on Connor McDavid, with good reason. Unless they have a rink 200 miles under the city, there is no way to put him on skates without fanfare. A McDavid spotting would be front-page news. I have stated that (for me) New Year's Eve would be a reasonable estimate, but the MSM suggests mid-January. They have access, I do not. Still….we wait.
One of the true Highlights of The last season and some of the #Oilers is seeing the progression of Klefbom. Our own development of a Top 3 D

— SuperNova (@SuperNovs1) December 12, 2015
LIFE WITHOUT TREBLE KLEF

Oscar Klefbom is having a terrific season, and that is an impressive thing based on age, experience and where he is on the depth chart. The numbers here have been acquired against some very good NHL players and represent a significant step forward for the young player. His injury (fractured finger) will keep him out of some or all of the road trip, possibly longer.
Brandon Davidson is the obvious choice to step up, although recall Nikita Nikitin will draw in and could play up the depth chart if Todd McLellan decides to keep two pairings together.
Darnell Nurse—Andrej Sekera are an interesting top pairing, their Corsi For 5×5 % is going south but the SC against actually improved in the last game. This road trip is going to be an interesting test for them, Edmonton's last road trip had some major issues.
We may also see a recall, although Griffin Reinhart and Mark Fayne just got to Bakersfield and other options (like David Musil) lack NHL experience.
Ryan Nugent-Hopkins is now 77th in NHL scoring with 20 points, one ahead of Sidney Crosby.

— Terry Jones (@byterryjones) December 12, 2015
NUGE CLIMBS A MOUNTAIN

Leon Draisaitl is on the kind of roll we have not seen from an Oilers center since Doug Weight passed 100 points. His performances this year have forced us to revise our own view of him—almost daily—even though he is just 20 years old.
Does this 5 game win streak make Connor McDavid expendable? #LeafsLunch

— NateInVegas (@NateInVegas) December 12, 2015
Connor McDavid has not played for the Oilers in weeks, and yet the young man remains in daily conversation. In a real way, the current situation for Oilers fans is half anticipation of his return and half growing excitement over the season live.
Ryan Nugent-Hopkins is digging out from that illness awhile back, and the 5×5 numbers are improving (and he is doing it against the tough opposition). One thing I looked for this week: Home/road scoring splits. My working theory was Nuge would be stronger on the road, where Todd McClellan would be less able to get RNH out against the toughest opposition. In fact, his scoring totals are striking in the other direction:
Home: 15GP, 4-8-12 +2
Road: 14GP, 3-5-8 -9
Nuge is a battler and my money is on him to have a far better road trip this time. Anton Lander and Mark Letestu both appear to be contributing more of late, although for Lander the offense remains elusive.
Will say this to all media, if you are still ranking Taylor Hall out of your top 10 you are not experts, you are stupid.

— Heather Marginet (@margih99) December 13, 2015
https://twitter.com/MrsLethal/status/675710099084607489
WONDER HALL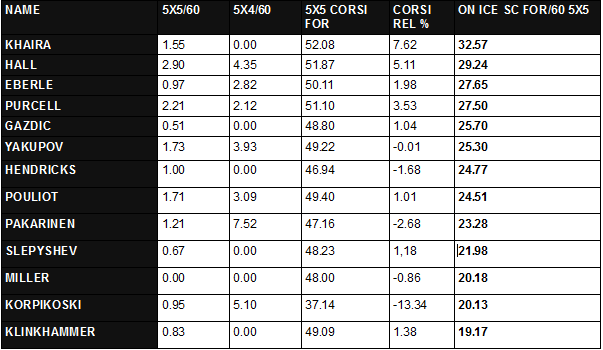 Taylor Hall is finally getting the recognition he has earned since the early days of his career, with some even suggesting he should be in the conversation for season-ending awards. I would have to think long and hard to come up an example of a player with this kind of performance over his first 5+ seasons who has had the boots put to him as badly as Hall. If I did come up with an example, that player would be European, and small.
Bob McKenzie: "I don't know that he's uncoachable. I suspect that – if I had to guess, and it's only a guess – if they're thinking of trading Taylor Hall, Taylor Hall might be the first guy to say, 'great' after everything he's been through. But when I look at this, I think Dregs is right. I think everything is going to be on the table and that includes, potentially, Taylor Hall." Source
The best thing Daryl Katz did this summer? Hire Peter Chiarelli. If you are upset about Jeff Petry leaving for draft picks, imagine how much the internet would have exploded over the package for Hall. More reading on the subject of a time where people discussed Hall being dealt is here, and it serves as sober reminder of what we were discussing one year ago.
Jordan Eberle is rounding into form offensively, as with Nuge it is the 5×5/60 total that stands out as especially counter to his career. One thing this road trip needs: Benoit Pouliot. I like Jujhar Khaira, and hope he stays in the lineup, but for me Pouliot is a smart veteran with the ability to cash offensively and delay progress for the opposition sorties. He is about time and space for the Nuge line, and he is an experienced veteran. Hope he plays in Boston.
One player who is finding his way now is Iiro Pakarinen. I am still unsure of him offensively, but he is certainly a candidate for one of the complementary wingers on one of the Oilers three scoring lines once they head in that direction. I like his ability to think on his feet and he gives his center a good passing target. Hockey sense has gotten a bad name because people throw it around a lot but I like Pakarinen's ability to think on his feet.
I've already noticed his fitness level is better. He has more confidence.He'll need to show his defensive play is good." McLellan on Nikitin

— Jason Gregor (@JasonGregor) December 11, 2015
NIKITIN
Our man Nikitin is back in the city and very likely to play against Boston (I assume any call up today won't get to Boston in time). He appears to have improved his conditioning and there is no real reason for him to be in the minors if he can turn and has passable mobility. We need to remember he spent much of last season injured and because of that fitness was always an issue. I wrote this during the RE series in the summer:
If he's healthy, Nikitin has a chance to increase his playing time (19:38) from a year ago. Counting on a defender with back issues is a bad idea. Nikitin's EV time from last season (16 minutes) and his special teams minutes (1:45 for both) mean he's among the more complete options on the team. I'm not confident he'll be as mobile as needed, but the Oilers have the intel on conditioning/back and if he's good to go we must assume he's a big part of the team in 2015-16. Source
Todd McLellan and Peter Chiarelli have Mark Fayne in the minors and Nikita Nikitin in the majors. This does not make sense to me, even if there is a trade market for NN. That said, I don't coach an NHL team and maybe Nikitin's back is good enough this year to the point he can stay in shape and has improved mobility. I will say this: Nikita Nikitin will never get a better chance to step into the breach and save the day.
mcdavid comes back, are the oilers better than the canucks?

— Jason Botchford (@botchford) December 6, 2015