The Oilers and Bruins are connected in many ways. Harry Sinden coached Glen Sather, and those two gentlemen engineered the Moog—Ranford trade (among others). Both teams won Stanleys in difficult times (Bruins during the Beliveau—Dryden era and Edmonton during the Islanders—Flyers—Bruins—Flames era of the 1980s).
DIRTY WATER, YEAR OVER YEAR
Oilers in October 2014: 4-5-1
Oilers in October 2015: 4-8-0
Oilers in November 2014: 2-9-3
Oilers in November 2015: 4-7-2
Oilers in December 2014: 2-8-4
Oilers in December 2015: 5-0-0

Oilers after 30 in 2014-15: 7-18-5, 19 points (-43 GD)
Oilers after 30 in 2015-16: 13-15-2, 28 points (-8 GD)
The Bruins always have a stud on defense. From Eddie Shore (The Edmonton Express!) to Bobby Orr to Raymond Bourque to Zdeno Chara, I do not think you can identify a Boston Stanley without an impact blue.
1929: Eddie Shore was 25 and on the top of his game.
1939: Shore was 35, and Dit Clapper plus Flash Hollett were at their peak.
1941: More Clapper and Hollett.
1970: Bobby Orr, say no more.
1972: Bobby Orr, say no more.
2011: Zdeno Chara blocks out the sun.
For Edmonton, the five Stanley's arrived via a different route: Unbridled offense.
1984: Gretzky (205), Kurri, Coffey, Messier all over 100 points.
1985: Gretzky (208), Kurri, Coffey all over 100 points.
1987: Gretzky, Kurri, Messer all over 100 points.
1988: Gretzky, Messier over 100 points, Kurri at 96.
1990: Messier over 100 points, Kurri at 93.
The Oilers, like the Bruins in 2011, are destined to repeat history.  Bet the offense. Bet McDavid, Hall and Draisaitl, and bet heavily on this team outscoring mistakes.
THREE SCORING LINES ARE COMING
The first real "hockey" line I remember was the Phil Esposito-Wayne Cashman-Kenny Hodge line on the great Bruins teams 70-75. Esposito was big and strong and scored goals from the slot, park his ass in there and no one could move him. He could score goals from the slot like no one before or since (and that includes Tim Kerr), and was helped by Wayne Cashman's hard work (he was a Ryan Smyth-type in terms of effort, worked all night in the corners) and Hodge was a smooth winger who could pass the puck, shoot and make plays. Boston had a slick second line (Fred Stanfield centered Johnny Bucyk and Johnny McKenzie) and a surprisingly effective third line (Derek Sanderson and Ed Westfall were expert penalty killers and usually played with a youngster who had good tools, like Wayne Carleton or Garnet Bailey).
When healthy, the Oilers have three terrific C's and some depth players who can help with the PK and slide in on the PP as required.

This group will cost a fortune by the time Leon and McDavid hit their second contracts, and the Oil may be somewhat vulnerable to offer sheets—suspect we see both men signed early in the window of opportunity. I think Nuge is a very important part of this trio—if you replace him, bringing in another veteran center is vital—and that doesn't change imo until both McDavid and Draisaitl are in their secon contracts.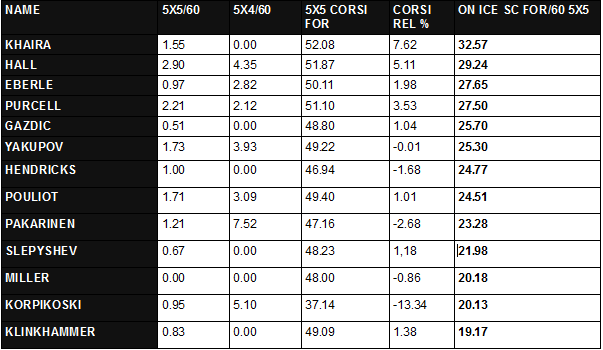 Taylor Hall, Jordan Eberle, Benoit Pouliot and Nail Yakupov are the obvious candidates to join the three centers above—that gets us to seven. It is not an easy eight, because Pouliot and Yakupov are complementary players reliant on someone to drive their line—and, despite exceptional scoring skill—we could include Jordan Eberle on that list. The wingers Edmonton currently employs are probably the most replaceable, and I think this is also where we will see some savings.
Candidates to move up to the scoring lines? Signing Teddy Purcell to a one-year deal at reasonable dollars is a good idea in my opinion. It gives the team a little more time to develop Anton Slepyshev and to see if Iiro Pakarinen can fill an offensive role.
Hall—Draisaitl—Purcell
Pouliot—McDavid—Yakupov
Slepyshev—RNH—Eberle
The Oilers have a dandy set of forwards, and you could spend some dollars on a Lucic, but for me bringing back Purcell has appeal. If Peter Chiarelli stays the course at forward next season, no one should be upset about it.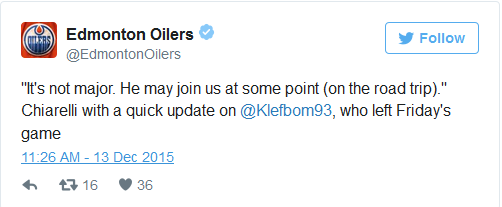 The Klefbom issue is short term, so that is good news. That said, it does not help tonight. Darnell Nurse and Andrej Sekera will have to play a lot more this evening and I am not certain it is wise.

Yesterday in practice, Todd McLellan kept the Nurse—Sekera pairing together, suspect we see either Ference or Nikitin draw in with (probably) Justin Schultz. I would run the blue this way during Klefbom's absence:
Sekera—Fayne
Nurse—Schultz
Davidson—Gryba
That is tough to do with Fayne in the AHL. I think Todd McLellan is a really smart guy, and he knows a helluva lot more than I do about coaching an NHL team. I believe he has made a mistake. I fear it will cost games and tonight is one of them. You are free to call me an idiot for questioning the coach, but it will not change my mind. Mark Fayne should be on the first flight out of LAX this morning. It is the right thing to do.
LOWDOWN WITH LOWETIDE
A busy, fun morning beginning at 10 on TSN1260.
Scott Burnside, ESPN. Alberta teams on the rise, no trades but will something break soon?
Matt Iwanyk, TSN1260. The Eskimos have decided on their coach, and he is pretty famous in this city.
Sunil Agnihotri, Copper & Blue and The SuperFan. Sunil didn't see the 80s, so I am eager to get his reaction to Friday night's game.
Andy Eide, ESPN Seattle. Ethan Bear had an enormous week, including a hat trick, but was hurt on the weekend. We will check in with Andy on an emerging prospect.
10-1260 text, @Lowetide on twitter. Talk soon!