Craig MacTavish the coach used to say you win games at the end of a winning streak you don't deserve, and we saw that last night. It does not mean Edmonton loses tonight, but if they do fans have received what we can reasonably call fair warning. Lordy that was a loose game.
DOWNTOWN TRAIN, YEAR OVER YEAR
Oilers in October 2014: 4-5-1
Oilers in October 2015: 4-8-0
Oilers in November 2014: 2-9-3
Oilers in November 2015: 4-7-2
Oilers in December 2014: 2-8-4
Oilers in December 2015: 6-0-0

Oilers after 31 in 2014-15: 7-19-5, 19 points (-45 GD)
Oilers after 31 in 2015-16: 14-15-2, 30 points (-7 GD)
This winning streak came at the right time, because pretty much all of the gap you see in those numbers is bought and paid for by your friend December. G32 a year ago was a 2-1 loss to the Coyotes, as the hits kept coming and in the end Dallas Eakins would not fight another day for the Oilers.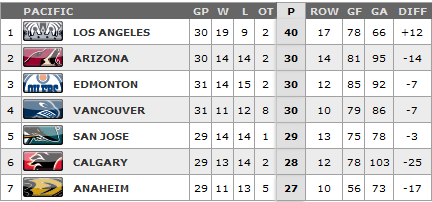 ON ICE SCORING CHANCES FOR/AGAINST: 13-34
ON ICE HIGH DANGER SCORING CHANCES FOR/AGAINST: 8-12
This morning, 38 per cent of the way through their season, the Edmonton Oilers are in Manhattan, in the playoffs, and waking to a brand new day. No matter what they get out of this, I know, I know, they will never forget. It is morning in Edmonton, for the long-suffering fans. Music!
Oilers get first win in Boston since Nov. 1996 with 3-2 OT decision over Bruins. #NHL https://t.co/afBp5lATdE pic.twitter.com/WfTz5fFAlu

— SportsCentre (@SportsCentre) December 15, 2015
THE CASE FOR THE DEFENSE, LAST NIGHT

Davidson—Gryba stepped into the second pairing role and had a tough time with the Bergeron line. Part of the issue for me is that Gryba is a plodding decision maker and that means turnovers. The man can defend, but with the puck it is deer in the headlights. Oilers have to fix that. Davidson is a real find, that was a good road game for the young blue. He was under fire much of the night but kept his head. I find that even his mistakes come when trying to make a good, or the right, play. Smart young hockey player.
Sekera—Nurse were once again asked to climb Everest without a rope and my goodness it was an adventure. You may disagree with me, but I thought that was Sekera's best road game of the year, he was out of his brain on the 5:15 making or trying to make plays. Darnell Nurse skated miles and I love his game, but he is at a point where less would be more. The young man tracks brilliantly and will chase to the death, but in modern hockey, chase often means death. Have to find a way to remove puck from carrier. I have zero worries about his confidence, he simply displays no fear. Impressive to see him maintain composure, we have seen a generation of Oilers rookie blue wilt under far less pressure. As has been said by this blog for weeks: I wish I may, I wish I might, see him play on a lower pairing tonight. This pairing had 11 defensive zone starts, most on the team.
Nikitin—Schultz is a pairing that should not be, not with Mark Fayne in Bakersfield. That said, I think Schultz with Nurse  and Sekera with Fayne would be a far better way. Listen to me talking after a sixth straight win. I wonder if Ference draws in tonight? Hell, at this point the Oilers are playing with house money on the winning streak (and the road trip).
What would be a good trip, after last night? I said 1-2-1 before the Boston game, important not to get greedy. 2-2-0? Yeah, Rex may have been right.
Todd McLellan: "Our goaltender played a tremendous game for us. When we're a little short staffed, we need that from him, but I think we can be better in a lot of areas. That was a taste for our group that haven't played in the playoffs for a long time, for me, that was like a playoff game, they checked every inch of ice, they didn't let you breathe." Source
The last time the Oilers won in Boston, they shutout the Bruins 6-0. 67 days later Connor McDavid was born. So it's been a while.

— Ryan Batty (@ryan_batty) December 14, 2015
CENTERS IN BOSTON, LAST NIGHT

Nugent-Hopkins had a fine night, I think he was one of two forwards who stood out. Posted some offense and checked him some Bruins, they are a tough matchup for him because their centers are veterans and extremely good at what he is also good at—two-way play and anticipation. Leon Draisaitl found it hard to breathe, but that Bergeron fellow is a first class offense killer, no shame in being 20 years old and 34 percent against one of the toughest screws to ever walk a turn at the TD Garden.
Mark Letestu and Anton Lander had a tough night but one would hope for better based on the players they were facing. Both played two minutes against Chara and Letestu did get Seidenberg, Lander too. I think the Oilers need a better third line, but then again Connor McDavid is a game changer the moment he steps back on the ice.
Wasn't quite sure if I was awake yet, but yes, the Oilers are in a playoff position & are sitting ahead of SJ and Anaheim. Hmmm…

— Andi Petrillo (@AndiPetrillo) December 15, 2015
WINGMEN IN BOSTON, LAST NIGHT

Jordan Eberle (along with Nuge) was the best forward for Edmonton last night. He is finally clicking after that injury in pre-season—and doing what we knew he could do when healthy. 14 had two high-danger individual scoring chances, the only Oiler with more than one on the night. Goal-scorers are so damned valuable, and Eberle is one.
Hall—Purcell were checked into the ground, and all got a dash one on the late goal. A total of four shots for the hottest line in the league, I think we can pass on ripping this duo. Purcell made a play last night where, after about 12 minutes of pounding, he made a deft move to the left of the Edmonton net to beat a man clean, and start the breakout. It was the first skill play I had seen in possibly 15 minutes. Hall and Purcell each had one high-danger individual scoring chance.
Jujhar Khaira is going to make it hard to activate Rob Klinkhammer, but it is time for Benoit Pouliot on the Nuge line. Khaira might survive beyond the BP recall, though.
Matt Hendricks and Iiro Pakarinen did things I liked, mostly involving slowing down progress and interrupting the steady stream of sorties. I have no idea who stays when Yakupov comes back, but for me Pakarinen is a keeper.
HONEY WHERE IS MY OILERS CAR FLAG #oilers #yeg

— Jonathan Sharek (@jsharek) December 15, 2015
Cam Talbot had to wait awhile for his chance, but he was brilliant in Boston. If he regains his status as No. 1 goalie, signs a contract with the Oilers for next year and beyond, we will probably forget about the game in Boston, mid-December. I think it was a very important game, this is a young man who could be the solution to a key problem for many miles. Along with Anders Nilsson, the price paid for the solution in goal could be small—if it works. Good arrows, Mr. Talbot. Now, for crying out loud start the other man in Manhattan.
@karen_surman @TSN1040 Boys. I was at Sather night @ Rexall & the Oilers remind me of the Blackhawks in 2009. Fast team with skill.

— Stu In Statistics (@StatisticalStu) December 15, 2015
The national media refuses to embrace the story, but it is good for you to know who your friends are in times like these. I am beginning to think the radio airwaves and television transmissions are catering to Leafs Nation, who apparently cannot handle success in Edmonton—to the point where it doesn't get mentioned in a way that is reflective of its importance. Stu in Statistics has it right: Without McDavid this is a fast train who are beginning to outscore myriad mistakes on a given night. They badly need a RH defenseman to play with treble Klef, and this goaling needs to be .915 or better, but there is sunlight seeping into the room and lighting up Oilers Nation for the first time since the crib caught fire.
It is December 15, the Edmonton Oilers have 30 points in 31 games. Connor McDavid may well be skating at an outdoor rink every morning at 2am using night goggles (still cannot see a way McDavid gets on the ice without that fact getting reported). It's a new dawn, it's a new day.
LOWDOWN WITH LOWETIDE
Beginning at 10, TSN 1260. A fun, busy day, scheduled to appear:
Jonathan Willis, Cult of Hockey. We will look back on last night's game and forward to this evening's rematch of the Friday game. Will we get another 80s night?
Brian King, NonStopSportsPicks. Maas is in as Eskimos coach. Is that a good thing?
Kirk Luedeke, Red Line Report. We will discuss the Bruins, the college kids available in the 2016 draft.
Guy Flaming, the Pipeline Show. World Junior roster and Guy is off to Finland. Did he pack correctly? Let's help him.
10-1260 text, @Lowetide twitter. See you on the radio.