This is Jordan Eberle. His talent is scoring, the most difficult thing to do in sports. Eberle got hurt in pre-season and the blow to the team was significant. Injuries are having an enormous impact on the Oilers, but if they can ever get the complete band healthy, they could make beautiful music together.
MY KIND OF TOWN, YEAR OVER YEAR
Oilers in October 2014: 4-5-1
Oilers in October 2015: 4-8-0
Oilers in November 2014: 2-9-3
Oilers in November 2015: 4-7-2
Oilers in December 2014: 2-8-4
Oilers in December 2015: 6-1-0

Oilers after 32 in 2014-15: 7-20-5, 19 points (-46 GD)
Oilers after 32 in 2015-16: 14-16-2, 30 points (-9 GD)
Edmonton would lose G33 a year ago, San Jose winning 4-3 and ruining a night that featured a Steve Pinizzotto goal. The Oilers will be in tough against the Chicago's tonight, but they have played them well over these years and the games are usually fun to watch.
ICYMI from @TSNBobMcKenzie: All signs point to #Stamkos leaving Tampa https://t.co/VOYnh1YYSj #TSNHockey pic.twitter.com/4afv1GLqDx

— TSN Hockey (@TSNHockey) December 17, 2015
THE IMPOSSIBLE DREAM
Steven Stamkos an Oiler? Come the hell on. And yet, none other than Bob McKenzie mentioned Edmonton by name in a story on Stamkos yesterday. Quoting the article:
McKenzie: Edmonton? Not sure how the Oilers could shoe-horn Stamkos money into McDavid/Hall/Draisaitl et al money, to say nothing of what they would do with Ryan Nugent-Hopkins or others, but dare to dream of the possibilities. Source
I cannot imagine the Oilers being able to retain all of Taylor Hall, Connor McDavid, Ryan Nugent-Hopkins, Leon Draisaitl and Jordan Eberle while also acquiring Steven Stamkos, but they could offload one of those names and still be ahead of the game in the acquisition. If Stamkos signs next summer to play on McDavid's wing, who would you trade? Could you get an impact D for him? I bet you could come pretty damned close. Hamonic? Better? Dare to dream.
Pouliot—McDavid—Stamkos
Hall—Draisaitl—Eberle
Who cares?
Who cares?
Maybe it is Nugent-Hopkins after all? You could fetch a fantastic defenseman for such an exceptional talent as the Nuge. I hate the idea of trading him, but he would have more value than 14 and Chiarelli could bring in a more substantial 3C for the heavy lifting? Would I trade Nuge for the right defenseman? Sure, but it would not be my first option. Oilers have strength at center for the first time this century, lets not blow it up at the earliest convenience. I do like Leon right side, maybe Eberle is odd man out? What a horrible, glorious pickle to be in.
Pretty weak play by Darnell Nurse along the wall allows Brad Marchand to take puck and make a rush to Edmonton net. Talbot makes stop

— Joe Haggerty (@HackswithHaggs) December 15, 2015
DEFENSE, 2015-16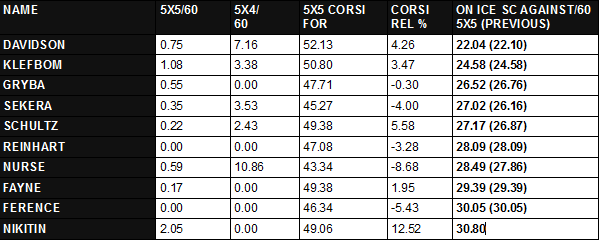 We talked yesterday about Klefbom returning, and that could happen on Saturday or Monday. That said, tonight the problem of that top pairing and what to do with it remains. I am a stubborn kind of fellow, so will argue that Brandon Davidson should stay in his lane. If we try to exclude rookies from the tough minutes, we are left with a tough, tough choice. How about this?
Nikitin—Sekera
Davidson—Gryba
Nurse—Schultz
Hmmm. Maybe Nurse—Sekera stays for three more games? Davidson may well be the guy to throw into the breach, but I really don't like the idea of running another rookie out there. Do good teams do this? I don't think they do. Man. Call up Fayne. Please!
Today at practice, there is a chance we see some tweaking of the pairings. Sekera is the top defenseman on this team, and in terms of performance Brandon Davidson should probably be his partner. If the young man steps in and flourishes, someone on planet earth should make an argument for the Calder Trophy. Seriously.
Taylor Hall starts with Ryan Nugent-Hopkins and Jordan Eberle. This is a change for the Oilers. Interesting.

— Dan Rosen (@drosennhl) December 16, 2015
CENTER, 2015-16

The Oilers have two quality centers, two guys who play utility roles and a teenager on the IR who could make 2016 rattle and hum. The Nuge is pushing up offensively now, that line needs Benoit Pouliot tonight and they need him badly. Leon is Paul Bunyan with the numbers to match.
Jordan Eberle with the breakaway equalizer. He has goals in five of his last six games. #Oilers

— Chris Wescott (@TheChrisWescott) December 16, 2015
WINGS, 2015-16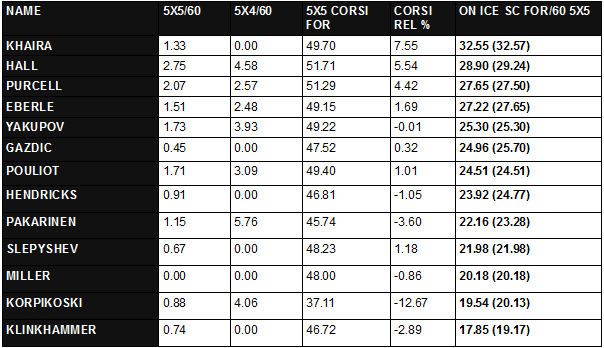 People are falling all over themselves to give Hall some love these days, but you and I knew this miles ago. Fantastic river-pusher he, Hall has splendid marks across the board. Teddy Purcell is also shining on here, like those numbers a bunch. If you wanted to bitch, maybe the 5×4 could improve, but that is a strength so it is a good bet that number will improve over the season.
Jordan Eberle is coming on now, this is such a good offensive player and Edmonton needs these goals badly. He is on a roll right now, feed him minutes and line him up for the shootout. Jujhar Khaira didn't play the other night and the replacements were not as good. He may get run over by Benoit Pouliot tonight, but I would put JJ in anyway, possibly replacing the injured Iiro Pakarinen (still haven't heard on his status).
Matt Hendricks and Lauri Korpikoski have been doing a good job as checkers lately, business as usual for Hendricks and a nice arrow in a good direction for the Finn.
QUICK HITS
We have been asking this question for two years now, interesting that Jim Matheson has joined the ponderers. If Matty is wondering, the game is afoot. I don't think you get much for Schultz, his contract situation and performance hurt his value. I do think a team with issues on the blue would trade a talented minor league player for him, and that brings up the importance of pro scouting. Edmonton needs forwards, and one suspects Chiarelli will add someone with size. I bet the scouts are looking across the AHL for big, skilled wingers. Edmonton probably has to take on a contract plus the prospect to offload Schultz, and I do think it will happen. Maybe Mark McNeill, the two-way center in the Chicago system (or Ville Pokka the defender, I like him a bit) plus a dead contract? We wait.
There is a nice article on Josh Currie in The Guardian.
Cam Cole remains a helluva writer and he pens the official time of death for the Sedin Canucks at December 16, 2015. Fabulous prose, he was and is the best of the EJ group that included Matty and Terry Jones, and even includes a nice swipe at the Oilers. The problem with taking shots at the Oilers nowadays? Since the McDavid draft the barbs have no prickles. The war is over, Vancouver. You got screwed again. Hey, where is Jim Sandlak, anyway?
The Klefbom injury really buggers up a nice pre-Christmas run. I think this team has a chance at the playoffs, and if they could go 2-1 over the next three games (and arrive at Christmas morning 15-17-2) I would happily endorse them as a playoff team. I think they will have some winning streaks in the second half and get some clearance, but this is going to be closer than the climax scene in The Hunt for Red October.
LAST 10 GAMES, OILERS
Taylor Hall 10, 6-5-11
Leon Draisaitl 10, 2-8-10
Teddy Purcell 10, 2-7-9
Jordan Eberle 10, 5-3-8
Ryan Nugent-Hopkins 10, 2-5-7
Lauri Korpikoski 10, 4-1-5
Mark Letestu 10, 1-3-4
Iiro Pakarinen 10, 2-2-4
Andrej Sekera 10, 2-2-4
Matt Hendricks 10, 1-2-3
Jujhar Khaira 8, 0-2-2
Anton Lander 10, 0-2-2
Darnell Nurse 10, 1-1-2
Justin Schultz 9, 0-2-2
Brandon Davidson 8, 0-1-1
Luke Gazdic 7, 0-1-1
Oscar Klefbom 8, 0-1-1
Eric Gryba 8, 0-1-1
Niki Nikitin 2, 0-1-1
Benoit Pouliot 3, 0-1-1
Anders Nilsson 8, 2.44 .925
Cam Talbot 2, 2.98 .926
Some very nice performances here, two lines posting offense and the goaltending numbers are solid to very good. Can this team win a game or two before Christmas? This stuff matters, for the first time in forever.
LOWDOWN WITH LOWETIDE
A busy show with the wide, wide world of sports. 10 this morning, TSN1260. Scheduled to appear:
Darcy McLeod, Because Oilers. Got Stamkos? Plus the blue and McLellan's impact on the yutes.
Scott Zerr, Oilers Nation and TSN1260. A win for the Condors last night, who played well?
Andrew Bucholtz, 55-Yard Line. The CFL is off its meds.
Frank Seravalli, TSN. All Stamkos, All the time!
10-1260 text, @Lowetide twitter. Talk soon!