The Edmonton Oilers are quickly approaching the halfway point of the season, and the storylines have been a mixture of incredible highs and devastating lows. I do not recall a moment in Oilers history since G7 2006 that had the same impact as our collective pall after the Connor McDavid injury against the Philadelphia Flyers. I imagine its equal—in the positive—occurs on the night he returns. We are approaching the celebration of Jesus' birthday, so I will be careful in my wording, but surely McDavid's return is the second most anticipated event of this month.
McDavid has started skating https://t.co/vcOnsncdQR But his return date to Oilers lineup remains unknown #NHL pic.twitter.com/lKX6b0ac6R

— Jim Matheson (@NHLbyMatty) December 19, 2015
Matty has a ton in that article, I won't quote it all so make sure you click. One thing worth passing along: Looks like Edmonton may change up the pairings, but not Nurse—Sekera. Huh. Later in the GDT, we will have a look at that SC/against per 60 and try to find some blue clues.
May the Force be with you, #Oilers fans. #StarWars https://t.co/4gaYqWBN7t

— Edmonton Oilers (@EdmontonOilers) December 18, 2015
GET OUT OF DENVER, YEAR OVER YEAR
Oilers in October 2014: 4-5-1
Oilers in October 2015: 4-8-0
Oilers in November 2014: 2-9-3
Oilers in November 2015: 4-7-2
Oilers in December 2014: 2-8-4
Oilers in December 2015: 6-2-0

Oilers after 33 in 2014-15: 7-21-5, 19 points (-47 GD)
Oilers after 33 in 2015-16: 14-17-2, 30 points (-13 GD)
Game 34 one year ago saw Edmonton lose in a shootout, the first point in a long time for the Donner Party of 2014-15. Taylor Hall had a big game, if he had stayed healthy maybe the season would have turned out differently. The goal differential slipped a little in Chicago, hopefully Edmonton gets it back to -10 or better in the near future.
THE DEFENSE, 2015-16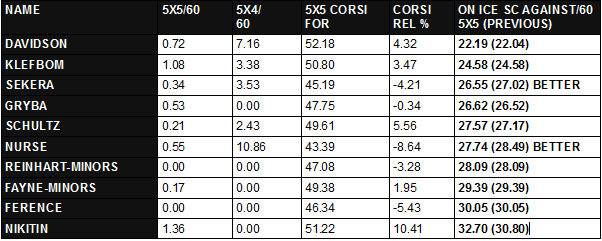 Brandon Davidson is enjoying a very good rookie season, one of the obscure stories that I hope sees the light of day in the second half of the season. He is on pace for less than 20 points, and he is far from a 20-minutes a night defender, but he may have some room to grow and has been a revelation.
Oscar Klefbom is on track for more than 30 points, with his recent absence showing the entire hockey world his true value. Andrej Sekera started slowly (they all did) but has been strong and effective (despite the Corsi number) while climbing Everest. Darnell Nurse is playing too high on the depth chart, and as I mentioned above Todd McLellan appears to be content with the possession number. One reason could be Nurse's scoring chance against number. Along with Nurse, they are facing tough opponents and the scoring chance number is not cratering like the Corsi's. Something to observe as we roll along. I remain hopeful we see a tweak when Oscar returns.
Eric Gryba is an interesting player. I know he isn't a 'wow' player, but both Peter Chiarelli and Todd McLellan valued his player-type in their previous jobs. I would not be shocked if the team re-signed him in a 6-7D role for the coming year. Would you?
CENTERMEN, 2015-16

The projections for Edmonton's centers are incredible, if they can keep it up we are looking at some fine boxcars for spring. Draisaitl (84 points), Nuge (58) and McDavid (57 if he returned today) are all substantial talents and the Oilers haven't had three offensive centers like this in a long damned time.
It looks like two of these centers will play together tonight, perhaps as prep for the coming Pouliot—McDavid—Eberle line:
POSSIBLE LINES TONIGHT
Hall—Nugent-Hopkins—Draisaitl
Purcell—Hendricks—Eberle
Korpikoski—Letestu—Pakarinen
Gazdic—Lander—Khaira
If Pouliot can draw in, I imagine Purcell falls down to the Letestu line and Pakarinen sends Gazdic or Khaira to the pressbox. If it is Khaira, we could be days away from another trip to Bakersfield for the rookie. A nice first showing for sure. I like the top line, wish they had a little more zoom for the 2line and cannot wait for McDavid to get back into the lineup. That will be my Christmas present, more than willing to wait.
WINGERS, 2015-16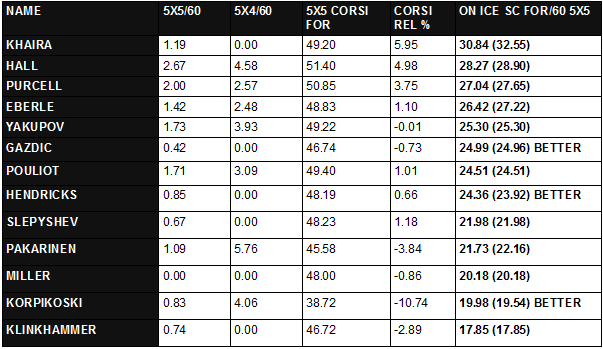 Taylor Hall is on pace for 87 points (The Hockey News does all the work) and Teddy Purcell is on track for 50 points. This segment of the roster shows a lot of promise, but beyond maybe four guys (Hall, Eberle, Pouliot, Hendricks) employment in Edmonton for next year is uncertain—even then a guy like Eberle could be sent away.
Edmonton will probably add some depth wingers in the off-season, but I do like the looks of Iiro Pakarinen, would like to see more of Jujhar Khaira and believe Anton Slepyshev is a substantial prospect. Vulnerable names on the current roster (imo) include Luke Gazdic, Lauri Korpikoski and Rob Klinkhammer.
#Oilers had a scout at #AHL tilt between Falcons and Comets tonight (Canucks V Coyotes) in Springfield.

— Alex Thomas (@Alex_Thomas14) December 19, 2015
I think Peter Chiarelli is shopping one or all of Justin Schultz, Nikita Nikitin and Mark Fayne. Is there anything of interest to Edmonton?
Utica Comets: Vancouver's minor league team has some nice players (Hunter Shinkaruk, Brendan Gaunce, Nicklas Jensen) but you wonder if any are available. Jordan Subban is an interesting player, but again the Canucks probably want to see how things play out. Alexandre Grenier might be a player of interest to Chiarelli.
Springfield Falcons: Arizona's farm team is always fun, lots of cool players. I doubt they would deal him so soon after turning pro, but Michael Bunting is a player who looked good on draft day. Don't discount Edmonton's possible interest in Henrik Samuelsson. They wanted him on his draft day, reports had them thinking about trading up (the Moroz pick) to get him. He did not play last night, though.
I think that is the kind of player Edmonton may be seeking in trade from now to the deadline, younger players who perhaps haven't shown as well as hoped as new professionals. Samuelsson would be a player of interest to Edmonton, I would bet good liquor on it.
No excuses, but #Oilers have done well considering 127 games lost to #injury far exceeds the next closest western conf team, STL at 104.

— Jeff Hamilton (@jeff8ham) December 19, 2015
We don't talk about this very much, because I hate excuses and everyone deals with injury. Still, if the Oilers can run their full roster for a couple of months in early 2016, it bodes well for their final win total. Any guesses? 30? 35? Fun to think about, at least this season.
Rumour: Bogdan Yakimov (F) | Edmonton Oilers -> Neftekhimik Nizhnekamsk | https://t.co/5NnZlOfwcz #KHL

— EP Transfers (@ep_transfers) December 19, 2015
Not sure what to make of this, Yakimov did suffer an injury earlier in the year but as far as anyone could tell he was a big part of the team when healthy. If he does go back, hard to imagine the transaction without Edmonton's blessing. Le strange.
Back at 4:30 p.m. Weather looks great. Come on up JT! https://t.co/k2buFYKjWK

— Bakersfield Condors (@Condors) December 19, 2015
Condors outdoor game goes this afternoon, rained out last night. Rain in California is cause for celebration, so we should consider it a blessing.
MCDAVID SKATING
McDavid's agent Jeff Jackson: "The Oilers have a time line, with different milestones where he can do certain things on the ice. He'll move towards puck handling soon. It will be up to the doctors and the therapists [when he begins to shoot pucks]." Source
Two things: The Oilers are passing along information very carefully, and every step has seen them moving the timeline up. I have said New Year's Eve, and perhaps that is aggressive, but it looks fairly certain he will be playing a lot of the January schedule. Music!