One of the things that has major appeal for blogs and message boards is the debate over lines and pairings. In today's GDT, you will read all sorts of discussion (and hopefully take part in it) about best pairings for tonight. Debate, discussion, back and forth. The first time I ever typed anything onto the internet, it was a debate over Daniel Cleary versus Dan Lacouture. You may find this hard to believe (or not) but I was wrong. Kim Gernack, who is now in heaven, won that round, and introduced me to the art of commenting online and respecting opinion.
It is fun to play along with the decisions of your favorite team, to argue the things you don't like and remind others about things we called long ago. We all do it, this is fun! I have also received an education, from hf boards, other blogs, this one too, about the doings of NHL teams and coaches. I learned more from Craig MacTavish and his deployment of players during his coaching career than I had from anyone since Howie Meeker in my youth. MacT did some unusual things (ran Toby Petersen on the PP, others) but the man made sense in word and deed as a coach and there is not enough time in either of our lives for you to change my mind on it.
I have always respected Todd McLellan as a coach, although when you are observing an opponent it isn't with the same magnifying glass you place on the home side. So far this season, I have been impressed with his approach and he has unlocked some of the talented players in this organization.
I did not agree with McLellan's handling of Mark Fayne. It made no sense when it happened and the recall was overdue. I understand the idea of getting through to veterans (to my eye Fayne was playing more passively than the other blue, suggesting he didn't trust himself with standing up at the blue and remaining effective) but the Oilers aren't so good they can make this kind of move without consequences. It is the first move I have seen from the Oilers in-season this year that ran counter with trying to win hockey games. Hopefully it is also the last.
THE BLUE, 2015-16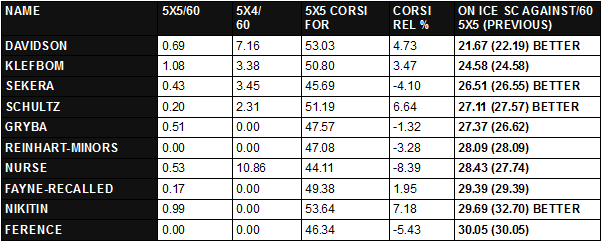 Someone must have said 'how can this get worse?' and came the answer: Brandon Davidson is down and he is not getting up! Good grief. We knew in summer Edmonton had less than 'balance' on defense, and the hockey Gods are hammering the organization left and right to drive home the point. Good.
For tonight, with Klefbom and Davidson possibly out, Edmonton is screwed. I would suggest the following:
Sekera—Schultz
Nikitin—Fayne
Nurse—Gryba
Oilers are going to have one slow pairing tonight, there is nothing anyone can do about it (unless you want to see Nikitin-Schultz again). If Klefbom can go:
Nurse—Sekera
Klefbom—Schultz
Nikitin—Fayne
If both Klefbom and Davidson can go:
Klefbom—Sekera
Davidson—Fayne
Nurse—Schultz
There. I feel better. I am also completely accepting of the fact Todd McLellan will cobble this group together in a completely different way.
My hunch is Davidson, while undoubtedly sore, tries to play tomorrow. Fayne may be in for someone else. https://t.co/bCDu6diMCk

— Jack Michaels (@EdmontonJack) December 20, 2015
I believe that would be a mistake. Even with Klefbom and Davidson back, Schultz is among the six best options on the team in my opinion.
Sekera
Klefbom
Davidson
Fayne
Nurse
Schultz
That is my list, your mileage may vary.
WHAT IS UP, BOGDAN?
Russian news reports #Oilers Bogdan Yakimov returns to the #KHL . https://t.co/NU94NxxBGm @ChunkletsHockey

— Patricia Teter🏡📚💻🎃🍁 (@Artful_Puck) December 21, 2015
That link provided by Patricia states Yakimov is returning to the KHL and it sounds immediate. There are only a few possible reasons for this:
The young man was homesick. I don't really buy it, he was here one year ago and mae it through the year. Yakimov did adjust pretty well in OKC, maybe Bakersfield was tougher? Honestly, this is an unlikely reason.
Peter Chiarelli and crew have decided foot speed is enough of an issue that he will not make the NHL. That is possible, folks. He has suffered injuries since coming to North America and may have lost a foot on his fastball.
Playing time. I think this is probably it, as the Oilers continue to employ AHL veterans over youngsters. It seems to be better from time to time, but an AHL coach (in this case Gerry Fleming) is going to attempt to win hockey games. You win games with veterans, and I suspect this is probably the reason. Edmonton has had this problem forever and it doesn't appear to be improving under Peter Chiarelli.
CONDORS TOP FIVE SCORERS
LD Brad Hunt 26GP, 4-17-21
R Matt Ford 24GP, 11-7-18
C-R Andrew Miller 20GP, 6-11-17
L Ryan Hamilton 24GP, 7-3-10
D Nikita Nikitin 14GP, 1-8-9
Veterans all. This is a problem for sure, if you are losing legit prospects (and Yakimov is such a player) to AHL veterans then at some point you have to fire the AHL coach. As you know, I am not in favor of people losing their jobs, but the investment in these young men is incredible and they need to work out at least once in awhile. What if the next man up is Anton Slepyshev? I am little pissed today, but if they lose Slepyshev prepare for the big action words on this blog.
OILERS CENTERS 2015-16

God what a group, cannot wait to see them all flying in January. Look at Leon's numbers! Holy cannoli, Batman! Craig MacTavish had two first-round picks as GM, he will have earned SC rings (when it happens) for that alone. McDavid's numbers scream impact player, I cannot wait for Christmas (now understood on this blog to be the first game of McDavid back in Oilers silks).
Friedman was just talking about the Oilers trading RNH for Jones. This seems like something that has a good possibility of happening.

— Tempest (@tempest9) December 21, 2015
RNH is struggling, a lot of that has to do with injured linemates and climbing Everest. You will read some negative comments about him in the thread today, the Nuge is a candidate for team whipping boy but it is not warranted. Remember this: The clean air reaching Leon's lungs is being bought and paid for by a man just 2.5 years older than him. Oh, those Oilers. (PS, I am not implying Tempest is being negative, I have heard this rumor enough to believe someone is pushing it up—possibly Nashville).
Anton Lander and Mark Letestu continue their race among the ruins at even strength, one hopes for an EN goal for the Swede. Letestu at least gets a PP point here and there.
WINGS, 2015-16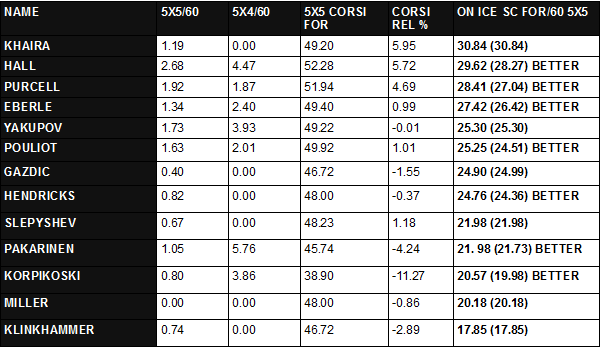 Taylor Hall remains the central hero in this story, which is incredible considering the Oilers have drafted three No. 1 overalls, Oscar, Darnell and Leon in the first rounds since No. 4 arrived in 2010. Incredible talent. I remain onside with bringing back Teddy Purcell, man he is so good with the puck on his stick. If you enjoy cerebral players, Purcell is a joy to behold.
Jordan Eberle has been reminding people of his abilities recently, just a fabulous scorer who can thread the needle in a heartbeat. Benoit Pouliot adds so much to any line (remember when we were raving about him on the McDavid-Yak unit) and he is a nice complement to Taylor Hall on the portside.
Beyond Hendricks, I am undecided about who to keep for next year among the bottom wingers, but can say Iiro Pakarinen is one of my favorite Oilers currently. Also, it may be time to get Slepyshev back up here, don't want to lose him to the KHL, too.
LOWDOWN WITH LOWETIDE
Christmas week! The shows get looser this time of year, kind of like Neil Young and Crazy Horse at the Fillmore. It is still grand though, and I hope you tune in. 10 this morning, TSN1260:
Scott Burnside, ESPN. Highs and lows across the NHL, including Dallas and Anaheim.
Jeff Hauser, Radio Hauser. The NFL playoff picture is coming into view now.
Sunil Agnihotri, The SuperFan and Copper & Blue. The week ahead and what on earth do they come up with tonight on defense?
10-1260 text, @Lowetide on twitter.