I think we will see an active Peter Chiarelli after the break, with culling the major item. There are several men returning from the IR and 5,000 left-handed defensemen in the system, those things will be on the docket. A list of 'possible' exits might look like this:
R Teddy Purcell 35gp, 8-15-23.
D Justin Schultz 21gp, 1-3-4.
D Mark Fayne 25gp, 0-1-1.
D Nikita Nikitin 5gp, 0-1-1.
Chiarelli won't trade all of those defensemen, but I bet he would like to, possibly retaining salary while also finding a replacement for Bogdan Yakimov in Bakersfield.
https://twitter.com/NicholsOnHockey/status/679020589256851456
Schultz is probably the most interesting player on the list, he is an RFA and the Oilers may have some interest in retaining him beyond this season (I think it unlikely). Nikitin and Fayne are veterans, depending on the market a team might grab one of them for insurance. Purcell is the only one of the group I would like to see retained.
Friend called from #Montreal. Lots of chatter about #Oilers scouting @IceCapsAHL & trade talk between the #Edm & #Habs. No idea for who.

— Paul Almeida (@AzorcanGlobal) December 23, 2015
Last year, I did a series of targets for ON (Habs here) and there are plenty of cool prospects in the Montreal system again. If the Oilers scouts were watching this night, I think they would have been wise to pay special attention to Michael McCarron. He isn't coming here, folks. However, maybe Bud Holloway and a late pick can be had for Nikitin and salary retained. I promised you trades, I didn't promise you sexy.
SEVEN OF NINE
One of the reasons Peter Chiarelli will probably want to deal at least one defender: This team needs to see Griffin Reinhart more in the second half of the season. At this point, he has played a dozen NHL games, suffered an injury (in Edmonton, don't know why he missed games in Bakersfield this weekend but something happened, so it may be two injuries) and we really don't have a feel for him yet.
If trades are not made, I think we may see the following after the deadline:
Andrew Ference LTIR
Nikita Nikitin and Mark Fayne in Bakersfield for the remainder of the year barring injury
OILERS BLUE, 2015-16 IN A BOX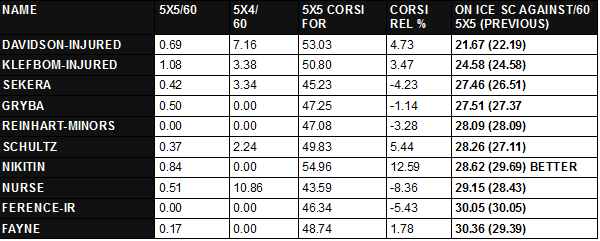 If and when the veterans head to the AHL, the top 7D may look like this:
Klefbom—Sekera
Nurse—Schultz
Reinhart—Davidson
Gryba
I think the Oilers have to see about Reinhart, that is the task at hand for the second half of the season. They also simply must back off the minutes for Darnell Nurse—I have no idea why people are not talking about this more—and find a top pairing. I would think it obvious that Klefbom is the right man for the top pairing with Sekera, make it so Todd McLellan!
TALBOT!!!
Who was the last goalie you really liked? For me, it was Devan Dubnyk, but most would probably answer Dwayne Roloson and that makes sense. Man, I wish the Oilers of the era when they made good decisions most of the time, hope we can get back there again.
Among goalies who have started 15 or more games this season, Anders Nilsson (.910) ranks No. 25 in save percentage, Cam Talbot (.904) ranks No. 29. Amazing recovery from Talbot, hopefully this continues and we should probably start talking about the contract PC and Talbot's agent settle on before the trade deadline (if things continue). Is it enough time, between now and the deadline, to trust the (hopefully positive) results? 15 more starts?
By the way, here are the EV SP numbers for each goalie (15 or more starts):
Nilsson's .917EV SP ranks him in a tie for No. 28.
Talbot's .902EV SP ranks him No. 36.
The Talbot spike is very impressive, he was so far back Red Light Racicot was giggling not so long ago.
TAYLOR HALL
Mr. Hall ranks No. 4 among all scorers in the NHL this season (the professional writers are going to need to stand on their head to keep him off the post-season All-Star team this time) and it is interesting to look at the even-strength totals of those top five scorers:
Patrick Kane 36, 10-23-33
Tyler Seguin 35, 15-17-32
Taylor Hall 35, 12-19-31
Jamie Benn 35, 11-19-30
Vladimir Tarasenko 35, 15-12-27
If the Oilers get that power play figured out, and magically make the playoffs, Taylor Hall will be a strong candidate for a post-season award. I hope he gets the recognition he deserves, it was wildly unfair when the writers passed over him because of a ridiculous flaw in the voting a couple of years ago. Many have forgotten, but I have not, suspect you haven't either.
LOWDOWN WITH LOWETIDE
A quick note: Please have a safe and fun Christmas, everyone. As you know, I enjoy tipping a glass or two at Christmas, truth to tell my celebrating is already underway. I do not drink and drive, and one thing I really respect about you younger folks is that the drinking and driving among your group is far less than my generation. Keep it up! I am proud of you. Safe and happy, let's meet back here on the 26th and rip apart the Canucks (and Flames). I will have my Christmas post tomorrow and the top 20 continues unabated.
Today at 10, the Lowdown on TSN1260. Two guests today, Darcy McLeod from Because Oilers and Steve Lansky from Big Mouth Sports. We will talk the hockey and some other things. Merry Christmas, it is going to be a wonderful year ahead.