The Edmonton Oilers badly need Oscar Klefbom and Brandon Davidson tonight, but we have not been assured of their presence on the ice in Vancouver. In a season where this team has been trying to make things rhyme, the absence of these two men could mean an unwelcome losing streak against the Pacific Division, and losing touch with the final playoff spot. After years of being out of the race before December, is this team doomed starting January? The hockey Gods are lowdown and trifling this season, the Oilers need the Swede and Davidson the hurdler for G36 in the land of moss and mushrooms. I do not believe it will happen, and if this is true, it is an ill wind she blows this morning. Really blows.
TCB, YEAR OVER YEAR
Oilers in October 2014: 4-5-1
Oilers in October 2015: 4-8-0
Oilers in November 2014: 2-9-3
Oilers in November 2015: 4-7-2
Oilers in December 2014: 2-8-4
Oilers in December 2015: 7-3-0

Oilers after 35 in 2014-15: 7-21-7, 21 points (-51 GD)
Oilers after 35 in 2015-16: 15-18-2, 32 points (-15 GD)
Game 36 last season was a 4-1 loss to the Godless Flames, Johnny Gaudreau was outstanding and the Oilers were not outstanding. These two games, tonight and tomorrow night, are insanely important, but with no Klefbom and no Davidson this does not look promising on the blue. Dammit! Just when they are close! What a time to get bitten in the ass by a country song.
OILERS DEFENSE, 2015-16 IN A BOX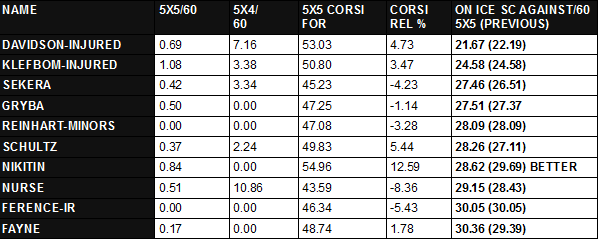 As you may recall, last game Todd McLellan started the game with Sekera—Fayne and Nurse—Schultz, but the coach doesn't trust Fayne (this is an issue, people) and soon went back to Nurse—Sekera. Neither man climbed past 33 percent Corsi events 5×5 on the evening. This is not good. On the road, where Todd McLellan is less likely to get the matchup he wants, perhaps Fayne and Sekera will be given another try.
Andrej Sekera is rolling now, he isn't yet receiving the kind of credit he deserves, but part of that is facing top opposition while playing with rookie Darnell Nurse. Tonight might see an easier matchup for him (the Canucks have one line, the Sedins, and one suspects they will want to tackle the soft underbelly of Edmonton's blue) so the Corsi number should spike.
I don't know what metric the Oilers are using to grade defensemen, but if we use Scoring Chances against 5×5 then Todd McLellan is aware his top pairing is bleeding. His response so far? Keep playing them, as the lack of alternatives clears the mind. That (imo) puts the pressure back on the GM—this defense was never good enough—because the crew have kept this team in the race but need help. If the IR offers nothing but a breeze, where can Edmonton look for help?
At this point, I am open to a recall of Griffin Reinhart. According to the Condors game summaries, he last played December 16th—meaning he missed games on December 19 and 20, and was listed as injured on the Bakersfield game summary on the 20th. If he is healthy, does Edmonton recall Reinhart, this morning? Or is Klefbom or Davidson ready to go tonight? That is a big part of the conversation today and tonight, into tomorrow.
POSSIBLE PAIRINGS FOR TONIGHT
I would suggest this alignment:
Sekera—Fayne
Nikitin—Schultz
Nurse—Gryba
Fayne was 4-15 Corsi events 5×5 in 8:02 with Justin Schultz last game. That is death, can't see that happening again. God what a mess.
CENTERS, 2015-16

The Oilers have received 25 goals from their centermen so far this season, I projected 75 in total in the RE series (they are on track for 60 goals). Connor McDavid and Leon Draisaitl should play more in the second half than the first, so the projection would seem to remain reasonable. Some help from Lander and Letestu wouldn't go amiss, although Letestu does have three goals on the year.
Interesting to see the centers flourish on the 5×4 in a big way, these are four of the highest performers in the discipline on the roster. I like this center depth chart, suspect Leon moves to RW but getting six wingers for these three centers seems possible. Keeping the scoring wingers once they establish themselves will be the issue. God, three scoring lines? Not yet, but you can see it from here. Unicorns in the distance, clowns in the past—your Edmonton Oilers! Is it too much to suggest Leon, Nuge and McDavid could all finish with more than 20 goals this season? Could happen.
Connor McDavid returned to practice like he never even broke his clavicle ?? pic.twitter.com/6T2lRtMl5L

— The Hockey Gods! (@HockeyGods) December 22, 2015
One of the big stories of this season is Connor McDavid and the next chapter is his return. Having this marvelous gift so close and yet so far is nothing but a heartbreak. If they announced he was playing tonight the Boxing Day sales would probably quadruple just from the adrenaline rush that would erupt in this town. I cannot wait to see this young man back in an Oilers uniform in an NHL game.
WINGERS, 2015-16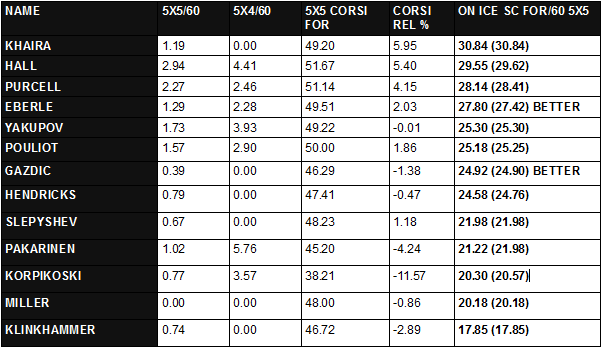 I projected 128 goals for the wingers this season, 35 games in this bunch has delivered 51 goals (on track for 119). As with the centermen, I think the goal remains reasonable. My summer projections are here, Hall and Purcell are over 2.00/60 at 5×5 and streaking. If they can get the Nuge line firing, this group could have a tremendous run to the end of the season.
INJURED RESERVE AND ROSTER PRESSURE
One thing we will have to start talking about? What on earth happens when the injured return. Edmonton (by my count) has 22-man on their roster now, so Klefbom can step right onto the roster (Davidson is not on IR).
Connor McDavid: One of the depth wingers will head to Bakersfield. Based on recent handling, I will suggest Jujhar Khaira is sent down.
Nail Yakupov: This may be difficult. I believe Iiro Pakarinen has earned an NHL job, so if it isn't Khaira (Yak may come off IR before McDavid) it could be Luke Gazdic.
Rob Klinkhammer: I have no idea who might be going down when Klinkhammer comes off the IR. After Khaira and Gazdic, I would think the next guy on the bubble is Anton Lander. Seriously. I think Lander has more value than the winger.
Based on how this season has been going (Peter Chiarelli doesn't give a rat's ass who he sends down), I think JJ Khaira, Luke Gazdic and Rob Klinkhammer are vulnerable.
THE COMING DAYS
These next five games are vital, and if we look at the Pacific standings it is very clear. Edmonton has one game in hand on Vancouver (tomorrow night) and could be within one point of the playoffs with a regulation win this evening. Check out the schedule this week:
At Vancouver tonight
At Calgary tomorrow night
At home to Los Angeles Tuesday
At home to Anaheim Thursday
At home to Arizona next Saturday afternoon
Massive, massive week. It has been ages since we could dream of a playoff run (how many deadline additions have we seen? And I am not talking about the bizarre Tambellini deal for Ales Kotalik) and most of us would list Kevin Lowe's 2006 deadline as the last real one. A decade, folks. That is why this defensive issue is so frustrating. Sekera will need to play 30 clean minutes tonight.