The Edmonton Oilers are 0-2-1 in their trip through the Pacific, with the Ducks and the Coyotes still to come this week. It looks dire now, and with so many injuries, if the team is going to tailspin this looks like a very strong place to start. If they can find a way to struggle through and wake up on Klefbom/McDavid day within reach of the playoffs, I think they have a chance to do it. Godspeed, men.
DAY AFTER DAY, YEAR AFTER YEAR
Oilers in October 2014: 4-5-1
Oilers in October 2015: 4-8-0
Oilers in November 2014: 2-9-3
Oilers in November 2015: 4-7-2
Oilers in December 2014: 2-8-4
Oilers in December 2015: 7-5-1

Oilers after 38 in 2014-15: 8-22-8, 24 points (-55 GD)
Oilers after 38 in 2015-16: 15-20-3, 33 points (-21 GD)
G39 last season saw another point on the big board as Todd Nelson's Oilers lost 2-1 in a shootout. This was a period (as you may recall) where the shot differential was going the wrong way while the points were coming in on a more regular basis. The world is turning as it should, but the hockey Gods enjoy laughter and confusion.
Coach McLellan says his staff will make a decision later today on tomorrow's goalie. Davidson "pretty much ready" to play vs. ANA.

— Edmonton Oilers (@EdmontonOilers) December 30, 2015
DEFENSE 2015-16
Brandon Davidson is back if the good lord willin' and the creek don't rise, I would not hesitate to move Brad Hunt to the PB but you may have another candidate. I would run:
Sekera—Fayne
Davidson—Schultz
Nurse—Gryba
but really I am just happy Todd McLellan used Fayne in the top 4D the other night. You could also run Davidson with Sekera and then Nurse—Fayne but we'll see. Lots of things possible. Eric Gryba was not on the ice at practice yesterday, so there is that, too.
CENTER 2015-16

Ryan Nugent-Hopkins continues to improve that 5×5/60 number, he has improved from 1.14 at the end of November. When McDavid returns, RNH could lose both linemates (McDavid between Pouliot and Eberle may be the play, especially with Yakupov out) and move up to the Leon line. I don't like that move (did at one time) because Purcell has earned top 6F minutes and that line works as is.
WINGS, 2015-16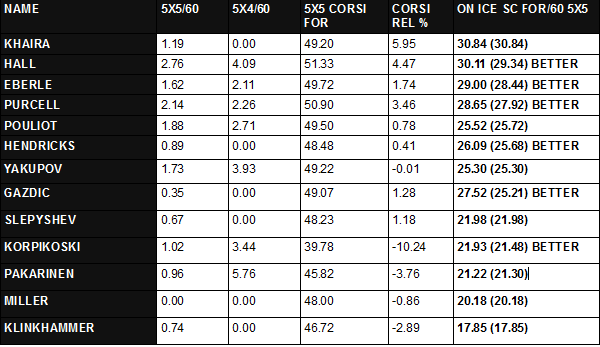 We should see four wingers over 2.00/60 at 5×5 by the end of the season, as Eberle plus Pouliot push to join Hall and Purcell. Yakupov isn't miles away, either.
If you had to trade one of those five, who would it be?
And, if you had to add one winger for the 'unicorn' three scoring lines, who would it be? Maybe it's Lander. If Slepyshev was doing more in Bakersfield, I would suggest him. Of course, in any of these conversations now, we have to include Zack Kassian.
Todd McLellan is mentioned as not wanting an offensive center for the third line by Matty here, he has passed along the same thing via Jason Gregor. For me, that would indicate that one of Purcell, Eberle or Yakupov won't be back (why have a purely offensive winger on the third line, better off with a Pouliot imo).
Korpikoski-Letestu-Hendricks are all signed next year, would you be cool if that is the 4line? They will cost $6.15M, about eight percent of the overall cap. Cool?
YEAR OVER YEAR, TEAM FANCIES
2014-15 Corsi For 5×5 Percentage: 48.1 (No. 24)
2015-16 Corsi For 5×5 Percentage: 48.4 (No. 20)
2014-15 5×5 Goals For/60: 1.93 (No. 26)
2015-16 5×5 Goals For/60: 2.12 (No. 14)
2014-15 5×5 Goals Against/60: 2.91 (No. 30)
2015-16 5×5 Goals Against/60: 2.74 (No. 29)
2014-15 5×5 Goals For Percentage: 39.9 (No. 28)
2014-15 5×5 Goals For Percentage: 43.6 (No. 29)
Improvement in both areas for and against, but overall the Oilers are still near the bottom. Some of the early gains have been given back since the Klefbom injury, perhaps we will see improvement when all hands are on deck. One area that has been critical? Calm feet and good outlet passing, two things Brandon Davidson brings to every shift.
DAVIDSON REL REL GONE
I am a Stone Alone (suspect, anyway) in regard to using CorsiRel for defensemen, and perhaps there will come a day when someone convinces me a new method delivers a better view. That said, I do not think we need to agree on method in order to arrive at the same conclusion: Davidson is emerging as a long-term solution. He is also part of an historic rookie group:
C Connor McDavid 13, 5-7-12
D Darnell Nurse 29, 2-5-7
D Brandon Davidson 23, 2-3-5
R Iiro Pakarinen 30, 3-2-5
L Jujhar Khaira 9, 0-2-2
L Anton Slepyshev 11, 0-1-1
D Griffin Reinhart 12, 0-0-0
This comes on the heels of Draisaitl-Klefbom as rookies last season and represents a cluster that will eventually overtake the Hall cluster on this roster (already has in terms of planning). Davidson's emergence is going to force Peter Chiarelli to re-think his defense and that may mean moving one of the young lefties. Klefbom and Nurse have the look of major players for the long haul, so we are back to the Griffin Reinhart trade. I don't think it reasonable to even discuss having two left-handed pairings:
Klefbom—Sekera
Nurse—Hamonic
Reinhart—Davidson
I don't think Todd McLellan would see that as ideal, and that probably means a deal. Griffin Reinhart would seem to be the odd man out, but perhaps Davidson's value will be significant enough to use him instead. At this point, I wouldn't trade Davidson full stop. Ridiculous value contract and he has those calm feet at 24.
Yeah, the shot was alright, I guess, but does anyone at the #WJC2016 have better hair than William Lagesson? Those are Thor-quality locks.

— Nick Hart (@_NickHart) December 30, 2015
Nice to see this young man playing so well, good hair or no. The Oilers spent a lot of assets on defensemen at the draft 2011+, seems to me they are going to have a strong push from some of these kids in the next few training camps.
PREDICTIONS FOR 2016
Since everyone is doing it, thought I would throw this out there this morning: Predictions for the next 12 months.
Connor McDavid plays 49 games, scores 54 points and wins the Calder Trophy.
Taylor Hall is voted onto the Second All-Star Team (hey, it's progress) and receives consideration for a major award.
The trade deadline will see the Oilers deal off Justin Schultz, Eric Gryba and Matt Hendricks, for more than expected return.
The Oilers will sign pending free agents Cam Talbot and Teddy Purcell.
Edmonton will solve their defensive problems via trade with the Islanders and place Travis Hamonic alongside either Darnell Nurse or Oscar Klefbom for the rest of the decade.
McDavid, Hall, Eberle, Nuge all return for 2016-17.
The Oilers once again trade most of their draft away, including the first-round selection.