The atmosphere on New Year's Day 2016 is decidedly different (despite last night) for Oilers fans. A year ago we were resigned to losing David Perron and Jeff Petry for just picks and prospects (proof is here) but this year there is a sense of progress, at least from here.
OVER AND OVER, YEAR OVER YEAR
Oilers in October 2014: 4-5-1
Oilers in October 2015: 4-8-0
Oilers in November 2014: 2-9-3
Oilers in November 2015: 4-7-2
Oilers in December 2014: 2-8-4
Oilers in December 2015: 7-6-1

Oilers in January 2015: 5-7-1
Oilers in January 2016: 0-0-0
Oilers after 39 in 2014-15: 8-22-9, 25 points (-55 GD)
Oilers after 39 in 2015-16: 15-21-3, 33 points (-22 GD)
Oilers can still see the red tail lights heading for Spain, but they will soon be out of sight. In the Pacific, they trail No. 6 Calgary by three points and the Flames have two games in hand—that kind of deficit could take weeks to make up, and Edmonton is not good in chase mode. Overall, the Oilers are No. 29 overall on the year—and if this continues, we will all have to learn how to pronounce an unusual Finnish name by draft day. I believe this Edmonton Oilers team should be in a playoff spot this morning, if they had something resembling consistent goaltending. Will this team falter under pressure? Todd McLellan has his work cut out for him, especially with so many Jacks and Kings on the sidelines.
INDIVIDUAL HIGH-DANGER SCORING CHANCES
There were six last night, three from Taylor Hall, and one each from Ryan Nugent-Hopkins, Lauri Korpikoski and Luke Gazdic. All information via War-On-Ice.
DEFENSE, LAST NIGHT
Brad Hunt looked good to my eye, he had four individual shot attempts (only one found its way to the net) and battled hard on a night when all who came near were significantly bigger. Interesting he and Fayne performed so well, something to track as we head into 2016. I don't know how long he will be up, but this was the strongest performance I can recall from him.
Brandon Davidson stepped back into the lineup and delivered a solid performance. I like his ability to make quick decisions, he is an intelligent player who often gets the most out of a play even if it is no result at all. I have to say, in a season filled with youth emerging, this guy has earned more recognition than is being received. Fantastic.
Mark Fayne is back now, McLellan has marked him and knows what he can do for the team. Faced with the Getzlaf line along with Sekera, it did not go well but let's remember who they are playing. Brilliant when checking down with Hunt, I suspect we will see him back Saturday with Sekera—unless they try Davidson up there and I am curious to see it.
Darnell Nurse played well, had three individual shot attempts, was one of the few Oilers who beat the trap or even tried to deke/scoot by a Duck in the neutral zone. He was physical against those big Anaheim forwards, won battles and was the only defender to post a positive Corsi event 5×5 while also being on the ice with Justin Schultz.
Justin Schultz had a poor evening. Early in the game, I mean early, he had the puck LH side, no real pressure and absolutely skating room. Open partner to the right, he ices the puck. This is the kind of thing that drives people crazy, unforced errors over and over. The Ducks were more likely to succeed last night in the moments after Schultz touched the puck than if they had carried it in themselves. How much longer are the Oilers under Chiarelli and McLellan going to watch this? Seriously. He isn't helping on offense or defense, let him see the game from upstairs for a night.
Andrej Sekera had tough sledding, so you knew that no matter who his partner it could get ugly. What made it doubly difficult is that he faced Getzlaf with the Letestu line, and the group didn't get a sniff (0 for everything) of the puck. That is a tough night, and as much as it would be easy to blame Schultz, the fact is five men faced that line without a positive Corsi event and that takes a village. I am okay with it though, sometimes you have to give the other man his due—and in all of this that line did not score at evens last night.
CENTERS, LAST NIGHT

Ryan Nugent-Hopkins received Taylor Hall as a gift and things straightened up immediately. They didn't score though, and that needed to happen. If you look at what McLellan did—add Hall to the unit, took away the checking chores and gave them to Letestu—it is fairly damming to see how few chances they generated. War-On-Ice had the line down for eight individual SC's (four for Hall, two each for Nuge and Eberle) but only Hall found a way to be genuinely dangerous (imo). The neutral zone attention to detail by the Nuge was most disappointing to me last night, they need him to be better.
Leon Draisaitl struggled without Hall, but that is no surprise. Pouliot joined the trio in Hall's absence and went 3-6 in 3:03 with LD. The big man has been getting heavy minutes and it has been awhile since he cashed—suspect that was part of the thinking on moving him. It was also effective in getting Drai away from Getzlaf, he was 4-7 against the big Anaheim center in 5:23 (Nuge was 4-5 in 4:41).
Anton Lander had a quiet night, the line did make some noise early and he was a small part of it, but mostly quiet time.
Mark Letestu and his line took one for the team, didn't touch the puck much beyond grabbing it behind the net and taking it to safety and chipping it in. That can be effective, and I wonder if McLellan will turn this into a de facto checking line as he chases offense.
WINGERS, LAST NIGHT

Jordan Eberle and Taylor Hall had some nice numbers, but not enough to show for it. Normally on a morning like this, I would say 'well, they will get them next time with this kind of performance' but for me it was more than that. I noticed a lot of chatter about dump and chase, but they did try to execute passes through the neutral zone but were not sharp. That is my concern this morning. When your precision gunners aren't taking care, you have a problem. Edmonton needs to have a blowout game soon. Hall and Eberle are not making good decisions with the puck, Nuge and Leon too. It is a concern.
Teddy Purcell just keeps on rolling, he was moved down a line but kept chugging. Very little generated by the group, perhaps chem takes time (Nuge with Hall and Eberle should take less time).
Benoit Pouliot played well less than the others, and that is bad for him. Unless there was an injury I didn't see, that means the coach chose Lauri Korpikoski in important moments when Pouliot was available. People get traded you know, not an impossible contract to send down the road, either. They need more from Poo.
Luke Gazdic is losing fans by the second, just at the point I am beginning to like him. Had a fantastic chance early, skated hard. He won't be here when this team is good, but this is the best hockey he will ever play.
Jujhar Khaira did a cool thing early, little back pass to daylight for 20. Didn't cash but it was a heckuva hockey play. I didn't notice him much after that.
Lauri Korpikoski and Matt Hendricks got buried, but that is to be expected based on deployment. I have no quarrel with handling or performance.
STANDING ON THE SHORE LINE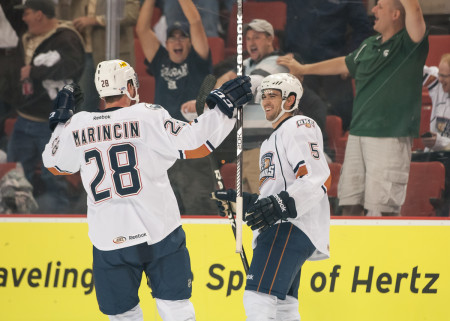 Justin Schultz has not much time left as an Oiler, if I know Peter Chiarelli. Barring a transformation, the young man is on his way to a better home, where the chaos will be wrapped around calm feet and a veteran hand alongside. I fully expect Schultz to give his new team more than value paid, but also believe it is time for him to move on. Like all of the other blue who arrived after 2006 summer, Justin Schultz was introduced to playing NHL defense full hose with no one to guide them. Come back Charlie Huddy, Charlie Huddy, come back some day. I suspect we see something like the following in terms of return:
Anaheim Ducks: R Josh Anderson
Chicago Blackhawks: C Mark McNeill
Dallas Stars: R Brett Ritchie
I think a big winger coming back is probably a target, although perhaps less so based on the Kassian addition. It is also possible Schultz goes for just picks, as Edmonton needs to recover some of the prospects they didn't get with all the draft floor activity in 2015. For the record, Edmonton's 2016 selections currently are:
No. 2 overall (I would guess a Finn or Tkachuk)
No. 32 overall (could go to Boston for Chiarelli but screw them if it is this high)
No. 62 overall
No. 92 overall
No. 122 overall
No. 152 overall
No. 182 overall
No. 210 overall (no longer belongs to Oilers. This was part of the Horcoff return, along with Phil Larson. Edmonton dealt the pick at the draft for G Miroslav Svoboda, so the Dallas pick—currently No. 30 in the seventh round—belongs to Tampa Bay).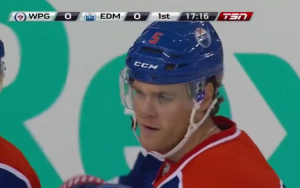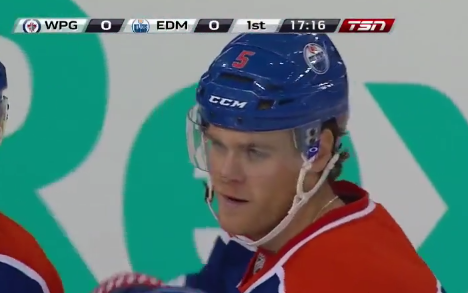 Mark Fayne is a veteran defender who may fetch something useful at the deadline, although there is term on his contract. I would keep him, as mentor and penalty killer and as shutdown man on the third pairing. He does not bring the physical element of others, but he can play defense.
Eric Gryba is a big, strong defenseman who can also defend. His contract runs out at the end of the season and I can see several teams asking after him. Peter Chiarelli may prefer to sign him—he is on the best side of 30 and does have NHL experience—but my guess is that he could get a third-round pick for him and that is a net gain.
Teddy Purcell has enjoyed a very good season, and depending on price I would like to see him sign back here. That said, the return on this player could be outstanding (he is having a better year than Perron was last season) and if the offer is strong, Peter Chiarelli has to consider it. If he signs, one wonders about the future of Jordan Eberle or Nail Yakupov in the organization. He is the one guy last night I saw making successful passes in the neutral zone, he is kind of sneaky—like Radek Dvorak back in the day—and gives teams something else to worry over. Good, good player.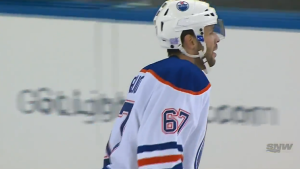 One of my favorite players, but he is on track for another 35-point season and that is with excellent linemates the whole way through. Perhaps I am just seeing him bad, and his contract would be diffuclt to move in-season, but for the first time I can say it would not surprise me to see him go.
Matt Hendricks is a quality checker, hard worker and a leader. I will be pleased to see him survive the deadline, but do recall there were excellent offers last year at the same time. Chiarelli must work hard to keep his cap in order, and the Korpikoski trade may make Henricks expendable.
Consistency is the issue and is reflected in his last five outings, giving us SPs of .978, .917, .857, .786 and .971. You can't have that. I think Peter Chiarelli signs him, at low-end starter money, with the idea that he can add a starter in summer if necessary. He can't go all-in on Talbot based on performance, and honestly I don't know what the trade value will be.
Peter Chiarelli started his deadline work by adding a winger, so expect one to be headed out if things work well. I expect a busy time, although the Perron and Petry trades one year ago were more substantial than anything we are likely to see this time.
Happy New Year! All the best to you and yours.