If I had to pick one game from the 2015-16 season as my favorite, the comeback win against the Montreal Canadiens at Rexall would be my choice (Calgary and Rangers games also smashing). A lot of what makes a great game is the opponent, and the Arizona Coyotes have been kicking Oilers butt for some time. The Oilers were 0-4-1 last year, and lost 4-1 earlier this season despite seven shots from Taylor Hall. Edmonton doesn't match up well with the Coyotes, but they need this win badly. Lose tonight? The hole gets deeper in a quick hurry. Arizona dominates in Edmonton, 11-1 in their last 12 visits.
BABY BLUE, YEAR OVER YEAR
Oilers in October 2014: 4-5-1
Oilers in October 2015: 4-8-0
Oilers in November 2014: 2-9-3
Oilers in November 2015: 4-7-2
Oilers in December 2014: 2-8-4
Oilers in December 2015: 7-6-1

Oilers in January 2015: 5-7-1
Oilers in January 2016: 0-0-0
Oilers after 39 in 2014-15: 8-22-9, 25 points (-55 GD)
Oilers after 39 in 2015-16: 15-21-3, 33 points (-22 GD)
Todd Nelson's Oilers grabbed 11 points from 13 January games a year ago, so losing streaks must be few and far between if the Todd McLellan Project is to stay ahead of the group that went to Room Number Eight at the Joshua Tree Inn. A year ago, Edmonton popped five past the Islanders for a 5-2 win in G40.
DEFENSE, 2015-16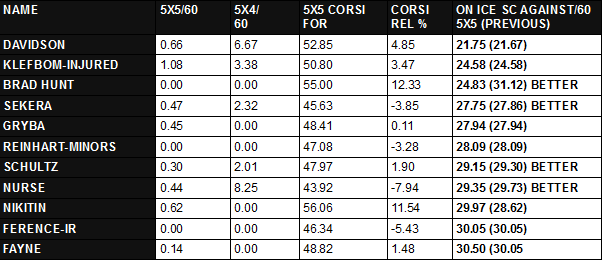 Brandon Davidson looks good across the board in terms of numbers, I can't see any reason for him to remain obscure at this point. I understand injury issues, but tonight is G40 and he is among a very good possession defensemen as a rookie (No. 39 in Corsi for 5×5).
Oscar Klefbom has upper and lower injuries and it isn't a short-term lower. This is awful, terrible, stupid, ignorant, piss up a rope news. NOT happy.
Brad Hunt looked good the other night, needs to adjust his sights but he worked hard and didn't make any major mistakes (that I saw). Suspect he will be in.
Andrej Sekera is a solid NHL defenseman with a range of skills. He can get overwhelmed physically, but he makes good decisions and can pass or carry. More please! I think we will see McLellan play him a lot if the game is close late.
Justin Schultz needs to post some crooked numbers, but for now I would like to see strong passing out of the zone. Confidence has eroded his skills, but he has the tool kit for it. Todd McLellan sees him, and plays him, suggesting to me there is a way to unlock this player. If they can figure it out together, Edmonton solves a major problem for the cluster.
Darnell Nurse is moving down the lineup and the fancies are slowly improving. Funny that. Eric Gryba is apparently ready, wonder if they would consider sitting the rookie. I would sit Schultz.
Eric Gryba gets a lot of heat, but he brings a unique set of skills and his numbers are better than many (me) expected. He is not good with the puck, but he can defend and has an effective shot from the point.
Mark Fayne is not fast or skilled enough to be anything more than a defensive defender, but he can do that well. Boring, low-risk defenseman. NHL teams have only one now, so either Fayne or Gryba will be gone in my opinion.
CENTER, 2015-16

Leon Draisaitl isn't scoring goals, but the points keep coming. He ranks second among Oilers scorers in the last 10 games with nine assists. He was moved off Hall's line last game, but McLellan said yesterday Hall-Leon will be back today.
Ryan Nugent-Hopkins is 1-5-6 in his last 10, and the numbers would be better if he had posted crooked one on the PP. At some point the pucks will go in, but Hall-Leon has gone cold, and the Hall-Nuge-Eberle line didn't cash Thursday. I wonder if we see Hall-Nuge-Leon at some point, even before McDavid returns? I would not do it.
Anton Lander is getting more PP time and maybe he post 20 points in the second half and does enough to spend a season in the new building.
Mark Letestu isn't sexy but he can play and has some defensive ability along with a little offense. He is probably better suited as 4line and then jump up when needed, but he has passed Anton as the 3C and is holding onto the job.
Connor McDavid is skating! When will he be back? It would appear he will play January games, and if he is practicing without setback we might see him in a little over a week. Or tonight. One thing for sure: The Oilers don't broadcast injury timelines.
WINGERS, 2015-16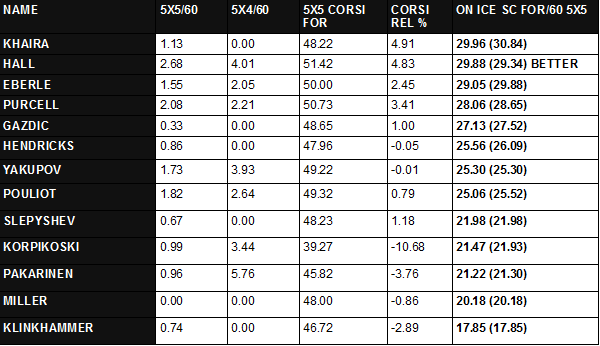 Taylor Hall (10, 3-7-10), Teddy Purcell (10, 4-4-8) and Jordan Eberle (10, 2-5-7) are delivering good numbers in their last 10 games. The power play, if it was working, could have pushed these numbers into the outer limits.
Lauri Korpikoski (10, 3-2-5) has one of the two PP goals in the past 10 games (Hall the other), with Benoit Pouliot (6, 3-0-3) trying to get the feelin' again (probably needs a weekend in New England). That is the end of the offense.
Matt Hendricks is a solid checker and Jujhar Khaira looks good to me.
HARD TARGET SEARCH: NATHAN BEAULIEU
Through January and February, I am going to post several times on possible trade targets. Players who have been in the rumor mill, perfect fits, basically any player who might be in Peter Chiarelli's laptop as a possible trade target.
We begin with Nathan Beaulieu, who despite having a French name hasn't made the grade in Montreal as a trusted regular. Drafted two spots before Oscar Klefbom at the 2011 draft, he has played 19 more games in the NHL than Oscar and posts (per 82gp) 2-14-16—I would call him a two-way defenseman. He is lefthanded, and 6.02, 205. Beaulieu turned 23 in December, and should have many productive years ahead.
The Hockey News describes him as a talented, mobile defenseman and offer some good insight into the player. Edmonton has lefties by the dozen now, but if this player is available Peter Chiarelli should pull the trigger (depending on price). More and more, it looks (to me) as though the Oilers may have four LH blue in their top 6D moving forward.
The #Oilers have lost 160 man games so far, #1 in NHL. Including big chunks of time for 97, 77, 14, 10, etc. A very real factor in record.

— Kurt Leavins (@KurtLeavins) January 2, 2016
I saw a bunch of tweets on this yesterday and was amazed by comments. Injuries are NOT an excuse, they are a REASON and in the case of this year's Oilers it cannot be ignored if you are going to write the story of 2015-16. Does anyone question the idea this team will be better with all hands on deck? If you do, please reconsider.
DRAFT COVERAGE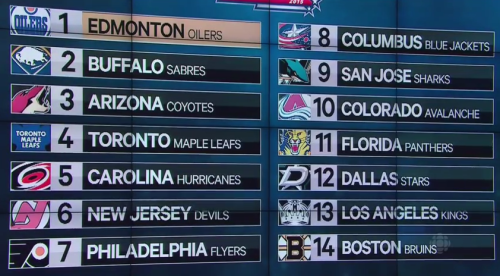 I started coverage November 26 last year, so we have enjoyed several more weeks this year. My plan was to begin coverage when the Oilers were clearly out of things, and I don't think that is true at this time. That said, more and more of you are asking for it, so I am putting it out there: Start coverage, or follow this team full pipe until we have exhausted every call to the governor? Let me know.