If you were to write a musical score for these first 40 games, it would have to include the highest highs, and the lowest lows—and every note in between. From dog whistles to the fog of wart, it has been remarkable and fatally flawed and the only thing that can save it is a watershed second half and a ringing playoff epilogue. Too much? Of course. Hope dies last.
TRAGED-ED-ED-ED-Y, YEAR OVER YEAR
Oilers in October 2014: 4-5-1
Oilers in October 2015: 4-8-0
Oilers in November 2014: 2-9-3
Oilers in November 2015: 4-7-2
Oilers in December 2014: 2-8-4
Oilers in December 2015: 7-6-1

Oilers in January 2015: 5-7-1
Oilers in January 2016: 1-0-0
Oilers after 40 in 2014-15: 9-22-9, 27 points (-52 GD)
Oilers after 40 in 2015-16: 16-21-3, 35 points (-22 GD)
If the Oilers win, they would reach the halfway point of the season with 37 points—well short of hoped, but 10 points clear of 2014-15 (Edmonton would fall 4-2 to Detroit in G41). I remember that game, Viktor Fasth stopped a lot of shots but Benoit Pouliot took a spearing penalty late and that was all she wrote. If this thing never turns north, what will we do to mark the occasion? Exactly.
DEFENSE, 2015-16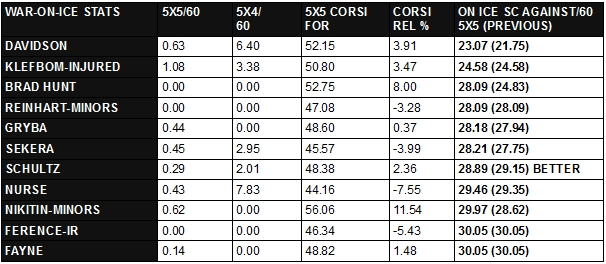 Brandon Davidson sees his On-Ice Scoring Chance against 60 spike with the additional responsibility of playing with Andrej Sekera. That said, I think he is one of the two best options (the other is Mark Fayne) for the job. If he gets near 30.00/60, the Oilers will have to move on to someone else, but tag he is it. Good player, legit value contract.
Coach McLellan says @Klefbom93 is dealing with both an upper-body and lower-body ailment, return not expected in the short term.

— Edmonton Oilers (@EdmontonOilers) January 1, 2016
Oscar Klefbom is the only other defenseman under 25.00/60 in SCA and he is injured. I think Edmonton's second half relies heavily on his return happening during the early weeks of January. The Oilers don't give out information freely on injuries but one gets the feeling it will be awhile. Should we start worrying about his injuries? It used to be concussions, but now I try to be amused.
Brad Hunt has done well, but I think it won't last. Could they be showcasing him? I would think Justin Schultz would be the guy for it, but as Sunil Agnihotri pointed out this weekend deployment doesn't imply showcase.
Darnell Nurse has been the subject (here and elsewhere) of conversation lately, he was playing too high in the lineup and Todd McLellan waited a loooong time before addressing it. Nurse is improving in the Rel since, but our man Andrej Sekera is melting with Mark Fayne and or Brandon Davidson. Klefbom needs to come back, because Edmonton's best defenseman may not be able to hold back the water.
The first pairing needs a better second pairing needs a better third pairing. Easy!
Edmonton won without Mark Fayne. Who needs him? The Oilers. Despite his SCA number above, his possession numbers remains solid even though he has in fact been facing the tough minutes. I understand he is slow, but good counts too, right? Play the man.
After Davidson and Klefbom, all of the defenders have basically the same SCA number. What do we have to say about that? With Fayne playing the tougher minutes, and within spitting distance of the others, I think it makes sense for him to play tonight. I doubt Todd McLellan makes a change after a win.
OILERS CENTERS 2015-16

You could live happily with the three sets of numbers that lead off for Edmonton at center. All three men should be over 2.00/60 at 5×5 and could be over 4.50/60 at 5×4 by the end of the season. At some point, the Oilers will move someone off to the wing (Poo has been taking some of the Nuge's faceoffs lately, maybe our man is having trouble adjusting to the new face-off rules) but for now it is fun to imagine this trio for the next decade.
I wonder if a guy like Kassian makes it more likely they run these guys at center. Hall, Eberle, Pouliot, Purcell and Yakupov are a costly bunch ($23M!), but if you could save a little on Purcell's contract and bring in (an effective) Kassian? Is $23M too much for your top six wingers?
ARE WE THERE YET?
Connor McDavid is inching closer to a return. MORE: https://t.co/smQyZHLZib pic.twitter.com/WFT8Yp4J2a

— TSN (@TSN_Sports) January 2, 2016
Okay, so he practiced the other day? What didn't he do? Did he take part in all the drills, full contact? If he did, we are talking days not weeks, no? What am I missing, hockey people? If he takes warmups tonight, will the Oilers acknowledge it? Will Edmonton fans get the vapors? Will this blog stop posting at 8:30 and 5? Stay tuned!
WINGERS, 2015-16
As is the case with McDavid, Leon, Nuge, if you look at the Hall and Purcell numbers, notice the improvement in Pouliot and Eberle (especially 5×5/60) and remember Yakupov is coming back? That is eight men, with a power forward (of some type) on the way. The forwards could be set by the time the swallows come back to Capistrano.
THREE SCORING LINES
Peter Chiarelli: "From my experience, the top two lines of each team often neutralize each other and the third line is your tipping point. We have a lot of options. We have three very good centres." Source (Jones wrote a good article, worth the read)
Would this work?
Hall—Draisaitl—Purcell
Pouliot—McDavid—Yakupov
Kassian—RNH—Eberle
Or do you want to see Eberle with McDavid for a time?
Hall—Draisaitl—Purcell
Pouliot—McDavid—Eberle
Yakupov—RNH—Kassian
Zack Kassian scored lone goal for Condors tonight. Laurent Brossoit made 45 saves. #Oilers

— Chris Wescott (@TheChrisWescott) January 4, 2016
I watched most of the two games this weekend, and Kassian looked good on the potato feed from Mars. He is certainly fast enough, strong enough, and skilled enough to play a big role in the AHL, and his NHL numbers (per 82gp he is 14-13-27) suggest he has way more skill than previous tries by Edmonton to grab this player. He is not Bill Guerin, and there is still some forgiveness to be earned (not just the stick to Gagner, but the ghastly behavior in the following meetings).
Based on what I saw this weekend, and what we know of this player, as a hockey risk this was a solid bet that could pay off in grand fashion. Another power forward who might be in play is young Kerby Rychel, buried in the AHL but scoring at a nice clip. Aaron Portzline reports on what has been an issue for some time, and young Rychel would certainly be on the radar for Peter Chiarelli's rugged kind of fellow procurement list.
https://twitter.com/SInow/status/683966625037586432
These things seem to be happening with more frequency, and in Tampa Bay there seems to be a story every few months involving unhappy players. Unlike Martin St. Louis and (soon) Steven Stamkos, young Drouin has limited options. His agent has now gone public on the player's behalf, and things could get ugly. Edmonton had a similar (although not identical) situation with Nail Yakupov, the difference being the young Oiler always professed his wish to stay. I love Drouin's skill set and believe he could thrive on the wing in Edmonton. Among the current portsiders, I would rank his potential with any not named Taylor Hall. I think it more likely Peter Chiarelli trades for a Rychel than a Drouin, but love the idea of having his talent on the Oilers. Could you have another small winger on this team? Well, I think the talent dictates you look at it for sure, and Drouin could be productive without being expensive for a few more seasons. Something to consider. As for attitude? Don't know, but lordy there is a lot of smoke surrounding the Lightning.

LOWDOWN WITH LOWETIDE
This morning at 10, TSN1260. We have only one hour between the two WJ games, so tune in for two hours worth of discussion in one (I will talk fast, promise). Scheduled to appear:
Scott Burnside, ESPN. Jagr, Caps and Kings.
Scott Zerr, Oilers Nation. We will discuss Zack Kassian and his mindset entering the last chance portion of his hockey career in North America.
10-1260 text, @Lowetide on twitter. Talk soon!