The Edmonton Oilers are through the first half of the season, with many of the same questions from opening night still unanswered this morning. Is there progress?
BABY BLUE, YEAR OVER YEAR
GA after 41 games 2014-15: 139
GA after 41 games 2015-16: 122
GF after 41 games 2014-15: 90
GF after 41 games 2015-16: 102
Goal Differential after 41 games 2014-15: -49
Goal Differential after 41 games 2015-16: -20
This is from NHL.com and is slightly different than my running count. Edmonton has in fact increased the GF by 12 and reduced the GA by 17. However, the underlying numbers are not (generally speaking) better and that is a concern. How much is injury? How much is poor production? How much is deployment that is not working?
THE BLUE, 2015-16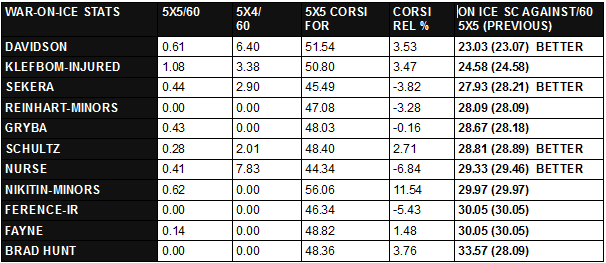 Brandon Davidson is the only healthy defenseman over 50 percent Corsi for 5×5, but that will end soon if he hangs with Andrej Sekera (and he should). Edmonton needs to win 50 percent of the even-strength play, but have been in an elevator shaft since the Oscar Klefbom injury. Look at Sekera's possession numbers—and he is a helluva player!
One thing we have done this season is move away from the Vollman Sledgehammer and to the chart above, using SCA/60 at 5×5 to rank defensemen. I find it informative, especially when placing it beside CorsiRel (Fayne, for instance, should be an everyday player based on Rel but the table gives a different projection and offers insight into what Todd McLellan is seeing). I still don't agree with it (Fayne should be playing over Nurse, as an example), but perspective is important.
What does another team look like when they are ranked by SCA/60? Here is Calgary.
Deryk Engelland 23.11
TJ Brodie 25.41
Mark Giordano 26.14
Ladislav Smid 26.86
Dennis Wideman 27.81
Dougie Hamilton 29.87
Kris Russell 31.00
Interesting. In my mind, 25.00/60 is a reasonable dividing point, but we can see that even guys like Brodie and Giordano are in the range of Oscar Klefbom (Oscar actually a little better), which is heartening. Dougie Hamilton and Darnell Nurse are also in the same range as each other. Thoughts? This is a new metric for me (this season), but I like the feel of it. Would you like to continue with this stat, or use another? The only one I am stubborn on is CorsiRel. What would I do with the blue? Move heaven and earth to find a 25-year-old Brent Burns. Or get Brent Burns.
I've always wondered why Edm never signed 2012 4th round draft D Eric Gustafsson, who's paired with Brent Seabrook tonite vs Pitt.

— Jim Matheson (@NHLbyMatty) January 5, 2016
Stu MacGregor's picks (second round and beyond) that are in the NHL and gathering GP:
Anton Lander 172 (Chosen No. 40, 2009)
Martin Marincin 110 (Chosen No. 46. 2010)
Brandon Davidson 35 (Chosen No. 162, 2010)
Tobias Rieder 111 (Chosen No. 114, 2011)
Jujhar Khaira 12 (Chosen No. 63, 2012)
Erik Gustafsson 10 (Chosen No. 93, 2012)
I am not arguing MacGregor should have stayed or that he should return. I am arguing that you have to wait five years—and even then Brandon Davidson was not absolutely clear in our minds as a top 6D NHL option. For my part, the last few years were a lesson in the impact of a GM on the scouting staff (Yak selection, Musil selection, 2013 draft under MacT, 2015 draft traded away under Peter Chiarelli).
One of the talking points for Oilers fans these days is what to do with Darnell Nurse, and it is an interesting discussion. The most important opinions in this conversation? GM and coach.
Peter Chiarelli has him on the roster.
Todd McLellan plays him A LOT. Nurse ranks No. 3 overall in total TOI per game (21:08) and No. 1 (by two minutes!) at even-strength TOI (19:19).
What is going on here? Well, if you look at the SCA/60 above, or at my CorsiRel, you see Nurse is not thriving. Why would McLellan put the 20-year old in this position? The only real answer is that he is using different criteria to assess Nurse. Even with that, Nurse has been moved down the depth chart over the last several games and has been playing with Justin Schultz (and his Rel/SCA numbers have been improving away from Andrej Sekera).
Why does McLellan do this? Well, part of it has to do with options—there are not many. I wrote about Nurse in the RE series, predicting he would begin the season in the minors, play 50 games and eventually emerge as a top 4D by season's end. Todd McLellan took that a step further, force feeding the kid from early days (after they clearly, imo, misread the veterans, and someone should answer for that what the hell was said in the Kingsway offices last summer?)  and using him as top pairing with Sekera.
Nurse's numbers have improved since backing off the Sekera train:
Nurse Corsi Rel December 21: -8.39 (Source)
Nurse Corsi Rel January 6: -6.84 (Above)
I think the Oilers would have been far better off with Nurse in a secondary role (and I did and do agree he is one of the six best options on the team, so sending him down was not an option—if you are trying to win games in-season), similar to the one he now occupies with Justin Schultz.
Meanwhile, Brandon Davidson is next man up, and in a month or so we may be reading articles about what is wrong with him. Answer? Nothing, past playing too high up the depth chart. Andrej Sekera is the real tragic hero in this piece, occupying the Jeff Petry role. People are just now saying 'he has finally figured it out!' when in truth he has been a solid NHL defenseman since the first struggling weeks. We need to agree on context when being critical of players, and for Sekera, 2015-16 has been Shawshank laundry room. I am hopeful they have success with Davidson—Sekera, here are their two most recent games:
14-19 against the Coyotes
11-16 against Carolina
I suspect we will be talking about Brandon Davidson's struggles in a month. It is not Darnell Nurse, folks. It is the task at hand. Once again, the Oilers do not have enough top 4 NHL defensemen to win games at this level. We knew this, we all knew it, except for Peter Chiarelli and the men who informed him about the quality of the roster in those summer meetings. Who were those men?
Same as it ever was. Darnell Nurse will be fine. Brandon Davidson will be fine. The question for me? When will these men be suiting up in playoff games? Comes the answer: When informed decisions win the day. The Edmonton Oilers decision making—today—on NHL defensemen is not strong. Same as it ever was.
LOWDOWN WITH LOWETIDE
We are finally back! 10 this morning, full show, TSN1260! God I have missed it, there is so much hot air built up this may not go well! Thankfully, I have brilliant guests!
Bruce McCurdy, Cult of Hockey. His take on the first half of the season, the WJs, and the top pairing in Edmonton.
Tim Fragle, Vimy High School Director. He saw Fabbro and Jost up close and personal at the recent World Jr A Challenge, we will chat about that and more.
Sunil Agnihotri, Copper & Blue and the SuperFan. Darnell Nurse, Brandon Davidson, and a plethora of Oilers topics.
Jeff Krushell, Krush Performance. We will discuss injury reports from sports teams—WHY are they so vague and should fans be upset about them?
10-1260 text, @Lowetide on twitter. See you on the radio!
Taylor Hall will be in Nashville as Oiler rep in ASG. Announcement Wednesday. How about Hall, Gaudreau and Burns as 3-on-3 Pacific grouping?

— Jim Matheson (@NHLbyMatty) January 6, 2016
MUSIC!