All-Star Taylor Hall and the brilliant Leon Draisaitl lead the Edmonton Oilers into the second half of the season, beginning tonight. Edmonton has been very streaky this year and hope to win their third in a row, as they once again attempt to get back to modern .500 on the year.
LINUS OMARK SENDS HIS LOVE, YEAR OVER YEAR
Oilers in October 2014: 4-5-1
Oilers in October 2015: 4-8-0
Oilers in November 2014: 2-9-3
Oilers in November 2015: 4-7-2
Oilers in December 2014: 2-8-4
Oilers in December 2015: 7-6-1

Oilers in January 2015: 5-7-1
Oilers in January 2016: 2-0-0
Oilers after 41 in 2014-15: 9-23-9, 27 points (-49 GD)
Oilers after 41 in 2015-16: 17-21-3, 37 points (-20 GD)
Oilers beat Chicago 5-2 a year ago in G42, so Edmonton will need to win this evening in order to keep pace. The team is 1-0 for the week, with two games to go before Monday—both against the Florida teams. 1-1 sound right this weekend? I don't really have a feel for when the wins will come since Klef left (and didn't before, truth be told).
In the second half last season, Todd Nelson went 15-21-5; if Edmonton repeats that record this year, the final record will be 32-42-8, 72 points. That would represent (obviously) a 10-point increase season over season. I don't think my original RE is RE now (too many injuries), but do believe something like 35-35-12 (82 points) is a fair line in the sand. That would represent a 20-point increase over 2014-15.
BLUE, 2015-16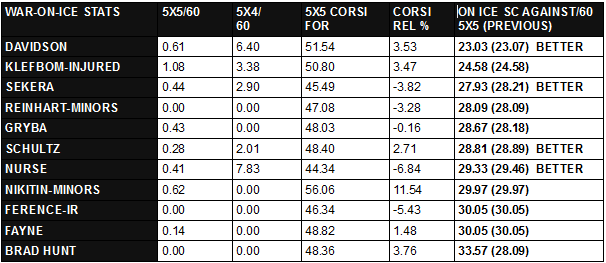 Brandon Davidson has been a revelation.
Oscar Klefbom is a fine young player. I hope he can stay healthy.
Andrej Sekera is who we thought he would be. Considering all the FA blue who have passed this way in the last decade, that alone makes him a favorite.
Eric Gryba has played the third-most minutes of any defenseman on the Oilers this year.
Justin Schultz needs five more points to score 100 as an Oiler. How many defensemen have reached that mark in Oilers NHL history? 17. Paul Coffey, Kevin Lowe, Charlie Huddy, Steve Smith, Janne Niinimaa, Randy Gregg, Lee Fogolin, Boris Mironov, Tom Gilbert, Risto Siltanen, Steve Staios, Jason Smith, Craig Muni, Dave Manson, Roman Hamrlik, Tom Poti, Eric Brewer.
Darnell Nurse is going to have a long and productive career, wish the Oilers could afford to bring him along at his own speed. Bruce McCurdy pointed out to me the other day that Nurse scored five points in his first 10 games, two points since. Maybe he will score more as he moves down the depth chart.
Brad Hunt has played exactly four more games this season than I thought he would.
Mark Fayne can't get arrested, but he is in my top 4D among this bunch, and it isn't close.
CENTERS, THIS SEASON

Leon Draisaitl laid waste to the NHL at even strength in the first half of the season, can he post a 60-point season? The last center to do that? Jarret Stoll and Shawn Horcoff, 2005-06. Unless I missed someone.
Connor McDavid is getting closer to being NHL-ready. If he takes warmups tonight or Sunday, this town may explode. If it happens on the road, it might happen anyway.
Ryan Nugent-Hopkins has 216 career points as an Oiler. How many centers have more in team history? Nine. Wayne Gretzky, Mark Messier, Doug Weight, Shawn Horcoff, Todd Marchant, Craig MacTavish, Sam Gagner, Jason Arnott, Mike Krushelnyski (who did play some center).
Anton Lander. I still cheer for him.
Mark Letestu has done pretty well at the 5×4 and he does know how to play center. I think his line (with Hendricks and Korpikoski) are going to be the 4line next year.
WINGERS, 2015-16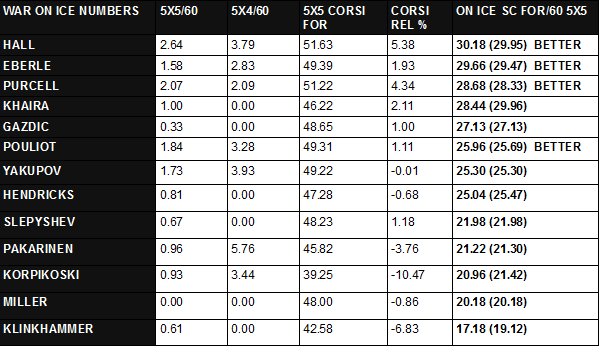 Taylor Hall is a point-per-game player, ranks No. 2 in shots and is among the best LWs in the game. His All-Star nod is proper and long overdue. He ranks No. 4 in EV points among forwards this season.
Jordan Eberle has scored 130 career goals for the Oilers. How many RWs have scored more as Oilers? Three. Jari Kurri, Glenn Anderson, Ales Hemsky.
Teddy Purcell is going at the deadline, I am pretty confident in saying it. Zack Kassian might be first up as a replacement option, but it is more likely Nail Yakupov gets in there as 2R. Kassian on third line with (say) Nuge could happen after the deadline.
Benoit Pouliot may be a little vulnerable as these gifted young players push for playing time. His 16 minutes a night may get clipped and (as has been mentioned many times in regard to Nuge) his cap number may be too dear for the role he eventually fills on this roster.
Brandon Gormley, placed on waivers this morning, shot pucks on Patrick Roy about an hour ago with a couple other players. #Avs

— Mike Chambers (@MikeChambers) January 7, 2016
Good players do fall through the cracks. Good teams lose them because they simply cannot protect everyone, bad teams lose them because they have no idea what they are doing. Colorado falls into the latter category at this time. What of Gormley?
Boxcars: 58gp, 2-3-5 (career) (1-3-4 at 5×5)
Corsi for 5×5 Percentage: 47.5
Per 82gp AHL: 9-33-42
NHLE: 82, 4-15-19
I think someone may claim him, not sure Edmonton fits. He is mobile, has enough size (6.02, 196) to play the NHL game and at one time was considered a fairly sure NHL bet. The Kassian addition suggests there is some of the Sather in our new GM, and Gormley would in fact appear to fit the reclamation profile. We wait.
Todd Mclellan says @Nail10_1993 expected to join team on road trip nexy week. No word yet on @cmcdavid97 re-joining team on road.

— Gene Principe (@GenePrincipe) January 7, 2016
It will be good to see the young Russian back, wildly unfair injury for a man on pace to post his first 40-point season. Todd McLellan had him going in a reasonable direction, hope he picks up where he left off and a new career high in points (31 as a rookie remains high water) seems possible.
https://twitter.com/LocksTheFox/status/685339318051848192
Bogdan Yakimov made his season debut in the KHL today, playing 12:59, picking up an assist and three shots on goal. I hope we see him again, we will leave a light on.
The #Oilers have assigned Jujhar Khaira to the AHL's @Condors.

— Edmonton Oilers (@EdmontonOilers) January 8, 2016
We touched on this last night, but Jujhar Khaira was sent to Bakersfield yesterday. He will get more playing time in the AHL and I do believe we will see him again. Every year, after the season is over, I post a Farm Workers item that goes back and touches on the types of players who emerge from the AHL and help in the NHL. Khaira is such a player. Quoting the 2015 edition of Farm Workers:
If you haven't established yourself as a prospect of interest by 22 you are in trouble. The players who have graduated to useful NHL careers have at least played some NHL games by the end of their entry level deals. Source

Khaira played one dozen NHL games and gave Peter Chiarelli, Todd McLellan and the rest of the Oilers brass something to think about when projecting their team for next season and beyond. For his part, Khaira probably has a list of things to work on (consistency!) and he does seem to have enough skill and range of abilities to have a career. Will it be as a Brad Winchester? A Jason Chimera? Too soon to know. Among the other men who are in their entry-level deals, it is interesting to see how many (or few) have played some NHL games so far:
Griffin Reinhart (20)
Jujhar Khaira (12)
Anton Slepyshev (11)
Jordan Oesterle (6)
David Musil (4)
Laurent Brossoit (1)
Bogdan Yakimov (1)
Martin Gernat (0)
Kale Kessy (0)
Dillon Simpson (0)
Mitchell Moroz (0)
Kyle Platzer (0)
Joey Laleggia (0)
Greg Chase (0)
Ben Betker (0)
Eetu Laurikainen (0)
Braden Christoffer (0)
If you are Martin Gernat, coming up on the end of your entry-level deal without some NHL time, it is probably fair to wonder about your future with the organization. Others? Less so, as they still have time on their contracts. One thing we may see? More callups for NHL looks, as the new management might want to see what a Kessy, Laleggia or Platzer do in the big leagues.
Peter Chiarelli has been on the job 6 months and resisted trading Klefbom, Nurse, and Nugent-Hopkins. This is a good thing! #Oilers

— NateInVegas (@NateInVegas) January 8, 2016
This. I am sure other NHL GMs (Saints! Every damn one of them!) have been offering immediate help for 10-year career defensemen, but that isn't really the right idea. PC has some blue who are older than Connor McDavid, younger than Taylor Hall and should be able to help in major roles in two years. Hold on tight to those players! Vital.
Congratulations to Leafs forward Leo Komarov and future Leafs forward Steven Stamkos on their All-Star selections!

— The Leafs Nation (@TLNdc) January 6, 2016
Got Stamkos? Can you imagine this forward group with Stamkos? The mind, she boggles. If the Oilers ran next season with these three pairs—Hall/Leon; McDavid/Stamkos; Nuge/Eberle—we might be looking at the storm of the century every night in a rink near you. Three scoring lines at home and on the road? Where these guys would be going, they wouldn't need roads.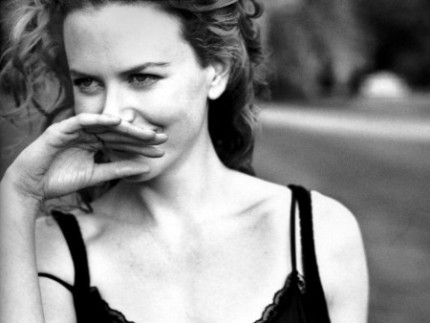 LOWDOWN WITH LOWETIDE
A busy Friday with great guests, Lt_Eric and more! TSN1260, beginning at 10.
Steve Lansky, Big Mouth Sports. No Hall good enough for Raines, does anyone care about the All-Star game?
Antony Bent, FC Edmonton. The new year means new signings for the Eddies, and of course the transfer window and Spurs!!!!
Scott Cullen, TSN. A wave of NHL trades this week, plus things are looking up for Toronto and Edmonton NHL teams.
Paul Almeida, SSE. One final look at the WJs and draft eligibles, and Paul will pump his Bengals before they get beaten on the weekend.
10-1260 text, @Lowetide on twitter. Talk soon!