The Edmonton Oilers informed their fans today, Connor McDavid won't be back until after the All-Star break. In what can only be referred to as brilliant comedic timing, this news came on the heels of an insane third period filled with own-goals and eye rolling, and included a kicker involving Oscar Klefbom being unavailable until after the All-Star break.
CURRENT STANDINGS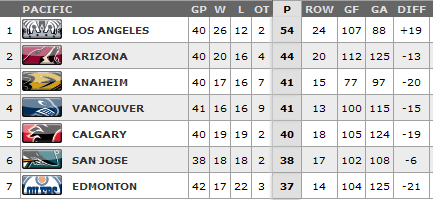 Edmonton is still in this crazy race, but you can see oil coming out of the exhaust and it's been running hot since Lillooet, we're one dead dog and a lost wedding ring away from a country song. It is not possible to be heartbroken—this thing barely hung together leaving the dealership—but there is still some anger and rage as the numbness of another lost winter seeps into the brain and forces a single ray of reality into what looks like a fantastic future. If you are an older Oilers fan, these good times may not be for you. That's a fact.
JUDGMENT DAY
If the fans are going down to another defeat, they have every right to expect some housecleaning from the forensic files. If you and I must live without the playoffs, perhaps we can warm ourselves by finding the answer to the following:
Who in the name of Jesus recommended the Nikitin trade and signing? Did anyone stand up and say 'are you sure that is a good idea?'
When Justin Schultz was taken to arbitration, and the buyout window opened, was there any thought to buying out a defenseman? If not, why not?
Who passed on signing Tobias Rieder? Was it over $100,000, AGAIN?
After drafting Erik Gustafsson, did anyone scout him or was there interest?
How many of the minor leaguers are fast enough to play the Todd McLellan style?
Is there a plan to add draft picks at the deadline?
Are we going to hear about plans to re-sign Cam Talbot? Teddy Purcell?
Are we going to see some of the other Condors here this season, or is Brad Hunt the best of what is down on the farm?
If this team is close, are the Oilers open to adding for this season? For the record I think that is a bad idea.