The Edmonton Oilers still have half a season to play, but the news yesterday that Connor McDavid and Oscar Klefbom won't return in January casts a pall over the remains of the day. I think most of us felt if this team could hold on until the troops returned, maybe there was a significant run in this young and so very talented group. Despite some Herculean efforts by Taylor Hall, Leon Draisaitl, Andrej Sekera and (increasingly) Cam Talbot, it gets tougher to justify with so many pieces missing. Remember when I talked about (lack of) balance in the summer? Remember when I said the balance picture would have to wait? We all knew it was true at the time, but this is what lack of balance looks like.
LAST CHANCE TEXACO, YEAR OVER YEAR
Oilers in October 2014: 4-5-1
Oilers in October 2015: 4-8-0
Oilers in November 2014: 2-9-3
Oilers in November 2015: 4-7-2
Oilers in December 2014: 2-8-4
Oilers in December 2015: 7-6-1

Oilers in January 2015: 5-7-1
Oilers in January 2016: 2-1-0
Oilers after 42 in 2014-15: 10-23-9, 29 points (-46 GD)
Oilers after 42 in 2015-16: 17-22-3, 37 points (-21 GD)
G43 a year ago was a 4-2 loss to the Florida Panthers, as Roberto Luongo decided to remind us of lost nights in Vancouver. Edmonton finished December 7-6-1, representing progress (at or over .500, depending on your view of things) and if they bring this month in around the same number it will be pure mastery by Todd McLellan.
DEFENSE, THIS SEASON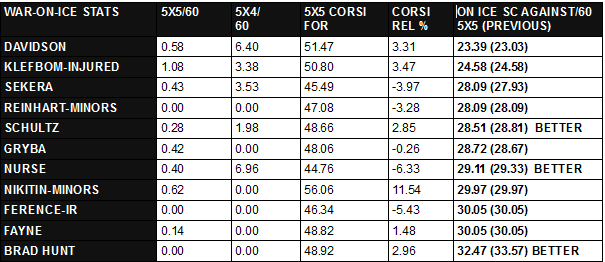 Brandon Davidson's CorsiRel and SCA numbers are rising, but that is purely a reflection of his new, more difficult role. The fact he is in that slot in the order tells you how good he has been this season. Wildly underrated by game broadcasters, home and away.
Andrej Sekera is such a valuable player, despite the rising Rel and SCA. His 5×4 numbers are very good and his CorsiFor5x5 percentage is stronger than you would think after over 400 minutes playing top competition alongside rookies. Sekera is 45.4% with Davidson in about one hour, he was 43.1 in about 360 minutes with Darnell Nurse, while being 48.3 with Mark Fayne in 188 minutes. A wonderful year obscured by his game situation.
Justin Schultz has played his three best games under Todd McLellan in the last three Oilers games. Best games doesn't mean perfect games, but he does seem to be comfortable with Darnell Nurse (and vice versa). Schultz is 48.5 Corsi for Percentage 5×5 with Nurse so far, and although he was better with Klefbom (53.8), I think the young puck mover is healthy and feeling confident now.
Darnell Nurse is seeing (as we discussed) his underlying numbers improve now that he isn't in the Sekera rear gunner position. He is still playing miles too much to my eye, but the numbers are improving each game in possession. Good to see.
Eric Gryba can defend, we talked about this in the summer and that remains the case. His presence on the roster does seem to have impacted Mark Fayne, and I remain convinced the wrong decision has been made here by Todd McLellan. I get it, this is some blog and McLellan is a bona fide and successful NHL coach, but for me this is the kind of stubbornness we often see in coaches—NHL or otherwise. Mark Fayne may not be fast enough for Todd McLellan's style, but even with that he is a better defenseman than at least two of the men who will be sent out instead of him tonight. I am convinced of it, your mileage may vary.
CENTERS, THIS SEASON

Leon Draisaitl is seeing his 5×5 numbers fall below 3.00/60 (!!!) but remains an astounding talent enjoying a breakout season. Timing was off a touch the other night, suspect this line will begin to roar again some time this month.
Ryan Nugent-Hopkins has his scoring numbers on the rise, while the possession totals are running in place or sliding slightly. A road trip may or may not help, it will be interesting to see how opposition coaches run their top lines and pairings against the Nuge trio.
Anton Lander barely played the other night, Todd McLellan's fourth lines traditionally get the hose later in the game but that was full hose early. I wonder how long this trio stays intact, need a big game.
Mark Letestu comes alive on the power play, but his 5×5 game isn't great. Part of it comes from being the checking line, but I wish he had more flair offensively. Needs more of Pat Hughes/Rem Murray creativity.
WINGERS, THIS SEASON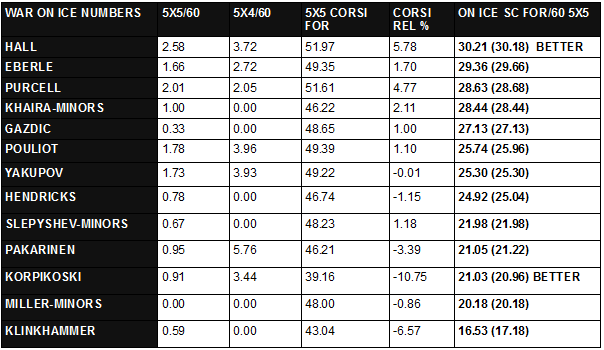 Taylor Hall is hitting all the notes known to man, and a few only dogs can understand. What a terrific talent, the only downside comes from commentary suggesting No. 4 is just arriving as a player. He arrived a long time ago, and is now reaching peak status. That's the story, someone should cover it that way.
Jordan Eberle should be at 2.00/60 5×5 and he is getting there after the injury and recovery. That 2line needs all three engines driving, and honestly it seems like they are only now reaching that point. Injuries have devastated this team, even the ones who are playing.
Teddy Purcell must be impressing the crap out of scouts these days, with smart play and offensive delivery. I suspect his replacement is on the IR (Nail Yakupov) or in Bakersfield (Zack Kassian) but do hope they at least discuss a contract extension.
Benoit Pouliot is a guy I have been thinking about a lot lately. He can deliver offense and is a big man on that second line, for me he should be part of the future. However, if you are Peter Chiarelli, trying to shoehorn all of this talent into two lines (McLellan doesn't believe in three scoring lines) is going to be difficult—and Pouliot (like the Nuge) has to play on an offensive line in order to justify salary. I think Pouliot is No. 6 when all are healthy (McDavid, Nuge, Leon, Hall, Eberle, Pouliot), but things may change. If they do, we may see the big man gone. I think there is at least a chance he won't be back next season. I would keep him.
Jujhar Khaira is scoring well in the minors (2gp, 0-2-2) and one suspects he could be a callup around the deadline. With Zack Kassian also in line for an eventual recall, who is leaving? There are a few obvious candidates—Purcell, Luke Gazdic, Iiro Pakarinen—but it is also at least possible Matt Hendricks has substantial trade deadline value. I recall someone reporting last season there was significant interest, doubt it has died down and the new GM will want to put his own stamp on the team. Interesting deadline ahead.
Make it a 30 save shutout for @eetu41. #Condorstown pic.twitter.com/vbR3iazSPR

— Bakersfield Condors (@Condors) January 10, 2016
MINOR LEAGUE SPLITS
I have no explanation, but when the calendar turns each season, it seems some players come out of their skates to make themselves known. Here are the Condors boxcars since the new year:
Matthew Ford 4gp, 3-2-5 (16 shots)
Marco Roy 4gp, 2-1-3 (4 shots)
Jujhar Khaira 2gp, 0-2-2 (4 shots)
Joey Laleggia 1gp, 1-1-2 (1 shot)
Jordan Oesterle 4gp, 2-0-2 (11 shots)
Ryan Hamilton 4gp, 0-2-2 (13 shots)
Kellen Jones 4gp, 0-2-2 (1 shot)
Andrew Miller 2gp, 0-1-1 (5 shots)
Martin Gernat 2gp, 0-1-1 (1 shot)
Zack Kassian 4gp, 1-0-1 (9 shots)
Josh Currie 4gp, 0-1-1 (6 shots)
Mitchell Moroz 4gp, 0-1-1 (4 shots)
Kale Kessy 4gp, 1-0-1 (2 shots)
Greg Chase 4gp, 0-1-1 (2 shots)
Dillon Simpson 4gp, 0-1-1 (2 shots)
David Musil 4gp, 0-1-1 (2 shots)
Nikita Nikitin 4gp, 0-0-0 (7 shots)
Griffin Reinhart 4gp, 0-0-0 (6 shots)
Braden Christoffer 4gp, 0-0-0 (1 shot)
Eetu Laurikainen 1gp, 0.00 1.000
Laurent Brossoit 3gp, 2.97 .922
Interesting group, led by some outstanding goalie performances (1-2-1 in this stretch, despite stopping 137 of 146 shots, .938). Interesting group at the top, worth following as January stretches to spring. I want to know this: How many of these cats are fast enough for the McLellan style? If David Musil (as an example) isn't fast enough, Peter Chiarelli should get him over to an organization that might be able to use him.
ABOUT TONIGHT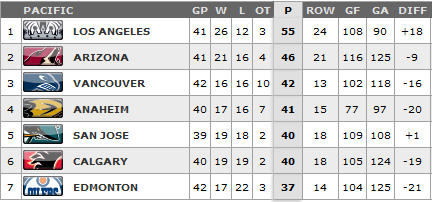 The Oilers are five points behind the final playoff spot now, there is no help coming and Hunt—Gryba will be a pairing this evening. Despite monumental talents in some areas of the roster, the lack of balance on this team once again has us sailing for the hinterlands. It is empty to promise you good times ahead, I will only say we should be in a far better place a year from now.
And with that, if the Oilers lose tonight in regulation, I release you. Please feel free to enjoy the beauty all around us, whether that includes photographing hoarfrost on a cold January morning  or catching the new Star Wars movie with a friend or loved one (something I hope to do this week, so if I unfollowed you on twitter it is because you were giving away the damned plot).
For this blog, I will continue to post gameday and followup (next morning) blogs, and will sift in draft coverage more and more—plus trade deadline items as they appear. Drop in when you can, let us know you're okay. Next year, perhaps the playoffs.