Nail Yakupov may be in tonight's lineup for the Edmonton Oilers, and that is very good news. A terrible bit of poor luck (and a damned stupid bit of friendly fire) cost the young winger some very important time in a vital season for him. Hopefully clear sailing from here.
FRANKENSTEIN, YEAR OVER YEAR
Oilers in October 2014: 4-5-1
Oilers in October 2015: 4-8-0
Oilers in November 2014: 2-9-3
Oilers in November 2015: 4-7-2
Oilers in December 2014: 2-8-4
Oilers in December 2015: 7-6-1

Oilers in January 2015: 5-7-1
Oilers in January 2016: 2-2-0
Oilers after 43 in 2014-15: 10-24-9, 29 points (-48 GD)
Oilers after 43 in 2015-16: 17-23-3, 37 points (-22 GD)
A year ago G44, Edmonton lost (again) 4-2 to St. Louis with just 15 shots on their net. The Oilers have lost contact with the Pacific Division, so for now I will list their overall standing and projected draft number (No. 28 overall and No. 3, respectively). The months of October and November saw the team post poor records, but their was a nice spark in December. This month sits at 2-2, vital that Edmonton pulls some victories before the All-Star break.
OILERS DEFENSE, 2015-16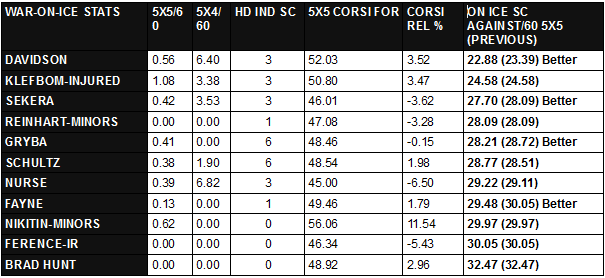 Halfway through the season, and my six best blue are Oscar Klefbom, Andrej Sekera, Brandon Davidson, Mark Fayne, Darnell Nurse, Eric Gryba.
Nurse is probably at a point where a trip to the minors is possible, if and when Klefbom gets back that may be the time. I doubt that happens, as Todd McLellan has been playing the rookie heavily all year. I had him playing 50 games in the RE, he is at 34. The rookie has had some tough moments in the last couple games, something to monitor moving forward.
Jason Gregor reported yesterday that Oscar Klefbom has an infection in his leg, 'some sort of staph infection'. That can be extremely serious, very worrisome thing. Best thing to do is hope he recovers completely, return date no longer matters in the grand scheme. Seriously.
How many defensemen go at the deadline? I will guess two—Schultz and Gryba. Fayne if they can find a market. If they don't trade Gryba, he will be signed.
If Chiarelli could add Kevin Shattenkirk and Jason Demers to Sekera, Klefbom, Davidson, Nurse and Fayne, would that be any good? I think it would.
CENTERS, 2015-16

Leon Draisaitl's numbers are beginning to slide down to McDavid levels (and that is still very good), we should expect a cooling trend in the second half. No worries, big man. I do wonder if we see a line juggle, perhaps RNH joining Leon and Hall for a time.
Ryan Nugent-Hopkins has been below par at 5×5 all year, his linemates finally appear to be getting healthy. Edmonton needs that even-strength /60 number to head toward 2.00 in the second half. I was pleased to attend his 300th NHL game.
Mark Letestu isn't scoring at evens (enough, anyway) but I like pretty much everything else about him.
Anton Lander is maybe my favorite Oilers forward who cannot piss a drop offensively since Boyd Devereaux—and that isn't really fair to Devereaux.
You will notice I have added a new column for each of the graphs, it is for High Danger individual scoring chances. That was suggested by someone (couldn't find the post), try it out for awhile and see if you like it. One thing I noticed right away? Taylor freaking Hall (below).
WINGERS, 2015-16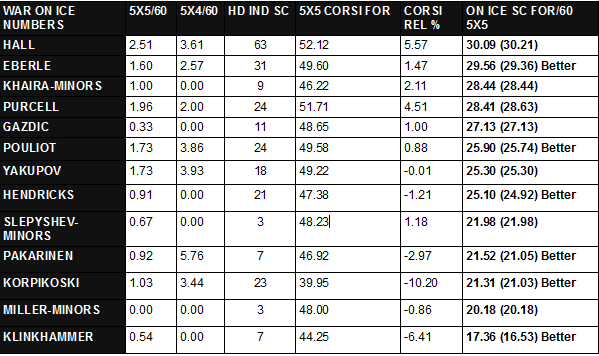 Taylor Hall found a new partner in the first half (Leon) and I wonder who gets that other spot if Teddy Purcell is dealt at the deadline.
Jordan Eberle is starting to post crooked numbers, suspect we see some road goals for this line. Benoit Pouliot is moving now too, maybe they break out tonight.
Nail Yakupov could be back tonight, hope he receives a feature role, or at least a center who can help move the play in the right direction. Hopefully a PP goal for the Russian.
Iiro Pakarinen would be my choice to move up for Matt Hendricks, but my guess is Rob Klinkhammer will play on the 3line. We could see Luke Gazdic draw in on the Lander line.
Not sure what can be said to any #Oilers fan who is surprised by the suspension to Hendricks. It was a done deal the moment he threw the hit

— Rob Soria (@Oil_Drop) January 12, 2016
I think that is fair, the Oilers had to know there was a chance of at least one game since there was no penalty on the play. Three seems to be a little harsh, but that likely comes from the NHL wanting that kind of hit out of the game. I think the Panthers showed poor judgement in letting him play after that hit. I also think some are way over the top in their criticism of Matt Hendricks. He is an honest player, the hit was dangerous, he gets three games. It doesn't change my opinion of Matt Hendricks.
I don't know what the future brings, and do understand Nail Yakupov is a player of unique talents and challenges, but man I hope he hangs around for another decade. Good Canadian boy from Nizhnekamsk.
ONE LESS BELL TO ANSWER
There has been so much talk since the Florida game about lack of retribution and I still haven't seen anyone talk about the connection between the Hall and Ekblad hits. Here is my take (and I was in the building).
It was a physical game from the start, but the hit on Hall changed the atmosphere. It was a clean hit, but there is also a change in the weather coming for this team. Peter Chiarelli's Bruins were a chippy bunch, and his Oilers will one day be the same.
Eric Gryba was hammering people stupid, suspect he is exactly what the Oilers want on the third pairing (maybe a little more foot speed).
Despite almost universal damnation for not seeking retribution for the Hall hit, the hit on Ekblad looked exactly like a retribution hit. Am I the only one who remembers the phrase 'take a number'? Zero doubt in my mind that the Ekblad hit never happens without the Hall collision.
Your Edmonton Oilers are going to be doing more of this, not less.
If Milan Lucic comes available in free agency, expect Edmonton to be aggressive.
Probably a good idea to watch for deadline deals that bring in big forwards from the AHL, and we could see Kale Kessy here before the end of the season.
BRUINS' PHYSICAL PLAYERS
Back in 2011, and I assume that would be Chiarelli's template (allowing for the fact Edmonton possesses more natural talent), the Bruins employed the following physical players:
Milan Lucic: Huge, physically dominant winger with attitude and the ability to play beyond the modern outer marker. The Oilers have no one like this, but then again no one else does either. Lucic is not the same player today he was in 2011.
Nathan Horton: At that time, he was a power forward type who could skate well, impact the game physically. I always felt he was more of a scorer than power forward. The Oilers don't have this player either, they are rare, valuable and seem to get injured a lot. Unicorns.
Zdeno Chara: Giant from Japanese horror film, he is the answer to 'what do both rock and hard place fear?' at least during his prime. The Oilers don't have this player, no one does.
Brad Marchand: Not a big winger, but skilled and a world class agitator. Titmouse. Oilers may have a version of this player in newly acquired Zack Kassian, who is something of a tweener. I would say he has some Lucic and Marchand elements to his game.
Greg Campbell: A useful role player who is adept at doing the tough work (PK, checking) but is shy offensively. I would say Matt Hendricks is similar, I like Hendricks more as a player.
Shawn Thornton: 4line enforcer, who scored 10 goals that year. His impact on winning games would be will into the red, but in 2011 NHL teams employed this player more heavily than today. Oilers have Luke Gazdic, but play him far less which is the style at the time.
Adam McQuaid: Big, strong defender who will drop them any time, he is limited in the skill portions of the game but can hit and intimidate. Oilers have Eric Gryba, McQuaid plays a little higher in the order (shouldn't) but they are similar.
They had various other scoundrels and troublemakers but this is the most of it. To review, Edmonton has the McQuaid, the Thornton and the Campbell. They lack the Marchand, the Chara, the Horton and the Lucic. Expect changes (and Kassian's call to the Oil). Seriously. One thing to keep in mind: Benoit Pouliot doesn't fit any of the slots above, that could spell his doom (despite the fact that he is a perfectly good hockey player).
LOWDOWN WITH LOWETIDE
A busy, fun show with smart people—we try to do that every day! 10 this morning, TSN1260. Scheduled to appear:
Jonathan Willis, Cult of Hockey and Oilers Nation. With the news of Oscar Klefbom's actual injury, what are reasonable expectations for the rest of this season?
Andrew Bucholtz, 55-Yard Line. National championship goes to Alabama (love seeing those young men playing for nothing but a scholarship), plus some CFL trades and moves (Eskimos signed Sean Whyte, important—just ask the Vikings). We will talk free agency as well, some impressive names out there.
Travis Yost, TSN. More about the CFB Championship game, Coughlin to the Eagles and we will no doubt make a Senators-Oilers deal.
Frank Seravalli, TSN. Frank has a range of skills, we will put all to use today. Shattenkirk trade chatter, post-game antics in Vancouver and how real are the Capitals?
10-1260 text, @Lowetide on twitter. See you on the radio!