On a day like this one, Oilers fans everywhere have an extreme sense of dread. Saturday. National television. Calgary Flames. The past informs the future, so we can expect misery and pestilence and  ruin. Maybe they will run a Robyn Regehr highlight package featuring, of course, Ales Hemsky. If 'Saturday Night Oilers' were a country song, there would be no survivors—not even Merle. When this thing turns, and it will (right?), I am going to do my Joe Thornton impersonation after every Saturday night Oilers win, in public or private. I may need bail money.
DONNER PARTY, YEAR OVER YEAR
Oilers in October 2014: 4-5-1
Oilers in October 2015: 4-8-0
Oilers in November 2014: 2-9-3
Oilers in November 2015: 4-7-2
Oilers in December 2014: 2-8-4
Oilers in December 2015: 7-6-1

Oilers in January 2015: 5-7-1
Oilers in January 2016: 2-2-2
Oilers after 45 in 2014-15: 10-26-9, 29 points (-51 GD)
Oilers after 45 in 2015-16: 17-23-5, 39 points (-23 GD)
I think we are all just waiting for McDavid to return now—wouldn't it be nice if he showed up tonight and scored three?—and one hopes the Oilers can get through January with around a point per game. A year ago in G46, they won in a shootout in Sunrise.
DEFENSE, 2015-16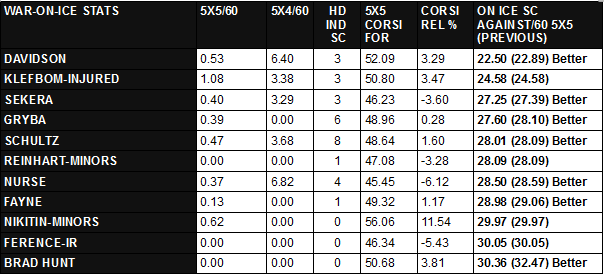 Brandon Davidson just keeps on laying pipe in a long, straight line. He is a fantastic rookie, it's like he is 23 going on 30. I don't know the scout who argued for him, but that man deserves a raise—so does the player.
Oscar Klefbom could be part of a very nice run in the final 30 games of the season, or we may not see him until October. Man, I would love to see him on Rexall ice tonight, too.
Andrej Sekera looks exactly like Jeff Petry used to, a man drowning without a life line. I hope the Oilers can find him some help, or at the very least play Mark Fayne with him every night.
Eric Gryba probably doesn't fit long term, unless he is the No. 7 D next season. One would think an NHL team would invest a pick after No. 100 overall on him at the deadline.
Justin Schultz is playing as well as I have seen him in some time over the last five games or so. He is never going to be a good defender, but his passing is better and he is in a zone offensively. Is it enough to get a third-round pick for him?
Darnell Nurse had a nice game against San Jose, he was high-event but showed the kind of ability that got him drafted so high back in 2013. Fast-track continues tonight.
Mark Fayne looks good in all the areas I pay attention to (Corsi, Corsi Rel) and his SCA/60 5×5 number is improving, too. I can't believe the Oilers wouldn't be able to find a willing trade partner—but, as I have said many times, it also makes sense to keep him for next season. If Fayne is your No. 7D to start the season, you have a damned good defense. Right now he is top pairing and that seems right.
I have been monitoring the Corsi For 5×5/60 for three defenders since Nurse came off the Sekera pairing. Despite playing significant minutes, Nurse is in fact rising from his previous levels—indicating the Oilers pushed as far as they could, and then (correctly) identified when things got overwhelming:
Nurse before/after the shuffle: 43.79/45.45 (Source)
Davidson before/after the shuffle: 53.03/52.09 (Source)
Sekera before/after the shuffle: 46.07/46.23 (Source)
CENTERS, 2015-16

Leon Draisaitl has been a pure joy this season. I think his contributions to this team in 2015-16—remember he started in the minors—have to rank him as one of the best recalls from the AHL in team history. A 35, 10-24-34 center playing G46 after starting the year in Bakersfield.
Connor McDavid is less than a month away from playing NHL hockey again!
Ryan Nugent-Hopkins is not having the season he posted one year ago, but I still maintain he is a very important player for this team. If they trade him—and the Oilers appear to have been in conversation about him—an enormous amount of pressure falls on two young men with under 100 games in the NHL, combined. He is not on pace for 20 goals, but will hit 50 points if he continues as he did in the first half of the season.
Anton Lander's numbers outside the offense aren't terrible, and he does a lot of good things for this team. I don't think he will make it as an Oiler, and believe foot speed (and this year's offense) is what will keep PC and Todd McLellan from keeping him for 2016-17.
Mark Letestu has had a weird year, I can remember a bunch of scoring chances he didn't cash but he is on track to score over 20 points from the roster hinterlands.
A few notes about my Nuge item last night, including the fact we have discussed it. I think Peter Chiarelli is a very smart guy, and in most cases would give him the benefit of the doubt. Have to tell you, I go into this Nuge business highly skeptical about getting full return. The chances of this trade (should it happen) being one we remember in a bad way is extremely high. Jmo. Chiarelli still hasn't had the 'saw him good' Nuge and that is a major concern. How patient will he be? Come on Nuge! A big game may go a long way, and I don't think this is over.
WINGERS, 2015-16
Taylor Hall's Individual High-Danger Scoring Chance number is probably the most impressive number on all of these lists. He has not been himself lately, but if he was saving up the points for tonight I will forgive him. Expect 75 points or more.
Jordan Eberle is coming on now, he should be hitting the 20-goal mark some time in March and he might hit 50 points again.
Benoit Pouliot is on a 20-goal pace and Teddy Purcell will get close to 45 points, but the big question is will one (or both) be here after the deadline? Purcell might be the most valuable player PC has to trade this year.
Nail Yakupov had such a good game I can't wait to see him play again. Fun player.
Zack Kassian gave a hilarious interview after the first period, hopefully he cashes tonight and helps bring good luck on a Saturday night.
CHIARELI AT THE DEADLINE
Lots of work to do, and remember he is aggressive at the trade deadline—his first one saw a major overhaul on defense. Let's revisit that for a sec:
February 10, 2007: Bruins trade D Brad Stuart and F Wayne Primeau to the Calgary Flames for D Andrew Ference and F Chuck Kobasew. Chiarelli: "It became evident that when I wasn't having success signing Brad that I was going to have to trade Brad. Part of what we have to do is preserve the assets of players that are unrestricted. Chuck is 24 and Andrew is 27. They add some youth and energy, which we want to add to this team."
February 27, 2007: Bruins trade D Paul Mara to the NY Rangers for D Aaron Ward.
February 27, 2007: Bruins trade R Brad Boyes to St. Louis for D Dennis Wideman.
Chiarelli on the February trades: "Part of the rationale in the [Brad Stuart] deal and these two deals was to have players who can help us now, in the short term and the mid term. I feel we have the depth, both in unsigned draft choices and in Providence. For example, David Krejci came up, and game to game, he played better. So that's just the glimpse of the depth we have."
Chiarelli moved off Mara fairly quickly, wonder if we see any movement on his hires this early. I think we are far enough into the season to give some grades on his summer work:
G Cam Talbot (I think they should be talking contract now. A good goalie in front of a poor D)
G Anders Nilsson (Not certain he is the long term solution, but would bring him back)
G Eetu Laurikainen (He has enjoyed a solid-to-excellent year)
D Andrej Sekera (Oilers most reliable and complete veteran defenseman)
D Eric Gryba (Has delivered in his role)
D Griffin Reinhart (Injuries and minors so far this season)
C Connor McDavid (Devastating injury major story on the year)
C Mark Letestu (Useful player, does a variety of things well)
L Lauri Korpikoski (Scoring well, his checking work is checkered)
I believe the Talbot, Sekera and Letestu moves were quality and did in fact address substantial need, your mileage may vary. After that, there are varying degrees of minor success and failure, with McDavid obviously a different chapter altogether. When you enter a summer with seven things to do, does getting three of them locked down represent success? We have all summer to discuss, maybe the Kassian addition and whatever is done at the deadline will skew the view. Right now? 70 percent. I like the deals mentioned, but the Reinhart and Gordon trades have major concerns attached and potentially long-term progress has been impeded. We can't just ignore that aspect of his early Oilers record. If I added in the strange decisions around the Schultz buyout window the grade would be lower.
LINES AND PAIRINGS
Hall—Nugent-Hopkins—Pakarinen
Pouliot—Draisaitl—Eberle
Purcell—Letestu—Kassian
Korpikoski—Lander—Yakupov
Sekera—Fayne
Nurse—Schultz
Davidson—Gryba
Talbot
I don't expect those lines to stay, but hope the Sekera-Fayne pairing lasts the evening. I saw the Flames on Thursday night, they are electric and Edmonton has two rookies, two slow guys on defense. It will be important to actually watch the game, the commentary will be pro-Flames no matter the score. I used to love Saturday night against Calgary and have reached the point where alternate plans are at the ready. A man can only take so much from his favorite team in one lifetime, and losing to the Flames on Saturday night brings out the worst in me. The dog has been warned, as have you. I begin the day in a mood most foul, for my own protection. Tabernac Saturday is before us. Go you Oilers, win this one for the fans and we won't be pissed at you until at least Monday. Godspeed.