Dallas. Why does it have to be Dallas. Freewheelin', high flying, 'let's run the Modano tape again' Dallas. God they are a load, have been for the entire damned century. Even when they are bad, they have been a tough out for the Oilers. Maybe Mike Keane can come out and tell us all to go home again. In 128 games against the Stars, Edmonton is 46-58-15—only Boston and the Minnesota Wild represent a tougher out for this franchise over years.
BANG THE DRUM SLOWLY, YEAR OVER YEAR
Oilers in October 2014: 4-5-1
Oilers in October 2015: 4-8-0
Oilers in November 2014: 2-9-3
Oilers in November 2015: 4-7-2
Oilers in December 2014: 2-8-4
Oilers in December 2015: 7-6-1

Oilers in January 2015: 5-7-1
Oilers in January 2016: 4-3-2
Oilers after 48 in 2014-15: 12-27-9, 33 points (-50 GD)
Oilers after 48 in 2015-16: 19-24-5, 43 points (-23 GD)
Edmonton beat Buffalo 3-2 a year ago, Anton Lander cashing his first goal of the season. The Oilers have two games left before the All-Star break and have more points than a year ago—while also being a very similar spot.
Although the Oilers rank No. 27 overall, the games in hand for Buffalo and Toronto mean Edmonton has a good chance of being in No. 29 overall (again) at the break. A win tonight would be a major help, and a bonus for those who watched the Tampa Bay game.
OILERS DEFENSE, 2015-16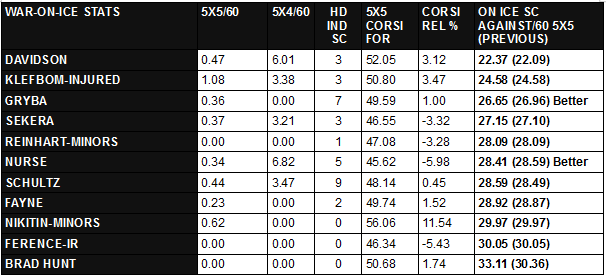 Brandon Davidson is going to get a nice pay day, I hope they grab some seasons. Four years? Not enough, too many? The expensive kids will get paid in the coming summers, would be nice to have a value deal in this player.
Oscar Klefbom is going to be a big part of this team for years (Summer of 2023 he is UFA), with health the only issue. He and the Oilers were pretty unlucky this season, the injury appears to be a fluke and shouldn't happen again. Still, a valuable lesson for the summer—depth and balance.
Eric Gryba has been exactly what Travis Yost told us in the summer—he can defend but won't help you with the passing. Nice possession numbers, he is most effective with Brandon Davidson as a third-pairing, I imagine Reinhart takes Gryba's place at the deadline if the big man is traded.
Andrej Sekera and Mark Fayne have been solid together, but I have a feeling the result will be the trade of Fayne at the deadline (if Klefbom returns healthy). The additional years on Fayne's contract probably means a small return if a deal is completed. I don't think they will trade both Fayne and Gryba at the deadline (remember the year they dealt Sean Brown early and then very late sent away Tom Poti? Five defensemen).
Darnell Nurse is 52.5 Corsi for Percentage in about 80 minutes with Eric Gryba, hope Todd McLellan keeps him there. One of the reasons I am pretty sure we see at least one trade is that when Klefbom returns, there will be too many by several defenders on the roster.
Sekera—Klefbom; Davidson—Schultz; Nurse—Gryba could be your 6D (with Reinhart as 7D) if they deal Mark Fayne.
Justin Schultz will be a tricky deal, because a team would be bringing chaos into their team for a playoff run. Seems counter to what we know about coaches. He could be had for a song, I would guess, although Schultz has been playing his best hockey of the season lately. He has been most effective with Klefbom and Davidson this year.
CENTERS, 2015-16
Leon Draisaitl has had an amazing season, and his chem with Taylor Hall is something we could see again in 2016-17. He was also very strong with the Nuge, something to keep in mind, too.
Connor McDavid will be back soon and that should mean the offense has a surge in February. I suspect he gets Pouliot—Eberle in the early days, but Yakupov was outstanding alongside the phenom so maybe he finds his way in there, too.
Ryan Nugent-Hopkins could be done for the season—I mean, 6-8 weeks in Oiler years is July, right? Disappointing year, but he didn't get traded. I was surprised at how few remembered Taylor Hall's tribulations the year previous, this is definitely a what have you done for me lately town. I am hopeful the trade fever has broken on Kingsway (if it was ever a fever) and the club looks for other ways to address RHD this summer.
Matt Hendricks has had another solid year, lordy he was a nice trade addition for this team. I wonder if the club considers dealing him? He does so much, don't know if they can—even if the return is sweet.
Anton Lander scored in G49 for the first time a year ago, perhaps he will do it again tonight? He has had a truly weird year. Why? As bad as he has been offensively, he has done all kinds of useful things. He is good with Pakarinen, if that helps.
Mark Letestu has done a lot of good this season, somewhat like Lander only he also scores goals and things. Played well with Hendricks and is scoring some on the 5×4. Strange skill set.
WINGERS, 2015-16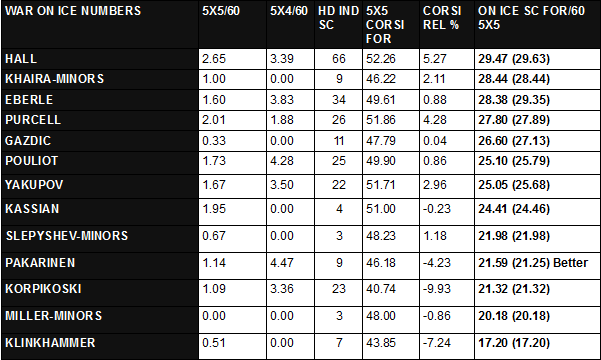 Taylor Hall is having a fantastic season, I really wish the playoffs were on the other end.
Jordan Eberle is having a tough time getting that 5×5/60 number to 2.00, but I think he will by the end of the year. As much as he gets mentioned in rumors, the Oilers don't exactly have a bunch of these guys.
Teddy Purcell is going to get traded. It is his own damn fault, he had too good a season.
Benoit Pouliot played on a line that struggled badly on Tuesday night, but he also had a couple of brilliant chances (including a quick breakaway that he just missed by rifling a shot wide).
Nail Yakupov has 22 high-danger scoring chances in 318 5×5 minutes. Pouliot has 25 in 525 5×5 minutes. Nail is a chance machine this year, just has to keep gaining the confidence of his coach. He had Kassian and Letestu a lot the other night, wonder where he slots in with Pakarinen pushing and Pouliot playing on a struggling line. Could see a shuffle tonight.
Zack Kassian is showing up nicely in the 5×5/60 after a two-point effort the other night, and seems to have found a line with Letestu and Yakupov.
Iiro Pakarinen is making a case (along with Kassian) for one of the eight winger slots next season. A strong finish could shut out not only the Condors' hopefuls but allow the team to enter the summer proceedings without worrying over the third and fourth-line wingers. In-house solutions are a good thing for a building team, especially if they come with value contracts.
ROSTER KEEPERS, 2016-17
As we discussed last night, Peter Chiarelli can do his 16-17 Oilers an enormous favor by offloading some contracts with term. I believe that is one reason Mark Fayne is probably in play, and a reason Justin Schultz likely does not return. Here is my list of players who are very likely to return for 2016-17:
Goal (1): Cam Talbot
Defense (4): Andrej Sekera, Oscar Klefbom, Brandon Davidson, Darnell Nurse
Center (4): Connor McDavid,, Ryan Nugent-Hopkins, Leon Draisaitl, Mark Letestu
Left Wing (4): Taylor Hall, Benoit Pouliot, Zack Kassian, Lauri Korpikoski
Right Wing (4): Jordan Eberle, Nail Yakupov, Matt Hendricks, Iiro Pakarinen
That is 17 players, or 74 percent. Now, we might see Jordan Eberle out and Travis Hamonic in, but that's a trade we can't predict today. It is also true that Mark Fayne will be tough to trade, so he could be right back here in the fall (and I am fine with it, I would have him on this list).
Six slots here, who best fills them? If Edmonton ends up with Laurent Brossoit, Travis Hamonic, Griffin Reinhart, Eric Gryba, Anton Lander, Luke Gazdic and Milan Lucic or David Backes (to replace Eberle, who we assume goes in the Hamonic deal), is that enough? I don't think it is.
Goal (2): Cam Talbot, Laurent Brossoit
Defense (7): Andrej Sekera, Oscar Klefbom, Travis Hamonic, Brandon Davidson, Darnell Nurse, Eric Gryba, Griffin Reinhart
Center (4): Connor McDavid,, Ryan Nugent-Hopkins, Mark Letestu, Anton Lander
Left Wing (5): Taylor Hall, Milan Lucic, Benoit Pouliot, Lauri Korpikoski, Luke Gazdic
Right Wing (5): Leon Draisaitl, Nail Yakupov, Zack Kassian, Matt Hendricks, Iiro Pakarinen
I think we see fewer additions this summer, but substantial ones. A defender and a winger are probably the key pieces for Chiarelli. Things left to be done? Shot from the point on the PP, still don't see a Pisani. Please forgive me for trading Eberle again. Money works if you can shed Fayne, walk Schultz, buy out Ference.
.@SUNdvandiest: Edmonton Oilers' Zack Kassian is turning into the player the team needs him to be #yeg #oilers https://t.co/ON5b1fQ3hV

— Edmonton Sun (@Edmontonsun) January 21, 2016
Kassian and Iiro Pakarinen potentially solve some issues on the wing for Edmonton next season. If those two (along with Matt Hendricks and Lauri Korpikoski) patrol the bottom two lines, there should be enough offense and checking/PK to satisfy those areas. Fair? It is early days but Kassian looks the part of a guy who can contribute and Pakarinen is a bull in a china shop. He could join Davidson as a value contract for next season.
Peter Chiarelli taking in the #Blues V #RedWings tonight in Detroit. Let the Shattenkirk rumors fire up. #Oilers

— Alex Thomas (@Alex_Thomas14) January 21, 2016
I am all in on this trade, save for the contract. Shattenkirk is UFA in 2017, meaning he is an extended rental ala Keith Yandle. It would be folly for Peter Chiarelli to make a trade without major conditions attached, and remember the value of a draft pick for Edmonton today is far less than in 2012.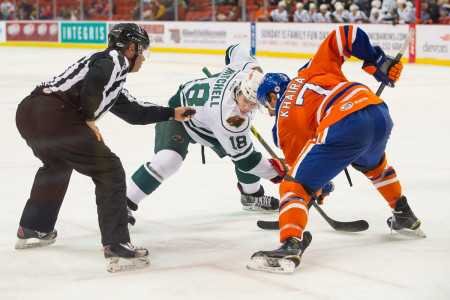 One player from Bakersfield who might find his way into next season's conversation? Jujhar Khaira. If the Oilers have injuries in the bottom 6F, he is probably the first recall option. Others from the farm? Laurent Brossoit has a chance to unseat Anders Nilsson, Griffin Reinhart will get a shot, and I do think David Musil, Anton Slepyshev and Jordan Oesterle could work their way into the conversation. Long term? I like Kyle Platzer and if Bogdan Yakimov returns to NA in the fall he has a chance for sure.
The super clean version that will finally let my fevered brain rest. Ton of info packed in this one image. pic.twitter.com/qhTncHplD1

— Oilers Nerd Alert (@OilersNerdAlert) January 21, 2016
G is bringing it now, he appears to have found miles of blacktop and has a full tank of gas. This graph is the best of times (Hall, Leon), the worst of times (Korpikoski, Sekera) and pure heartbreak (McDavid). It tells us a lot in one frame. Well done, G. Nerd.
LOWDOWN WITH LOWETIDE
10 this morning, TSN 1260. A really big shoe. Scheduled to appear:
Scott Cullen, TSN. We will discuss the Canadian NHL teams, NFL playoffs and trade deadline.
Andrew Bucholtz, 55-Yard Line. A busy week in the CFL, free agency could be mind blowing.
Tom Lynn, Veritas Hockey. What's with all the kids jumping teams? Also, preparing players for trade deadline and next year.
Frank Seravalli, TSN. Trade deadline, Drouin, more.
10-1260 text, @Lowetide on twitter.