The Edmonton Oilers reach game 50 of the 2015-16 season short of a point-per-game and deep in the second division of the standings. They have figured some things out—Cam Talbot, Andrej Sekera, Brandon Davidson, Leon Driaisaitl look like keepers—but a steaming pile of question marks remain.
It's been rough and rocky travelin'
But I'm finally standing upright on the ground
After takin' several readings I'm surprised
To find my mind's still fairly sound
I guess Nashville was the roughest
But I know I've said the same about them all
We've received our education
In the cities of the nation, me and Paul
CHANGING SKIES, YEAR OVER YEAR
Oilers in October 2014: 4-5-1
Oilers in October 2015: 4-8-0
Oilers in November 2014: 2-9-3
Oilers in November 2015: 4-7-2
Oilers in December 2014: 2-8-4
Oilers in December 2015: 7-6-1

Oilers in January 2015: 5-7-1
Oilers in January 2016: 4-4-2
Oilers after 49 in 2014-15: 13-27-9, 35 points (-49 GD)
Oilers after 49 in 2015-16: 19-25-5, 43 points (-24 GD)
A year ago G50, the Oilers lost 4-2 to the Godless Flames. If Edmonton can win tonight, they will reach G50 a full 10 points clear of last year's club. The Oilers went 11-16-5 from G50+, if Edmonton wins tonight and matches G50+ they will finish 31-41-10—and at 72 points. Disappointing? Sure. That said, the injuries have been a major factor. Last season, Edmonton lost 260 man games, this year it is 205 with 33 games to go. Plus, check out the names:
Connor McDavid 36
Rob Klinkhammer 27
Nail Yakupov 22
Andrew Ference 22
Oscar Klefbom 19
Justin Schultz 14
Jordan Eberle 13
Lauri Korpikoski 11
Matt Hendricks 10
Benoit Pouliot 9
Griffin Reinhart 6
Brandon Davidson 4
Iiro Pakarinen 3
Luke Gazdic 2
Ryan Nugent-Hopkins 2
Andrej Sekera 1
Eric Gryba 1
Those currently on IR are underlined. When you consider the amount of time Connor McDavid, Nail Yakupov, Oscar Klefbom, Justin Schultz, Benoit Pouliot and others have been out, that has to be a factor. How much? Don't know. One thing I hope we can agree on? This is an issue, not an excuse.
OILERS DEFENSE 2015-16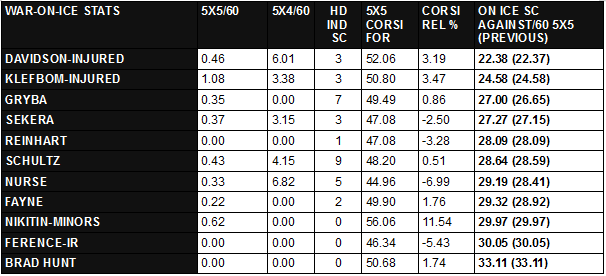 Brandon Davidson and Oscar Klefbom are the future and they are injured. The Oilers have no answer in the minors for either man and no outside help is coming. The numbers for these players are outstanding when you consider how little experience they have in the NHL.
Eric Gryba and Andrej Sekera occupy different spots in the batting order, but both newcomers have contributed in their own way. Added to Mark Fayne—who has an excellent Corsi and Rel—they must form the heart of the defensive group until good health returns for the kids.
Justin Schultz and Darnell Nurse are plagued by gaps in coverage and lapses in concentration and awareness. Schultz has been playing better hockey in the last few weeks, Nurse has been fading after a solid start. The numbers suggest Nurse has neither progressed nor regressed in the last six weeks, but he was facing tougher minutes during some of the period. If he does stay on the third pairing, we should look for a movement toward 50 percent on the Corsi—hasn't manifested itself yet.
CENTER, 2015-16

Leon Draisaitl and Connor McDavid are set up for a fun race to the finish in some of these advanced categories. Encouraging future, can't wait to see McDavid back in action.
Ryan Nugent-Hopkins won't have much of the season left when he returns, based on reports. I think he had some struggles this year, but remain surprised by people wanting to see him down the line. He is a very young center who is approaching his career peak. Extremely unlikely you win a Nuge trade in 2016.
Anton Lander, Matt Hendricks and Mark Letestu will see more action in the days to come, now that Nuge is injured. I think all three could be back, more likely just two.
WINGERS, 2015-16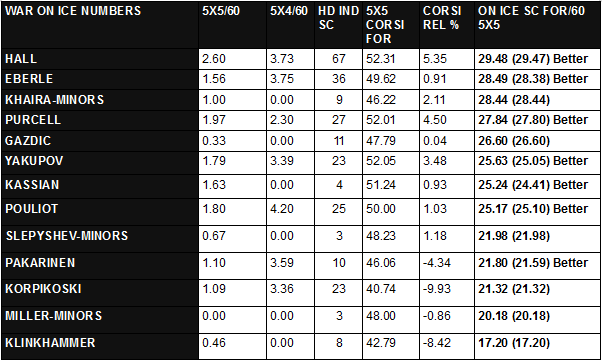 Taylor Hall is enjoying a great season, even with the cool running over the last dozen games. He is an impact player at 5×5, with a monster total for high-danger scoring chances. If they can figure out the power play, we are talking about year-end honors.
The list of wingers who are 1.50/60 at 5×5 or better is substantial: Hall, Teddy Purcell, Benoit Pouliot, Nail Yakupov, Zack Kassian, Jordan Eberle. If Leon Draisaitl were added to RW for next season, is that enough for three scoring lines? I think it is.
If you could trade (say) No. 3 overall in a package and get your complete RH defenseman that way, would you prefer to keep this forward group? The F's are good, very good.
Anton Slepyshev doesn't get a lot of mention, but I wonder if the Oilers recall him once he is healthy (and after the deadline). He has some nice skills.
TRADE DEADLINE THOUGHTS
Peter Chiarelli is already moving on his RFA and UFA talents, and the Cam Talbot signing signaled the beginning of that portion of the roster framework. We all have our favorites (and least favorites!) and the market will tell us what has value. That said, here is my list of players who should be in play:
Gone: Teddy Purcell (and maybe back?); I think the Oilers may keep him in mind for July 1, depending on who is dealt (possibly a RW). Second-round pick?
Gone or signed: Eric Gryba. If Gryba isn't back next season, "a" Gryba is likely to be on that third pairing. He might be back, I would trade him at the deadline. Can the Oilers get a third-round pick for him? Seems dear.
Shopped but destination unknown: Justin Schultz. His value cannot be high, despite good performances in recent weeks. Why? His contract runs out of time with his value. He is absolutely a rental, as the team owning his rights is unlikely to negotiate with him off his current deal. If he takes a team to arbitration, suspect said team walks. Can the Oilers get Brett Ritchie for him?
Possibly has value: G Anders Nilsson. His value cannot be high right now, and Chiarelli shouldn't be in a hurry to sign him. If someone comes calling? Suspect it is unlikely, but the Oilers don't know what he is or isn't at this time. Fifth-round pick?
Staying, pretty sure: R Iiro Pakarinen. He might be a keeper, folks. I mean a long term keeper. Takes a year later and miles past Tyler Pitlick, the race appears to be over before it begins. I can't see the next in-house option for this role (unless Khaira qualifies but I don't think the two men will be applying for the same job).
Depth addition: R Rob Klinkhammer. He is fast and can check, there isn't much offense. As an extra forward? Seems to me everyone has this player type in various forms.
No: Luke Gazdic. I think the Oilers probably bring him back, he is playing in 57 percent of the Oilers's games this season. Extremely unlikely he would play much in the postseason. I remain impressed with his progress as a player, although those who value enforcers more than me don't feel the same way.
No: Brad Hunt. As talented as he is in the AHL, the gap between the two leagues is enormous and he can't help a contending team.
No: Brandon Davidson. Sign the man.
Good to see Linus Omark is still 🏒🔥in the shootout. #Oilers https://t.co/SAezmDllGY

— Mike Patrick (@MikePatrick98) January 23, 2016
Linus Omark. I always liked the guy, others thought him a fool. The Oilers made the draft bet and he had some moments, but arrived in a season that featured fellow rookies Taylor Hall, Jordan Eberle and Magnus Paajarvi. I always hoped we would see him in the NHL again, suspect that ship has sailed. Glad to see he is having fun.
According to rumours, all 29 other teams can/will/should claim Joakim Andersson. #NHL

— Sean Tierney (@ChartingHockey) January 23, 2016
This is exactly how I read it. Everyone says it is a great idea—and Landon Ferraro took off like a bat out of hell when he left Detroit—but Andersson's rep seems to be far greater than recent performance. Seems he is a bigger Anton Lander at this point, at 6.02, 211 and with good two-way ability some team may take him. Edmonton? Maybe. Lander does some things, can't score. Andersson would seem to have similar issues. We wait.