The Edmonton Oilers are off for the week, while the rest of the league catches up to their 50-game plateau. It is time to take stock, as we did with the 2016 draft yesterday and will do later in the week in regard to trade targets. The subject for today? Is this thing over? Pretty sure, but it will be interesting to see how this thing rolls.
THINGS TO TALK ABOUT
Oilers send down Griffin Reinhart, Brad Hunt and Zack Kassian. I suspect this is the Oilers version of those old Star Trek episodes where Kirk, Spock and Skinnini go down to the planet Vlaxar—who isn't coming back? I can't see Brad Hunt getting back again, but suspect the other two are here a week from today.
Loaded for bear in February. The Oilers will have Connor McDavid, Brandon Davidson and Oscar Klefbom back next month, although we are not absolutely certain they will be back at the same time. The club will be better with them, no doubt.
Is it really over? Edmonton is 19-26-5 (43 points) currently and play 14 February games. If they go 7-6-1 (their December record) they will reach the trade deadline at 26-32-6—pretty sure that would be 'dead skunk in the middle of the road' territory. Even 9-4-1 would mean Edmonton seeing the end of February with 62 points in 64 games. Hard to get to 85 points from there.
Who should they trade? I think the highest return will come from Teddy Purcell, but if Peter Chiarelli can offload some of these contracts (Justin Schultz, Mark Fayne) that wouldn't hurt the summer. I remain solidly on the side of retaining Mark Fayne.
Will they sign anyone this month? Not sure. Eric Gryba and Teddy Purcell are UFAs who might get consideration, but they are also trade assets and Edmonton traded a lot of picks last summer. I think Zack Kassian will eventually be signed as well, but that is for summer.
Who was the big star in January? Cam Talbot. He was outstanding. In the last 10 games of the month, he was in eight of them and had a .935SP with a shutout.
How many of the eligible draft picks from the past will they sign? Not many, it is a weird group to be sure. That 2014 draft is the '1980s mix tape' of drafts—Leon and William Lagesson being the exceptions.
Will the Oilers trade for prospects as opposed to draft picks? I think there is a real chance we see prospects here at the deadline. I wrote (and will do the same this year) about each AHL division and their prospects a year ago (here is the West Division, including OKC). If you look at Edmonton's AHL roster for next year, expect some procurement. Johnny Boychuk style trades could be in vogue, NHL players for up and comers without a lot of NHL time.
Will they sign college graduates and overaged juniors? Because of the lack of prospects in the chute, I believe we will see both NHL contracts (50-man) and AHL contracts signed in the spring and summer. Edmonton has a lot of guys who aren't going to make it (imo) in their system. Tyler Pitlick, Martin Gernat, Andrew Miller and Ryan Hamilton may be gone this summer, and I think we could see a David Musil or Dillon Simpson trade (Edmonton has so many lefthanded defenders, they can afford to trade off a few).
DEFENSE, 2015-16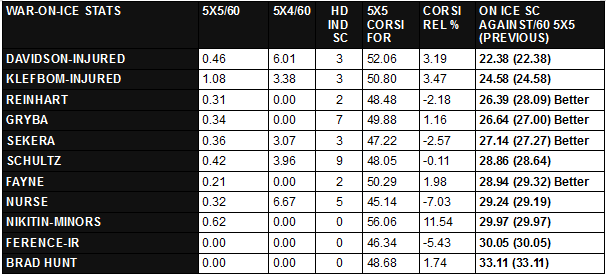 How many of these players is likely to be back? I think you can make the case for Andrej Sekera, Oscar Klefbom, Darnell Nurse, Brandon Davidson and Griffin Reinhart, with Eric Gryba possible. If you add Sami Vatanen to that list? Better. Is it enough?
Klefbom—Sekera; Nurse—Vatanen; Reinhart—Davidson with Gryba. Still inexperienced, maybe the club pulls the trigger on a youth for experience deal? What would that look like? Suspect Chiarelli could fetch a lot for one of the kids on blue. Is there a young Dan Boyle out there?
CENTERS, THIS YEAR

Knowing Todd McLellan as we do, I can see Nuge-Draisaitl as a duo next season, with McDavid getting the two best wingers who work with him on the other impact offensive line. Mark Letestu is fine as 4C, but I do think we will see a replacement for Anton Lander base on how things have gone this year. Either way, the other center needs to be good on the PK. Is Vern Fiddler 50 yet?
WINGERS, THIS SEASON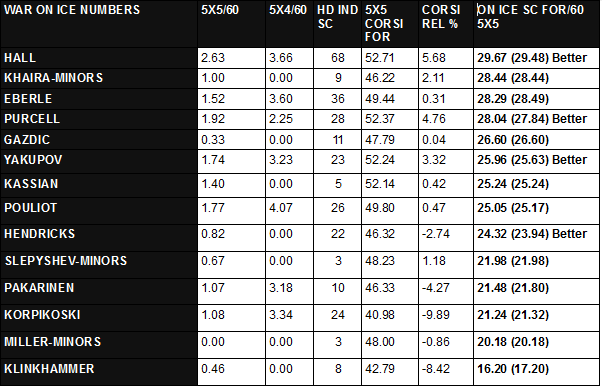 We talked about it this weekend, but if you look at the 5×5 scorers, there is a strong case to be made for bringing back eight wingers! Seriously. Hall—Eberle; Pouliot—Yakupov; Kassian—Purcell; Hendricks—Pakarinen. And that doesn't include Leon.
Seriously, if you look at the 5×5/60 and the Corsi numbers, this team looks pretty near set on the wings. Throw McDavid, Nuge, Leon, Letestu and Martin Hanzal (I keed!) in there and we are cooking with petrol.
MCDAVID'S INJURY
I kept asking when he was cleared for contact, and the answer didn't come (that I saw) until yesterday. Connor McDavid may be the first hockey player the Oilers were over cautious on, but from what we know (and don't know) I am surprised at the rage in patience shown.
For me, there are things to be worried over in regard to this management group, beginning with Justin Schultz playing a feature role in spite of having one year's experience five times.
As has been the case for many years now, when the news comes out, the whip comes down, and the fuel is fired. Oilers Nation is a good comp for the Tower of Babel, with McDavid's injury and handling the latest in a long line of hills to die on. I hope we can move on some day and speak of things in less heated tones. We are certainly better at hyperbole and rage, but I do not think we are better people.
LOWDOWN WITH LOWETIDE
A fun show today! Scheduled to appear:
Scott Burnside, ESPN. Are the Florida Panthers real? Did Jagr sell his soul for the fountain of youth? Plus trades and Stamkos.
Brad Gagnon, Bleacher Report. A crazy NFL weekend.
Sunil Agnihotri, Copper & Blue, The SuperFan. Justin Schultz and the march into madness.
Jeff Hauser, Radio Hauser. He called the Broncos victory in our Friday conversation, today I will get lottery numbers.
10-1260 text, @Lowetide on twitter. See you on the radio! (I am filling in for Jamieson today, so hang around if you can).