Brandon Davidson began the year at the lowest rung of the NHL depth chart, and did not break from the starting gate like a bat out of hell. As Todd McLellan and Peter Chiarelli figured out the incumbent veterans (they were not very good), the young man rose through the ranks. At this point, most of us peg Davidson as the third best defensive option on the entire damn team. His contract next year should be a bargain and hopefully there will be some term.
Peter Chiarelli claimed Adam Clendening during the shutdown week, and I think at-bats for the new guy should be plentiful. Treat him like he could be the next Brandon Davidson. Why? He is not 20, but rather 23 (Davidson is 24), and he may be found money. Justin Schultz scored 3-6-9 in 36 games during the first half, can Clendening cover that in the final 32? I think we might be about to find out, and if he is, the Oilers may have added TWO genuinely useful hockey defensemen not named Darnell Nurse and Griffin Reinhart during the year. That would be a positive developmental arrow.
.@zkassian9 nets one to break the tie & Ford scores minutes later to put the @condors up 4-2 #MBvsBAK pic.twitter.com/bF8ifsnVc0

— AHL (@TheAHL) January 30, 2016
The Bakersfield Condors have been unleashing the hounds offensively this week, and the January totals are fantastic. I have mentioned this before, but the turn of the calendar seems to light a fire for some players. Here are the performances for the month:
Brad Hunt 2, 1-3-4 (2.00)
Josh Winquist 7, 4-5-9 (1.29)
Tyler Pitlick 7, 3-4-7 (1.00)
Andrew Miller 9, 3-5-8 (0.89)
Joey Laleggia 7, 3-3-6 (0.86)
Matt Ford 9, 4-3-7 (0.78)
Jordan Oesterle 11, 2-6-8 (0.73)
Jujhar Khaira 6, 1-3-4 (0.67)
Ryan Hamilton 11, 4-3-7 (0.64)
Zack Kassian 6, 2-1-3 (0.50)
Marco Roy 10, 2-2-4 (0.40)
Josh Currie 11, 0-4-4 (0.36)
Kellen Jones 10, 1-2-3 (0.30)
Phil McRae 7, 0-2-2 (0.29)
David Musil 11, 0-3-3 (0.27)
Greg Chase 4, 0-1-1 (0.25)
Griffin Reinhart 9, 1-1-2 (0.22)
Kyle Platzer 5, 0-1-1 (0.20)
Dillon Simpson 11, 1-1-2 (0.18)
Martin Gernat 7, 0-1-1 (0.14)
Kale Kessy 8, 1-0-1 (0.13)
Niki Nikitin 8, 0-1-1 (0.13)
Mitch Moroz 9, 0-1-1 (0.11)
Young prospects in italics. Josh Winquist, still without an NHL contract, and Tyler Pitlick, likely in his final months as an Oilers prospect, lead the way. Depending on how the summer goes, we might be looking to some of these prospects as value contracts one year from now. Who is the next Brandon Davidson? That is the mystery. Is Tyler Pitlick, at 24, ready for the NHL? I have always cheered for him but at this point betting on him is unwise. If he makes it, we celebrate.
RETURN OF THE VOLLMAN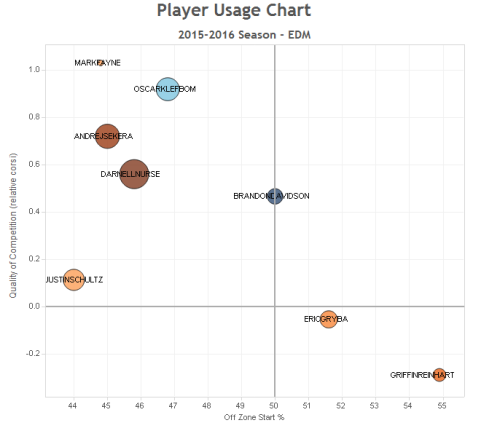 I haven't used the Vollman in awhile, and do understand the limitations, but for me they offer a quick and effective glance at who is facing the tough opposition and how they are performing. Vollman can be found here. Oscar Klefbom, Brandon Davidson and Mark Fayne look good by this metric, Andrej Sekera less so but I will use my Luba mulligan on him (Innocent, with an explanation), and argue his number with Fayne would render a far prettier bubble color.
FINAL 32 ON THE BLUE
Along with playing the hell out of Clendening, I think there are some things worth talking about on Oilers D in the remaining months.
Brandon Davidson looks ready to go, and that is a big deal. For me, he is going to be one of the four best options on the blue and should have a feature role now to the end of the year.
Oscar Klefbom news remains sparse (he has played 30 of 52 games) and that is not terrific, based on how the Oilers release information. WILL we see him AT ALL in the second half? At this point, I suspect we should probably assume he will play 50 games or less during the 2015-16 season.
Andrej Sekera—Mark Fayne is working as a tandem, I sincerely hope Todd McLellan keeps them together. They are 50.4 percent 5×5 Corsi for together and give Edmonton something they can count on.
Darnell Nurse has been backed off from the top competition (Sekera pairing) but still plays a helluva lot (last two games before the break: 22:49 and 21:23) and was minus five in the final two contests before the break. Hockey-reference has his defensive zone starts at 53.8 percent.
With all those things said, what about running this as a six after the break:
Sekera—Fayne
Davidson—Clendening
Nurse/Reinhart—Gryba
With Justin Schultz in the pressbox until trade. You could run Nurse—Davidson but I like the idea of giving Clendening a full shot in these final games. Fair?
The dagger from @teddypurcell16. ? #EDMvsFLA pic.twitter.com/dvQg2iKMHq

— Edmonton Oilers (@EdmontonOilers) January 19, 2016
I have been thinking about RW over the last few days, and have come to the conclusion the Oilers have a chance to run a far less expensive 1-2-3 at the position should the need arise. First, let's look at the numbers:

Jordan Eberle, despite all the injuries, is having a pretty nice season. The 5×5/60 number has been trending in a good direction for some time and I bet he is around 2.00/60 by season's end. As I have mentioned previously, ideally PC finds a way to add defense without tearing up this forward group. Eberle can play with any of the Oilers centers and flourish, I think we can say that without actually seeing him with 97.
Teddy Purcell has posted a great season, no doubt this is a productive player delivering at the high end of his abilities. Suspect he is dealt, but for me this is a player who has earned consideration, and if signed I will be pleased.
Nail Yakupov has posted solid numbers across the board and is on pace for a 30-point (in 60 games) season. If you look at the names he is playing with since they broke up the McDavid band, that is solid production.
Zack Kassian should not be underestimated as a possible top 6F option for next season, this is a productive player. If you look at his career, Kassian has been a solid producer and Chiarelli likely factors him in as a possible option on the top 2lines next season—with good reason.
I think the Oilers have to look at those left-handed defensemen and draft picks as their currency for trade, and possibly move away from dealing a RW as primary option. Signing Purcell to a lesser deal would allow the Oilers to proceed while also trading Eberle, but for me he remains the best in the group and keeping him should remain the number one option. Look for the lefty blue for trade answers, that is my guess.