It is a Saturday night in mid-January, and Leon Draisaitl is pumping those legs and driving up the middle of the ice. As he approaches center, he commits and passes to Teddy Purcell and presses toward the blue line. Purcell quickly gains the zone, and sees a passing lane to Taylor Hall as the Calgary defense gives up the line so they can contain Leon. It is beautiful, clinical and deadly effective.
I love that Leon, but cannot decide if that version is better than the one we saw playing right-side with Nuge and Taylor Hall earlier in the season. The big man is a load no matter, but the finesse side of his game—including those gorgeous backhanders to glory—seems more apparent on the wing.
Is it important? Yes, yes it is. If the Oilers use Draisaitl as a winger, we can look forward to a top 6F that has size on the wing on both lines:
Hall—Nuge—Draisaitl
Pouliot—McDavid—Eberle/Yakupov/Kassian
If the German stays at pivot, the look of the top two lines changes a lot:
Hall—Draisaitl—Eberle
Pouliot/Kassian—McDavid—Yakupov
In this scenario, I see Nuge on a third line, with perhaps Pouliot or Kassian and an inexpensive winger like Iiro Pakarinen or Anton Slepyshev.
WHEN WILL WE KNOW?
A lot of this depends on how the summer shopping goes. I also think we could see a signing this month (Purcell) that would heavily impact things. If I were king, my forward keeper list would be McDavid, Hall, Nuge, Leon, Eberle—until at least 2019. I suspect we see that group broken up long before then, possibly as early as this summer.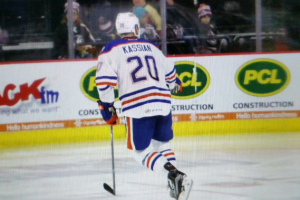 CONDORS PLAY TONIGHT
The Bakersfield Condors play tonight, it might be the last AHL game for Zack Kassian for exactly one long time. We could see Griffin Reinhart recalled as well, and I would not rule out a roster move Monday (McDavid, Davidson coming off IR, getting mighty crowded). One of the things I like to do around this time each season is to check 20-year old AHL scoring. Here is last year:
Charles Hudon (HAM) 43gp, 11-25-37
Brendan Leipsic (MIL) 39gp, 4-27-31
Connor Brown (TOR) 41gp, 11-20-31
Mikhail Grigorenko (ROC) 36gp, 10-20-30
Alexander Khokhlachev (PRO) 36gp, 10-20-30
Emile Poirier (ADI) 34gp, 12-15-27
Connor Carrick (HER) 40gp, 6-21-27
Kerby Rychel (SPR) 38gp, 12-14-26

Chris Tierney (WOR) 24gp, 6-17-23
Tuevo Taravainen (ROC) 33gp, 6-17-23
Nick Kerdiles (NOR) 43gp, 8-15-23
Derrick Pouliot (WSB) 27gp, 7-15-22
J-S Dea (WSB) 37gp, 10-9-19
Henrik Samuelsson (POR) 41gp, 8-11-19
Ryan Culkin (ADI) 34gp, 1-17-18
Justin Auger (MAN) 38gp, 6-12-18
Taylor Leier (LEH) 39gp, 9-9-18
Ryan Pulock (BST) 29gp, 12-5-17
Ville Pokka (ROC) 38gp, 6-11-17
Bogdan Yakimov (OKC) 38gp, 6-11-17
And this year:
Mikko Rantanen (SA) 26, 13-19-32 (he is 19!!)
Michael McCarron (STJ) 42, 13-15-28
Jason Dickinson (TEX) 45, 10-18-28
Nick Ritchie (SAN) 30, 15-11-26
Anthony DeAngelo (SYR) 41, 4-21-25
Chase De Leo (MAN) 42, 11-13-24
Jordan Subban (UTI) 35, 7-16-23
Jordan Schmaltz (CHI) 42, 3-19-22
Tobias Lindberg (BIN) 30 4-17-21
Adrian Kempe (ONT) 31, 8-12-20
Ivan Barbashev (CHI) 37, 7-13-20
Nic Petan (MAN) 27, 3-17-20
Nikolay Goldobin (SJ) 32, 11-8-19
Vladislav Kamenev (MIL) 27, 8-11-19
Chris Bigras (SA) 37, 6-13-19
Sergey Tolchinsky (CHA) 39, 5-13-18
Justin Bailey (ROC) 44, 6-11-17
Adam Erne (CHA) 30, 8-8-16
Shea Theodore (SAN) 28, 4-12-16
Madison Bowey (HER) 40, 3-13-16
Edmonton's top 20 year old is Kyle Platzer (32, 5-8-13) who is about where Bogdan Yakimov was offensively a season ago. The most impressive October-to-January 20 year old in recent Oilers AHL history? Teemu Hartikainen (50, 14-18-32).