The Edmonton Oilers started the post All-Star portion of the year with a very encouraging win over the Columbus Blue Jackets. They are on the road for the rest of the week and their opponents are not the 1985 Oilers. Can they go 3-1-0? One game at a time.
CUTS LIKE A KNIFE, YEAR OVER YEAR
Oilers in October 2014: 4-5-1
Oilers in October 2015: 4-8-0
Oilers in November 2014: 2-9-3
Oilers in November 2015: 4-7-2
Oilers in December 2014: 2-8-4
Oilers in December 2015: 7-6-1

Oilers in January 2015: 5-7-1
Oilers in January 2016: 4-5-2
Oilers in February 2015: 5-6-1
Oilers in February 2016: 1-0-0
Oilers after 51 in 2014-15: 14-28-9, 37 points (-51 GD)
Oilers after 51 in 2015-16: 20-26-5, 45 points (-23 GD)
G52 last season was a 2-0 loss to Pittsburgh, Mark Arcobello assisted on the first goal and David Perron scored the other. There's a reminder of addled behavior in every port, ladies. I think 2-2-0 for the week is reasonable, but secretly hope Ottawa and Montreal are as crappy as they look on television.
DEFENSE, 2015-16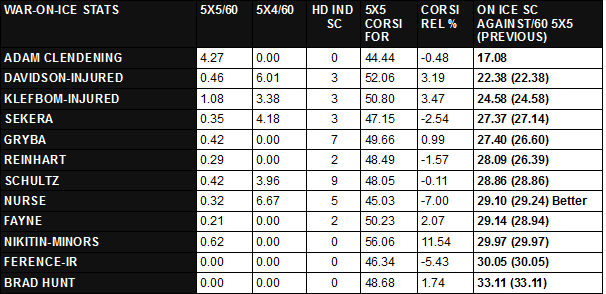 Brandon Davidson comes off the IR today (we hope) and that should mean a better six this evening. How would you run the pairs?
Sekera—Fayne. This duo has been running well for some time now, Sekera's possession numbers are looking better and Fayne in Vayne is in the black in the real Rel gone categories. Both can play special teams and they have veteran savvy. Part of me worries we will be leaving Fayne in Montreal.
Reinhart—Gryba. They went 17-17 against Columbus and I am willing to try them again as second pair. This pairing may not last the evening, but it would really help the club if the duo could stick together until Oscar Klefbom arrives from IR.
Nurse—Davidson. If you are going to get Nurse straightened away, this should do it. The Senators are a fast, skilled team, so the Oilers may dress 7D.
Justin Schultz and Adam Clendening would be the designated sitters if they go V6.
What did you think of Clendening? It takes awhile to get a feel for a player, but he did have calm feet in some situations to my eye. Made some effective, creative short passes and grabbed the easiest apple he will ever get, I suspect he will play tonight.
If Justin Schultz is dealt, I wonder if it comes last minute or right soon. A player like Schultz carries significant money for what he brings, Edmonton may have to retain on him for the remainder of the season. Could Ottawa use him? Montreal? Pittsburgh?
CENTERS, 2015-16

Leon Draisaitl is across-the-board fabulous this season, all the cannons are pointed in the right direction. The goal he scored the other night was violent—Hall was offside, owned Johnson, and then passed it to Draisaitl who used that shovel to power drive the tally. Good things happen when he is on the ice, and it still hasn't struck midnight.
Connor McDavid's numbers are also impactful, and I wonder if he can keep that 5×5 number this high through the end of the season. If he can do it, he may lead the league in the category (Leon is currently No. 2). His 5×4/60 number would be enough for top 5 if he had the at-bats.
Ryan Nugent-Hopkins had surgery January 21 and he estimated time of return was six-to-eight weeks. That means early to mid-March for his return. Can he improve those numbers? Every time I look at the Nuge's season I am reminded of Taylor Hall a year ago, right down to the trade chatter.
Anton Lander and Mark Letestu were supposed to audition for the 3C job (with the loser being 4C). Letestu has been far more productive and I would wager Lander was part of the conversation before they settled on waiving Luke Gazdic. That said, it is important to remember the man does have some skills, has an inviting contract, and season long slumps do exist.
WINGERS, 2015-16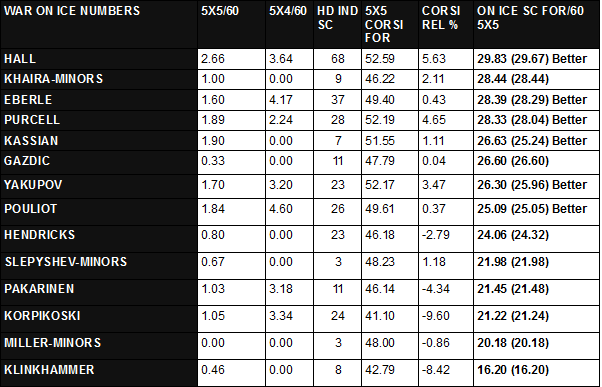 Taylor Hall remains Chance and I think we are seeing him in his de facto prime. Brilliant, determined, capable and more responsible. He turned the puck over in the CBJ game at the blue line and got hammered by the broadcast crew, but I trust this guy all day with the puck on his stick, entering the zone. You don't buy a Veyron to play it safe, that's for all the other guys.
Jordan Eberle is going to push those scoring totals high in the Rockies if he can hang with McDavid. He seems a little slow to motor from a standing stop this year, suspect we will find he has been banged up a little somewhere along the line.
Teddy Purcell has a nice group of numbers in every category, you could bitch about the PP effectiveness but it was lost in the weeks without McDavid. I don't see a reason to hang that on Purcell, the entire thing was slipping a gear. Probably playing his last games as an Oiler.
Zack Kassian gives Todd McLellan all kinds of options, he can play up and down both wings and be effective. Most encouraging? That 5×5 number means the coach can deploy him with real skill and not miss a bear.
Nail Yakupov is posting terrific possession numbers and the scoring totals are strong, especially on the 5×5. His salary means he may well be a solid value contract next year.
Benoit Pouliot doesn't get a lot of respect, but if you look at his numbers and how he plays, the guy is a big part of the club. I like his ability to delay progress by the opposition after a failed sortie. He is the human rain delay, very effective at disrupting momentum.
PROJECTING 2016-17
I know it is early, but these blasted road trips often mean the Oilers leave behind a defenseman on Long Island (more in a minute) or Boston. If I am reading the PC tea leaves correctly, we might see his white board for next season like this:
Hall—RNH—Draisaitl
Pouliot—McDavid—Eberle
Kassian—Hanzal—Yakupov
Hendricks—Letestu—Pakarinen
Sekera—Hamonic
Klefbom—Vatanen
Nurse—Reinhart
Talbot—Brossoit
Seem fair? That means all of Purcell, Fayne, Gryba, Schultz, Nilsson, Korpikoski might be avialable. I think the Oilers have three outside additions to target (3C, two RH D) and maybe they are already here (Fayne). Question: Do we see three scoring lines next season, or three lines scoring? By that I mean, are we about to see a 3line that brings physical play (Kassian), a checker (Hanzal) and a scorer (Yakupov) that can score and check? We wait. Note: I am not saying Hanzal, Hamonic and Vatanen are getting here for free, just blue-skying the future and ideal situations.
TRADE DEADLINES, PAST SIX YEARS
Deadline 2010: Traded D Denis Grebeshkov to NY Islanders for draft pick (Curtis Hamilton); Traded Lubomir Visnovsky to Anaheim Ducks for Ryan Whitney and draft pick (Brandon Davidson); Traded D Steve Staios to Calgary Flames for Aaron Johnson and draft pick (Travis Ewanyk).
Deadline 2011: Traded L Dustin Penner to LA Kings for Colten Teubert and draft picks (Oscar Klefbom, Daniil Zharkov).
Deadline 2012: Traded D Tom Gilbert to Minnesota Wild for Nick Schultz.
Deadline 2013: Traded third-round pick (Niklas Hansson) to Dallas Stars for Mark Fistric; Traded a fourth-round pick (Nick Magyar) to the Toronto Maple Leafs for Mike Brown.
Deadline 2014: Traded G Ilya Bryzgalov to the Minnesota Wild for a draft pick (William Lagesson); Traded a third-round pick (Dennis Yan) and a fifth-round pick (Matthew Berkovitz) to the Anaheim Ducks for Viktor Fasth; Traded D Nick Schultz to the Columbus Blue Jackets for a draft pick (Tyler Bird); Traded Ales Hemsky to the Ottawa Senators for draft picks (Liam Coughlin, Sergey Zborovskiy).
Deadline 2015: Traded L David Perron to the Pittsburgh Penguins for Rob Klinkhammer and a draft pick (Mathew Barzal); Traded D Jeff Petry to the Montreal Canadiens for draft picks (Jonas Siegenthaler, Caleb Jones).
The rebuild has been delayed by many of these trades, the Penner trade fetching Klefbom via the draft but sending away Jeff Petry at the moment the Swede was ready to push. The GMs of this era (Tambellini, MacTavish) remind me of the Star Trek Voyageur episodes with Kurtwood Smith (Memory Alpha) in that the organization kept re-setting and going back to square one, over and over. Every trade deadline involved dealing away perfectly useful players. Although Teddy Purcell is not Jeff Petry, I do think the organization should pause and think about retaining some of the good players (reportedly) in play.
LOWDOWN WITH LOWETIDE
A fun show this morning, TSN1260. Scheduled to appear, beginning at 10:
Scott Rintoul, TSN. Scott is at the Super Bowl this week, we will get some flavor and I might slip in an Andrew Harris question while I am at it.
James Duthie, TSN. Also at the Super Bowl, we will get a flavor for the week and I will ask about crazy experiences doing live outdoor television at major events.
Frank Seravalli, TSN. We will discuss the trade deadline, McDavid's return and who is out of this race, anyway?
Darcy McLeod, Because Oilers. Darcy will appear at 12:20 today, I am filling in for Dave Jamieson, and McLeod is such a big star now he dictates the times. Oilers, deadline, defense, Talbot.
10-1260 text, @Lowetide on twitter. See you on the radio!