The main purpose of a farm club is to take talented but flawed players and grind them into useful role players for NHL service. That's it.  The final season in OKC saw the Oilers deliver 11 interesting rookies into the N.A. pro ranks:
R Iiro Pakarinen 39GP, 17-11-28 (graduated to the NHL)
C Bogdan Yakimov 57GP, 12-16-28
D Jordan Oesterle 65GP, 8-17-25
L Josh Winquist 46GP, 8-11-19
D Dillon Simpson 71GP, 3-14-17
F Kellen Jones 49GP, 5-10-15
C Connor Jones 41GP, 4-6-10
C Jujhar Khaira 51GP, 4-6-10
L Mitchell Moroz 66GP, 5-4-9
D CJ Ludwig 28GP, 1-4-5
G Laurent Brossoit 53GP, 2.56 .918
Some of these players (Winquist, Jones, Ludwig) did not have NHL contracts but qualify as entry-level prospects. Here are their numbers in year two pro, with other prospects who have been added along the way:
D Jordan Oesterle 31GP, 2-16-18
L Josh Winquist 16GP, 7-9-16
C Jujhar Khaira 23GP, 4-7-11
C Bogdan Yakimov 19GP, 3-4-7 (Now in KHL)
D Griffin Reinhart 17GP, 1-5-6
D Dillon Simpson 29GP, 1-5-6
L Mitchell Moroz 30GP, 2-4-6
F Kellen Jones 12GP, 1-2-3
C Connor Jones (Now playing for Bridgeport Sound Tigers)
D CJ Ludwig (Now in ECHL)
G Laurent Brossoit 24GP, 2.61, .924
I would guess we will see Laurent Brossoit graduate to the NHL next season (if not opening night, then some time during the year), and players like Jujhar Khaira and Griffin Reinhart are pushing for full time work.
THIS YEAR'S ROOKIES
D Joey Laleggia 35GP, 6-13-19
C Kyle Platzer 33GP, 5-8-13
C Josh Currie 27GP, 3-5-8
R Greg Chase 19GP, 1-6-7
C Marco Roy 23GP, 4-2-6
L Anton Slepyshev 20GP, 4-1-5
L Braden Christoffer 30GP, 1-3-4
C Alexis Loiseau 12GP, 1-2-3
C Leon Draisaitl 6GP, 1-1-2
D Darnell Nurse 6GP, 0-1-1
D Ben Betker 1GP, 0-0-0
G Eetu Laurikainen 5GP, 3.41 .902
The Condors were robbed of two blue-chip prospects (Draisaitl, Nurse) because they were needed at the NHL level, but that is the function of the AHL team. Among the other new pro players, I think Anton Slepyshev has genuine promise and was disappointed he got hurt (hasn't played since January 2). One of the players to follow in Bakersfield over the rest of this season is Slepyshev.
Gazdic, Klinkhammer, and Slepyshev all in – Brossoit starts. More in Countdown >> https://t.co/t8fCPT0vzM pic.twitter.com/pBiecea5hA

— Bakersfield Condors (@Condors) February 5, 2016
Slepyshev returns to action this evening, along with Rob Klinkhammer and Luke Gazdic. The Condors sent Braden Christoffer to the ECHL (Norfolk) in order to make room. The Condors current roster has changed a lot since opening night.
OPENING NIGHT CONDORS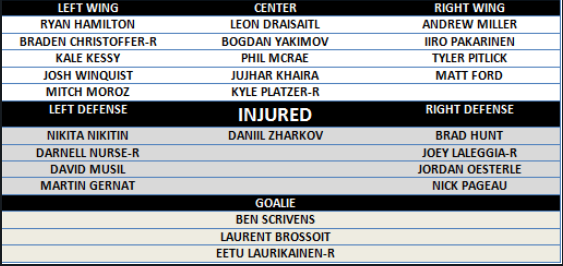 CURRENT CONDORS
Goal (2): Laurent Brossoit, Eetu Laurikainen
Defense (7): Brad Hunt, Joey Laleggia, Jordan Oesterle, David Musil, Nikita Nikitin, Dillon Simpson, Martin Gernat
Center (5): Andrew Miller, Jujhar Khaira, Josh Currie, Phil McRae, Marco Roy
Left Wing (5): Ryan Hamilton, Josh Winquist, Rob Klinkhammer, Kale Kessy, Mitchell Moroz
Right Wing (5): Matt Ford, Anton Slepyshev, Kyle Platzer, Tyler Pitlick, Kellen Jones
Gone: G Ben Scrivens (traded), D Darnell Nurse (Edmonton), D Nick Pageau (Norfolk), C Leon Draisaitl (Edmonton), C Bogdan Yakimov (KHL), L Braden Christoffer (Norfolk), R Iiro Pakarinen (Edmonton).
So far, the Condors AHL organization is doing its job. Sending Nurse, Draisaitl and Pakarinen to the show is the function of the minor league team. The main players to watch for in terms of graduation now are Brossoit and Slepyshev. The Russian's return for the game tonight is a big deal, and I will update as the game rolls along.