We lived in an old school 17 miles north of Maidstone, Saskatchewan. My brother and I had chores on Saturday (my Dad worked for Husky, he worked most Saturdays those years), and chores included bringing in coal, taking care of the goats (my brother couldn't drink cow's milk, so we had goats. I loved them, strange damn animals though) and running to the Alan Store if Mom needed anything.
When the chores were done, we would play street hockey on our driveway, often in the bitter cold, sometimes with the neighbors but it was a long way to neighbors back then. Later in the afternoon, we would go inside for Stampede Wrestling, Bugs Bunny and Hockey Night In Canada. Back then, you got one game—from Toronto or Montreal—and they would play (iirc) each other a lot. After that, it was a steady diet of Chicago and Detroit, with the Bruins and Rangers thrown in here and there. By 1971, the Canucks would come out east and get hammered on Saturdays in front of a national audience, and they might show a hi-lite of Reggie Leach scoring for Boston in the game in Toronto. Or vice versa.
You would have strange verbal around the television set. For instance, Frank Mahovlich in a Canadiens uniform was a sin against God and English Canada, Gary Smith needed to stay in his net lest he ruin the game of hockey, Derek Sanderson was a long hair and a hood, and Floyd Smith might have been fast and exciting to my Dad and Grandpa, but he had the face of a Fargo and was not cool like the hippie Bruins. There seemed to be new stars emerging every Saturday night—Jim Dorey, Chuck Lefley, Marc Tardif, Errol Thompson. They were instantly famous, because they played well in the only game Canada saw that week.
I would hang on every word. Between periods would be the out of town scoreboard ("St. Louis ahead of Pittsburgh 2-1, both Blues goals by Red Berenson and Jean Pronovost just scored for Pittsburgh"), discussions of various NHL stories and a between-period guest. My hockey world in 1971 was this: The Hockey News, Hockey Night in Canada and the 8:05 sports every morning on CKSA Lloydminster (before the bus came), plus a mid-week game that I would sometimes get to watch but not always.
I loved it. Nowadays, we live in an era where every game is pretty much available on television, I can watch AHL, CHL, College and Euro games at will. Because of the volume, no one game or event can reach the heights of the single weekly game on the national event horizon. Not possible.
In 1971, my imagination fueled my passion for the game, and gave life to names on paper and boxscores from a schedule never seen. This beautiful game relied on our shared memories, and our flair for storytelling as chronicle, and was special in a way it can never be again. It is hockey day in Canada, a celebration of our wonderful game. In my life, I have never found a more beautiful sound than tape-to-tape and skates cutting ice. It is Saturday in hockey season. The chores are done, we are home.
TABERNAC SATURDAY, YEAR OVER YEAR
Oilers in October 2014: 4-5-1
Oilers in October 2015: 4-8-0
Oilers in November 2014: 2-9-3
Oilers in November 2015: 4-7-2
Oilers in December 2014: 2-8-4
Oilers in December 2015: 7-6-1

Oilers in January 2015: 5-7-1
Oilers in January 2016: 4-5-2
Oilers in February 2015: 5-6-1
Oilers in February 2016: 2-0-0
Oilers after 52 in 2014-15: 14-29-9, 37 points (-53 GD)
Oilers after 52 in 2015-16: 21-26-5, 47 points (-18 GD)
In G53 a year ago, the Oilers lost badly to the Toronto Maple Leafs (5-1) as only Luke Gazdic could snipe for the Oildrop. The Edmonton Oilers have a very nice opportunity to push beyond last place and into what I will call mid-level of the second division. This morning, there are six teams (Columbus, Buffalo, Edmonton, Winnipeg, Toronto, Calgary) tied for No. 25 (and last) overall, and as an Oilers fan, I would like to see the team finish in front of the whole damn bunch. That would be shy of my prediction (No. 22) before the season began, but at this point some is better than none. If they can hurdle this crew by end February, perhaps we can talk about going higher.
OILERS DEFENSE, 2015-16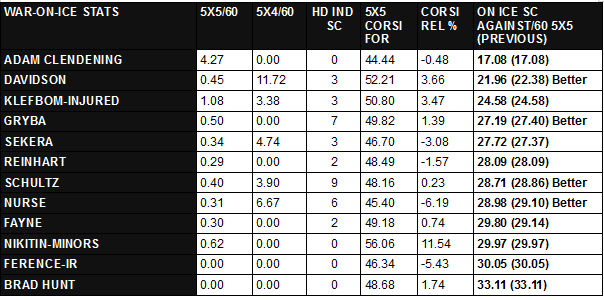 Brandon Davidson is such a terrific story, look at those numbers. If we can agree Edmonton enters the summer with Andrej Sekera, Oscar Klefbom and Davidson as three legs of the table, then adding Travis Hamonic should give them a solid top 4D. Fair? After that it is Darnell Nurse/Griffin Reinhart and whatever righty they choose among Fayne, Gryba or Phil Larsen. I keed. Sorta.
Darnell Nurse is improving across most of these metrics, but we can also see there is some work to do in order to clean up the overall season number. A few more efforts like the one against Ottawa should have him walking on sunshine soon, maybe heading toward a possession number nearer 50 percent. Often in live, survival is success, but the Oilers need to be careful with their emerging talent. He is still averaging 21 minutes a night, but his last four games have been going in a good direction: TOI totals of 22:49, 21:23, 20:56 and (most recently) 18:02.
Mark Fayne and Justin Schultz are two guys who are probably in play at the trade deadline, I could see the Oilers coming back without one of them from the road trip. If the Oilers trade Fayne and sign Eric Gryba (absolutely possible) it will be a victory of style over substance. Edmonton is going to look like the 2009-14 Bruins, and that means size along with skill, aggression along with intelligence.
CENTERS, 2015-16

Leon Draisaitl and Connor McDavid are enjoying fantastic seasons across the board. I mentioned that Leon's goal reminded me of Frank Mahovlich on Thursday night, and his usage as a winger may be tempting again in the fall. That said, his NHL career will be at center, he has the acumen to play the position and that big body in the middle changes everything.
McDavid's 5×5 and 5×4 numbers are beyond the pale, he is an absolute wonder. His speed is such a major issue for opponents you can see the impact already. He has the capacity to make very good, veteran NHL defensemen look silly, it will be interesting to see how P.K. Subban handles him this afternoon. Connor McDavid can pass very good NHL defensemen like they are a house on the side of the road. Those defensemen, in those moments, are identical to the viewer: Spectators. It is a grand moment to see.
WINGERS, 2015-16
Taylor Hall's 2.69/60 at 5×5 ranks him No. 5 in the NHL, No. 3 on his team. Lordy. We haven't had a chance to see it much, but the dual threats of the McDavid and Hall lines should be a tough matchup for any NHL team—even when the Oilers are on the road.
Jordan Eberle's boxcars and underlying numbers are going to spike like crazy now. It has been a weird season for him, but watching his ability to cash these chances will cement his status as an ongoing Oiler. I have always felt he would be the one to stay right to the end of the line, wonder if he will ever get closer to being traded as he (reportedly) was early in the year.
Nail Yakupov is finding it difficult to score without an offensive center (8gp, 2-0-2 in the last 10 Oilers games, only 15 shots) but his possession numbers remain strong. I don't know what the Oilers have planned for him, but at $2.5M he can help this team. When playing with McDavid, Yakupov was 3.04/60 at 5×5, that is an inexpensive plug-and-play for next year's No. 1 scoring line.
Zack Kassian and Iiro Pakarinen are pushing their way onto next year's team, I wonder if the Oilers would consider running them with an incoming free-agent center on a 3line? I think Todd McLellan can probably run what he has now up front, with a more substantial 3C added to these two men.
Pakarinen is holding off the contenders for that last winger spot, but Tyler Pitlick (9gp, 3-5-8 since January 1) and Jujhar Khaira (8gp, 2-3-5 same time period) will probably get a look if the opportunity arises through the final 30 games.
@Lowetide Connor McDavid is going to leave Cole speechless and cost Therrien his job. Book it.

— Tyler Hupka (@HBomb1982) February 6, 2016
McDavid's presence makes this game special, this will be just the 16th time he has appeared in an NHL game. The Habs are a shambles, their coach is hanging by a thread, and Edmonton is 2-0-0 on the week with a chance to leap past the Flames and a few others, too. Best of all? Hockey all day long!! Love it! I will be on Saturday Sports Extra from noon to about 2:30 today, when the post-game show hits the air with Dean Millard. It is the first of 25 Hockey Days in Canada with Connor McDavid as an Edmonton Oiler. Let the good times roll!