The Edmonton Oilers reach G55 for the season in familiar territory: Back of the line, waiting for the lottery balls. Although the playoffs remain a distant bell, there are jobs to play for and a strong effort might get them a table in the second row on draft day. I think it is important for the Oilers to push—they did last season when other teams were selling off their best goalies—but at this point I think we are probably looking at a top-five selection at the 2015 draft. As the daylight begins to stay longer, this blog will begin the transition toward the draft and summer.
JURASSIC PARK, YEAR OVER YEAR
Oilers in October 2014: 4-5-1
Oilers in October 2015: 4-8-0
Oilers in November 2014: 2-9-3
Oilers in November 2015: 4-7-2
Oilers in December 2014: 2-8-4
Oilers in December 2015: 7-6-1

Oilers in January 2015: 5-7-1
Oilers in January 2016: 4-5-2
Oilers in February 2015: 5-6-1
Oilers in February 2016: 2-2-0
Oilers after 54 in 2014-15: 15-30-9, 39 points (-56 GD)
Oilers after 54 in 2015-16: 21-28-5, 47 points (-29 GD)
A year ago, Edmonton lost by a goal to the NY Islanders, Colin McDonald playing one of the best games of his NHL career. Todd Nelson's crew went 5-6-1 in this month, Todd McLellan's group is 2-2-0 with a schedule that could deliver any score you could imagine. The Edmonton Oilers, at this point, are like a box of chocolates—you never know what you are going to get.
DEFENSE, 2015-16
Brandon Davidson, Oscar Klefbom and Eric Gryba are all over 50 percent Corsi, and the two youngsters are playing in the toughest situations (according to the Vollman Sledgehammer). Gryba is playing in the softer situations and delivering over 50 percent in possession, lots of chatter about trading him at the deadline. Do NHL teams trade for Gryba's when Fayne's are available? Fayne plays the tough minutes and his possession is basically 50 percent. He does NOT bring the offense, but neither does Gryba. If an NHL team is scouting the Oilers available D (Fayne, Schultz, Gryba by my estimate) can there be any doubt about who is getting the good reports?
Andrej Sekera is the big hit by Chiarelli from last summer's attempt to help the defense. I like his offense, like him with the puck on his stick and he is a smart defender. I don't know what the summer will bring, but would hope Sekera, Klefbom and Davidson are part of the team moving forward. Now, about the other four men.
Darnell Nurse was going to make this team last fall, I don't think many of us were fooled by the Nikitin's, Ference's and Hunt's. I assume he will be part of the seven defenders opening night 2016, meaning that there are (probably) three spots open.
Mark Fayne would be a solid part of next year's team, I have zero problem with him alongside Sekera and he could also be effective on the third pair. It is my hope the Oilers either trade him now or happily enter the fall with him in the top six.
If the above is right, we have: Sekera—Fayne; Klefbom—Davidson; Nurse. If you add Travis Hamonic and Jason Demers, is that enough? It would be an improvement.
GET GOOD PLAYERS, KEEP GOOD PLAYERS
Is Peter Chiarelli shopping for one addition, or two? Is that second addition Sami Vatanen? One thing I see already from some blogs is the idea that Edmonton needs to add a Hamonic and a Vatanen in the same offseason. Two things: Very difficult to do, and if you are going to add those two pieces the chances of retaining the forwards intact is zero.
I think the best plan now is to take that lottery pick—say No. 3 overall—and trade it with something else for Hamonic and the Islanders first-round pick. So, the deal might be Puljujarvi and something for Travis Hamonic and No. 22 overall. Not Brandon Davidson, but someone in the range of the defensive prospects below him. Does that work?
One reason I think the Oilers should think about trading the pick? The bonus numbers in the contracts of Connor McDavid, Leon Draisaitl and Griffin Reinhart are substantial, adding another one for Puljujarvi means a lot of dollars tied up. I would rather see a more veteran group, possibly a team with only one or two (Brossoit, Slepyshev) rookies.
Griffin Reinhart's bonus dollars may mean another half season in the minors, and it is possible PC moves away from him based on the endless lefties on the roster.
CENTERS, 2015-16

It will hurt me badly to see this trio broken up, this is the kind of quality/depth at center we talked about in the early part of the century.
IF the Oilers decide they have to offload a winger, Leon can move to RW. I really like the depth these three men represent, and would be fine with Letestu as 4C. Don't know where that puts Lander but it is not a good place.
WINGERS, 2015-16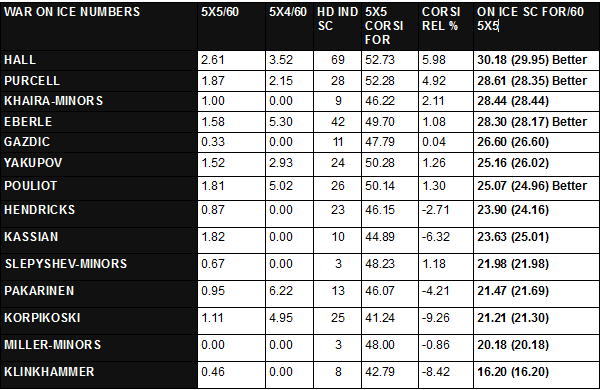 Taylor Hall, Jordan Eberle, Benoit Pouliot, Nail Yakupov, Matt Hendricks, Zack Kassian, Iiro Pakarinen and Lauri Korpikoski won't all be back, but I like most of them. Pains me to say one of the Finns has irritated me all year. ALL YEAR.
At even strength among wingers, Hall, Purcell, Pouliot, Eberle and Yakupov have been productive offensively. Yak will fall below 1.50/60 soon, but that is not his fault. Iiro Pakarinen has done quite a bit with not a lot.
Gotta say, I really like these wingers overall. Even Slepyshev had some moments.
POSSIBLE 2016-17 LINEUP
Goal (2): Cam Talbot, Laurent Brossoit (rookie).
Defense (7): Andrej Sekera—Travis Hamonic; Oscar Klefbom—Jason Demers; Darnell Nurse—Brandon Davidson; Eric Gryba.
Center (5) Connor McDavid, Leon Draisaitl, Ryan Nugent-Hopkins, Mark Letestu, Anton Lander.
Left Wing (5): Taylor Hall, Benoit Pouliot, Zack Kassian, Lauri Korpikoski, Anton Slepyshev (rookie).
Right Wing (4): Jordan Eberle, Nail Yakupov, Matt Hendricks, Iiro Pakarinen.
One big trade (Hamonic) and free-agent pickup (Demers) and asking two rookies (Brossoit and Slepyshev) to join the chorus. The Hall and McDavid clusters are intact (well, the McDavid cluster takes another draft day hit) and you have two solid additions on defense. This assumes things like Mark Fayne is traded and they don't re-sign Lennart Petrell.
The RW depth chart looks a little thin, but if Yakupov struggles, Todd McLellan can slide Leon over or he can move Zack Kassian up. This is a pretty sweet forward group, I would suggest moving out Korpikoski but suspect they are stuck. The good thing? Should mean Pakarinen or another swoops in and grabs that job before season's end.
Hearing lots of Dion Phaneuf trade chatter. Starting to think he could actually be dealt before the deadline.

— Bob McKenzie (@TSNBobMcKenzie) February 9, 2016
I cannot imagine the Oilers are in on this, Phaneuf is having a good year but is not getting the toughest assignments. His contract remains an albatross.
MCKENZIE MID-SEASON LIST
I love the McKenzie lists, these are extreme value. The final 30 will be different—Euros come flying in like hell won't have it—but here are some interesting tidbits I saw from the list:
D Charles McAvoy at No. 14. Very difficult to gauge offense for young NCAA blue (Hanifin, Zach Werenski a year ago) but his point-per-game (.538) is shy of Werenski (.714) and Hanifin (.621). McAvoy is also a 1997 (December) so is not especially young compared to last year's duo.
R Alex DeBrincat at No. 30. I have him at No. 8 and for me a guy who has 38 goals in 41 OHL games has to be high on the list. If that is the actual spot he is taken (No. 30), Oilers need to trade up. His kind of skill would translate extremely well with Edmonton's top C's.
G Carter Hart at No. 35. Goalies are tough to suss out, I like him more than 35. Could the Oilers solve their goalie issues in the second round?
D Cam Dineen, who I have at No. 23, is not on the BM list. Will have to track back and see what I am missing.
LOWDOWN WITH LOWETIDE
A busy day, Oilers and CFL FA. 10 this morning, TSN1260, scheduled to appear:
Jonathan Willis, Cult of Hockey. We will discuss the Oilers at the deadline.
Andrew Bucholtz, 55-Yard Line. CFL Free Agency, Eskimos have some nice things to lose here.
Dave Jamieson, TSN1260. More CFL FA, suspect by 11 we will know some destinations.
Pending guests. Could go any number of ways, depending on what has happened this morning.
10-1260 text, @Lowetide on twitter. Talk soon!